'She's definitely dedicated': Teen barrel racer wins first buckle at Canadian Finals Rodeo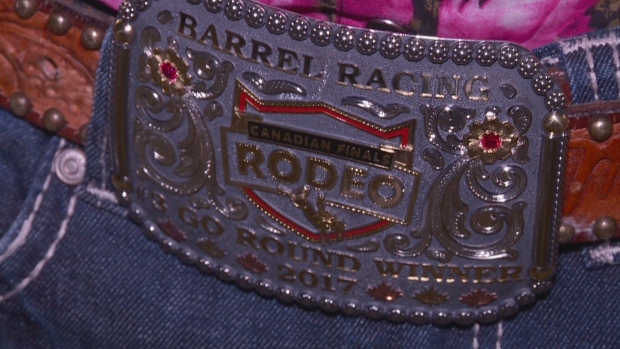 Taylor Manning says she was trying to go so fast, people wouldn't see her.
The 13-year-old professional barrel racer from Edson, Alta., claimed her first buckle at the Canadian Finals Rodeo in Edmonton on Saturday. 
She won her round — and more than $11,000 — with a 14.643 time.
"You're in and you're out," Manning said. "I try and do my best and make it as perfect, tight and fast as I can."
On Sunday, she blurred past thousands of people as they cheered in the stands on the rodeo's final day. Her 14.634 second run snagged third place.
Manning qualified for a professional rodeo card last spring, just in time to compete at the coliseum before it closes permanently next month.
"It was pretty cool, getting to run here the last year," she said.
She plans to use her prize money to buy a new colt — but that doesn't mean she'll give up on her nine-year-old horse, Matlock.
The two spend hours together every day after Manning finishes her Grade 8 homework.
"He's my best friend," she said.
'It definitely runs in the family'
Manning has big cowgirl boots to fill. Her father, Jay Manning, won the bull riding championship in the same arena 21 years ago.
"It definitely runs in the family," he said, grinning.
Visiting the coliseum one last time to watch his daughter pound across the dirt was more exciting than winning the championship in 1996, he added. 
"It's not an easy feat," he said. "Boy, you got to be dedicated to get here, even as an adult.
"I've seen a lot of champions in my life on the rodeo and I guess maybe I'm a little biased because I'm her father, but I've never seen a work ethic in anyone like her — she's definitely dedicated, that's for sure."