Search for final 2 missing hunters called off in Waskaganish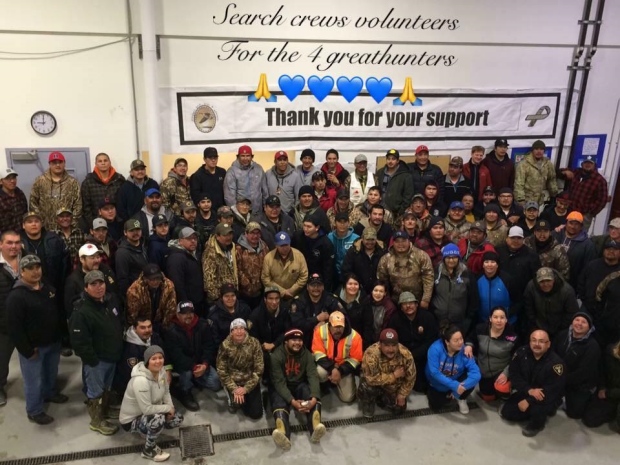 With winter closing in, officials in the James Bay community of Waskaganish have called off the search for two hunters, still lost from a group of four missing since mid-October after setting out on a goose hunting trip.
"The ground crew reported the terrain is very hard to navigate, and impossible in some places," said Ryan Erless, director of community services for Waskaganish, in a video message on Sunday evening.  
"I would like to say that search and rescue recovery used every possible method that they could use to find these two remaining men."
The two men who have not been found are Kenneth Salt, 67, and Gabriel Shecapio, 30. The bodies of two other hunters on board the boat, Matthew Diamond, 43, and John Patrick Salt, 48, were recovered in the earlier days of the operation.
The large-scale search had entered its 25th day, with volunteers from many of the Cree communities, the Ontario Cree nations on the west side of James Bay, and from as far away as Kahnawake, Que., near Montreal. Each day there were often more than 100 people searching.
"As a whole, our community feels a great sense of loss," said Waskaganish Chief Darlene Cheechoo, who added they are also dealing with the deaths of two other community members, including a 94-year-old elder.
"Our people are grateful for every single person that has given of their time and efforts to help bring home our loved ones. Your sacrifice is noted and appreciated. We are overwhelmed, amazed and forever thankful for the love, care and support in this recovery effort."
Will take time to move forward
Roy Weistche is from Waskaganish and volunteered in the community and at the command post during the search and recovery operation. 
"It's going to take some time to move forward. We are sad that winter is starting to set in," said Weistche, who has ribbons tied to his truck in honour and respect for the four hunters.
"We feel we have done so much, but yet at the same time, we didn't find them. So that kind of hurts us," he said.
"We are a strong community and we still believe that we can find the two missing hunters either as we move forward towards the winter months or maybe towards the spring."
Weistche says the loss is a strong reminder of how dangerous the water can be and how important it is to wear life-jackets and not to travel when the winds are too strong.
Erless, with community services, says local hunters will be asked to continue to be on the look-out while they are out on the land this winter.
"Once the river is safe to cross, we will keep monitoring the shorelines and advise our local hunters to be on be alert when they venture out," said Erless.