Petition calling for removal, resignation of Sask. education minister hits 1,200 signatures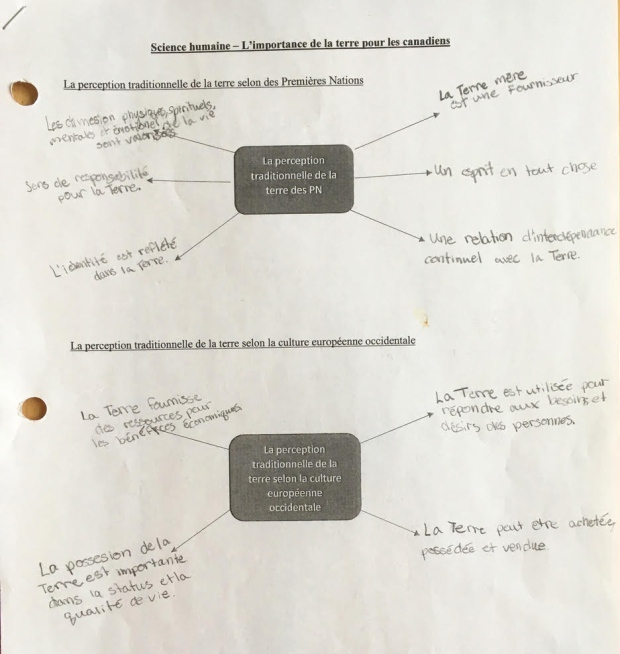 A petition asking the premier to remove Saskatchewan Minister of Education Bronwyn Eyre from cabinet has more than 1,200 signatures.
The Change.org petition was created on Monday by Liz James, a Saskatoon-based blogger who has been writing about Eyre's recent comments in the legislative assembly centred around her son's homework.
On Tuesday, Eyre reaffirmed her commitment to treaty education in front of a few dozen members of the Saskatchewan School Boards Association (SSBA) in Regina.
She declined to comment on calls for her to resign.
Eyre came under fire after a speech in the legislature on Nov. 1 in which she referenced her son's homework, saying he brought home a history assignment which denigrated his ancestors.
In the speech Eyre said her son had "copied from the board the following facts which were presented as fact: that European and European settlers were colonialists, pillagers of the land who knew only buying and selling and didn't respect Mother Earth."
Saskatchewan political blogger Tammy Robert wrote about Eyre's speech on her website, saying the education minister was "threatening treaty education in the curriculum and broadly and politically condemning teachers, administrators and her own ministry."
Speaking to reporters on Tuesday, Eyre did not apologize for her remarks in the assembly.
"I regret any confusion. I certainly regret referencing my son — he is 12. I do not want to draw him in any further," Eyre said.
When asked if she felt she misled the legislature on Nov. 1, Eyre said, "If there was any misunderstanding that was caused, [I] absolutely regret that as well."
Student's notes contradict minister's speech
Another student in Eyre's son's class, and the student's mother, shared the student's notes with CBC on Sunday.
Neither the teacher's worksheet — which is in French — nor the student's detailed notes from that day contain words which could be translated as "pillager" or "colonialist."
"I do not wish to weigh in on what another student may have written down from the board, or his or her interpretation of the material presented in class," said Eyre in an emailed statement Monday afternoon.
"I do not wish to draw my son into this discussion further; and I will not discuss him in any educational context in the future. I apologize for discussing his homework in a public forum."
Committed to treaty education: Eyre
Speaking at the fall assembly of the Saskatchewan School Boards Association, Eyre concluded her remarks by saying, "You will have noticed I have been in the news the past few days. I want to assure you that treaty education was mandated by our government, the first in Canada to do so, and that will not change."
Eyre said the government is committed to maintaining the status quo on treaty education in Saskatchewan.
NDP education critic Carla Beck said she is concerned that Eyre's speech may have misled the assembly.
"We have yet to see the minister apologize. We have yet to see the minister explain herself. We have yet to see her provide any understanding as to just how troubling and destructive her comments have been," Beck said.
Beck also called on the premier to weigh in on whether or not he condones Eyre's speech. 
Minister's speech met with shock 
The head of the SSBA's Aboriginal constituency said his reaction to Eyre's comments was "shock."
​"It's disturbing. It evokes some negative emotions from the good work we've done over the past several years," said Duane Favel, board chair for the community of Île-à-la-Crosse.
"We have to look at this as a good opportunity for the minister to reflect on her position, on her beliefs and hopefully move forward."
Favel was recently appointed to a curriculum review in the province, which will deal with treaty education and how it is taught in the classroom.
He said treaty education is a chance to "break down barriers" that have existed in the province for decades.
Favel mentioned a need for the province to work toward to the calls to action by the Truth and Reconciliation Commission, specifically the six that deal with education. 
Eyre's comments 'inconsistent': SSBA
The president of the SSBA, Shawn Davidson, said trustees around the province have expressed concerns that Eyre's comments were inconsistent with the position and partnership the boards have with the ministry.
Asked what was inconsistent, Davidson said, "the potential movement away from infusion of treaty education in our curriculum."
Davidson said the point of treaty education isn't infusion into all subjects but to ensure that curriculum is consistent with reconciliation.
In fact, on Monday the SSBA passed a resolution stating it will advocate for a mandatory Indigenous studies course in Saskatchewan high schools, in addition to Indigenous teachings currently embedded into the curriculum.
On Monday, the Premier's Board of Education Award was given to the Greater Saskatoon Catholic Schools, the Saskatoon Tribal Council and the College of Education Indian Teacher Education Program at the University of Saskatchewan.
The group was honoured for its work on the Cree bilingual program at Saskatoon's St. Frances School.
CBC is not responsible for 3rd party content