Oct. 18, 2004: Stephen Mandel's come-from-behind Edmonton mayoral victory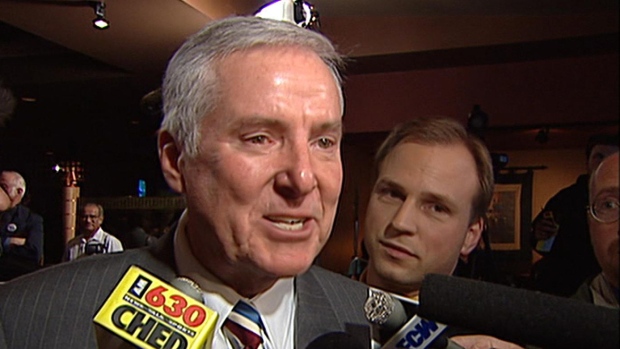 Bill Smith's run at a fourth term as Edmonton's mayor ended early on election night in 2004, when Stephen Mandel's come-from-behind win became apparent.
Early returns had Smith in the lead but as the evening progressed, he conceded to Mandel who was elected with 40 per cent of the votes.
Smith finished with 32 per cent support, putting him in second place.
Robert Noce was also a close contender. He was leading in the polls before the election but finished third with nearly 25 per cent support.
Noce supporters credited undecided voters turning to Mandel with Noce's loss.
Low voter turnout was expected to be an issue in the election due to an early blast of wintry weather. However, 41.79 per cent of eligible voters made it to the polls, up from 35 percent in the 2001 election.
Mandel thanked supporters in his victory speech for not giving up.
"Three weeks ago, everybody counted us out. Many other people would have quit, would have gone home and said, 'Oh well, this guy can't do it. He's too far down,' " Mandel said.
Mandel went on to repeat his mayoral election win in 2007 and 2010, following in the footsteps of Bill Smith, who also served as mayor for three terms.
This year's civic election is on Oct. 16 with incumbent Don Iveson seeking re-election.
In the video, CBC's David Gerow reports on the close race in which Mandel came from behind in the polls to win in his first attempt to be mayor of Edmonton.