'It's so unfair': Thorsby mourns victim of gas and dash, province promises action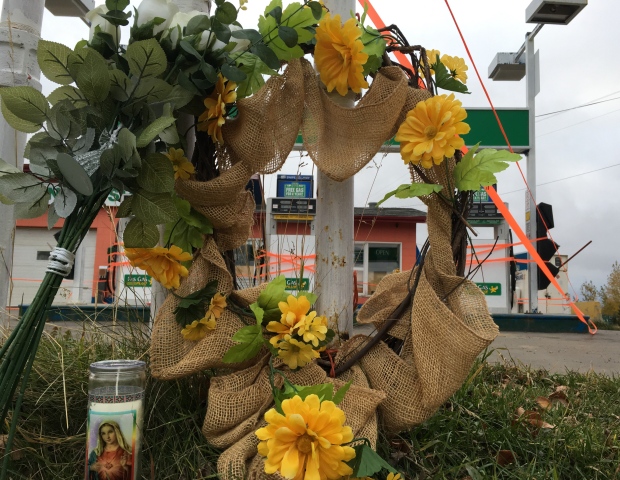 Outside a Fas Gas station in Thorsby, Alta., the Jo family holds each other in a tight embrace as light snow falls around them.
They're standing on the very spot where Ki Yun Jo, their father, husband and family member was run over and killed in a gas and dash.
"It is so unfair that such a tragedy happened to a good man," his son Sung Hyun Jo said. "I would pay or do anything to get him back."
RCMP say Jo, 54, was killed last Friday when a driver of a stolen truck sped away from the gas station without paying.
A witness said he saw a large white cube van driving with a man hanging onto the passenger side mirror.
The witness said the van swerved, tossing the man to the ground before running over him.
The store was more than just a business for Jo. He bought the gas station to provide for his family shortly after moving to Canada from Korea, Hyun Jo said.
Hyung Jo urged the driver to turn himself into police. It will be hard for the family to find closure while the person responsible eludes police, he said.
The family is taking solace in messages and love of support from the community.
Since Jo's death, flowers have been wrapped around the Fas Gas station's unused gas pumps and candles line the front door.
Hyun Jo found letters there too, left by customers his father served throughout his 12 years at the helm of the Jo family business.
He gets emotional thinking about what people wrote about his father.
"A lot of people were saying how much he will be missed, and how nice of a guy he was," Hyun Jo said.
On Wednesday, more than 200 friends, family and customers came to Thorsby's community hall to pay their respects.
Volunteers had to bring out more stacks of plastic chairs to accommodate all the people attending the service.
They also gathered donations to convert the gas pumps at the Fas Gas to pre-pay. 
The tragedy has shaken the town of 1,000 people, southwest of Edmonton. Many witnessed the gas and dash or saw Jo's body in the street, said Glen McBride, lead pastor at New Life Christian Fellowship, who helped organize the service.
"It's not about the tragedy itself but for community members to have a shoulder to cry on," said McBride. "The other thing is to help people to understand that they're not alone, everyone's feeling this."
Hyun Jo broke down during the service as he directly addressed his father. 
"I love you Dad. Don't worry about the family, find your peace," he said, his voice cracking. 
Province promises new protections
Alberta's labour minister says the province will take action this fall to protect service-station workers following Jo's death. 
The government has not yet decided if it will introduce a law to require motorists to pre-pay for gasoline or bring in some other measure, Labour Minister Christina Gray said Wednesday. Unlike in neighbouring B.C., Alberta does not have laws related to pre-paying for gas.
"It could be legislation; it could be regulation," Gray said.
"There are a few different things: mandatory pre-pay … actual pay at the pump … violence prevention programs. The decision of exactly what will be introduced and in what form has not yet been made."
Gray said the government recently concluded a workplace safety review with gas stations and convenience stores and is sifting through what it heard.
A decision is expected in the coming weeks, she said.
In August, a man was sentenced to 11 years in prison for manslaughter for a gas and dash that killed Calgary gas-station worker Maryam Rashidi.
She was run over by Joshua Cody Mitchell when she tried to stop him from taking off without paying for $113 worth of fuel.
Alberta has been grappling for years with how to bolster the safety of gas-station employees, who often work alone.
 'We know it saves lives'
Gil McGowan, president of the Alberta Federation of Labour, said there is no reason for more delay and announced his group's new campaign called "Time for Pay Before You Pump" that urges the province to take action.
"Perhaps the most tragic part about these deaths is that they're 100 per cent preventable," McGowan said in a release.
"We know that pre-payment works. We know it saves lives. The only question that remains is what is the government waiting for?"
The Alberta Association of Chiefs of Police passed a resolution in 2015 calling for pay-at-the-pump legislation.
The chiefs passed a similar resolution in 2011, but the former Progressive Conservative government did not accept it.
British Columbia has had a pre-pay law on the books since 2008.
Gray said Friday's gas-and-dash death is fresh in her mind.
"Every Albertan deserves to come home at the end of a workday," she said.