Vandals again target Ward 9 campaign of Edmonton council candidate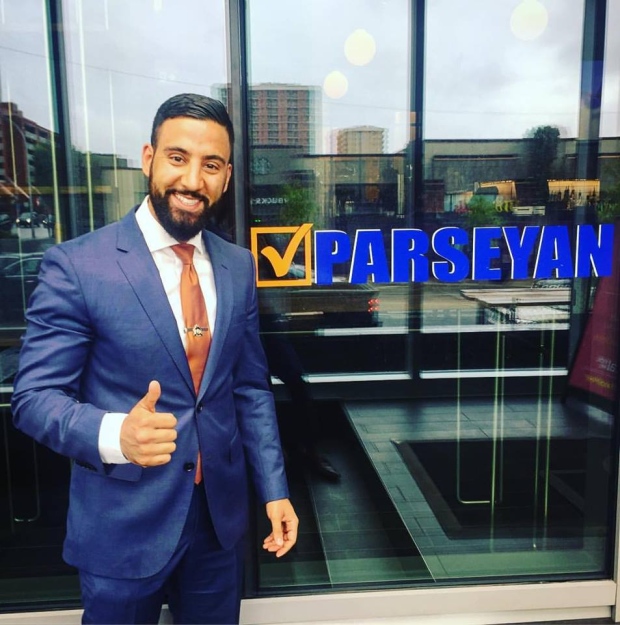 One council candidate in Ward 9 has been the recent target of several acts of vandalism, with the latest coming over the weekend.
Payman Parseyan said the back window of a supporter's car was smashed while it was parked outside a south-side store on Sunday.
No other vehicles nearby were damaged. Repairs cost $700.
"This is one of my supporter's vehicles," Parseyan said. "So this is unacceptable."
Vandals struck Parseyan's personal vehicle last month. He said his Audi sedan, wrapped with campaign advertising, was keyed. 
"I had it wrapped all the way around and that was damaged to the point that it was a total loss," he said.
Some of his election signs up and down Rabbit Hill Road have also been defaced.
'We are putting our necks out there' 
Parseyan is vying for the seat in Ward 9, in the southwest part of the city, along with several other candidates. Incumbent Bryan Anderson, who has represented the area for nearly two decades, announced his retirement last spring. 
Parseyan's signs started popping up on private property in June. Many of his competitors waited till the accustomed Labour day deadline.  
Rob Agostinis, who is also running in the ward, waited until nomination day last Tuesday before his team began putting up signs. He said he has heard from people at the door who say some of the signs in the ward were put up too early.
But Agostinis said he doesn't condone vandalism targeted at his competitor. 
"It's sad, it really is sad," said Agostinis, whose signs are up beside Paseyan's and other candidates throughout the ward.
"No one should be vandalizing anything. We are putting our necks out there to run for public office, so that we can do some great things for the city. And for people to do things against that is wrong."
'It's a crime'
It doesn't make sense to others running in the ward either.
Candidate Tim Cartmell has had signs up since Labour Day and said Ward 9 has been a competitive race.
Only two of his signs have been ripped down, he said. The homeowner who had the fence signs scared the vandals off.
"The homeowner heard some noises, turned on a light and the people returned to their vehicle and ran away, essentially."
His campaign has seen nothing that compares with what Parseyan campaign has experienced
"That activity has no place anywhere in our society today. It is immature, but beyond that it's a crime and it just can't happen."
Parseyan said he has filed a police report about the vandalism to his car, and will continue campaigning until election day on Oct. 16.