Toronto Blue Jays baffled by Yankees' Masahiro Tanaka to open final series of the season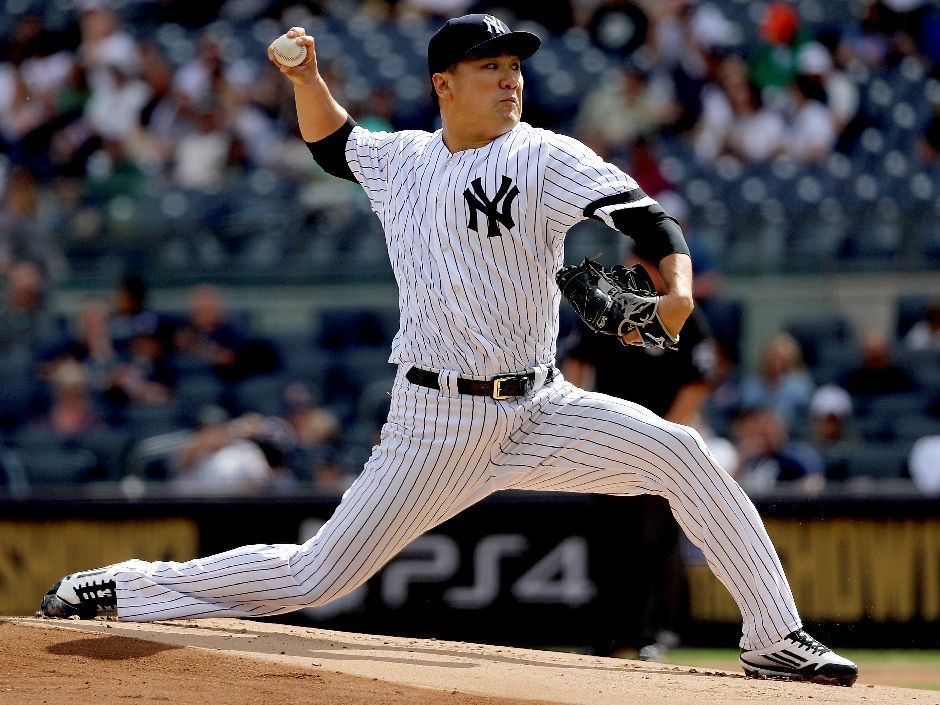 NEW YORK – Among some minor roster shuffling Toronto Blue Jays manager John Gibbons Friday, Justin Smoak was given the day off.
The reason? The Jays first baseman historically has had minimal success against New York Yankees starter Masahiro Tanaka.
Lucky for Smoak, we suppose.
Kicking back on nice fall day in the visitor's dugout at Yankee Stadium, he was spared an afternoon of complete nastiness from the Yankees' right-hander, who flirted with a no-hitter through the first half of the game and struck out a career-high 15.
With Tanaka close to untouchable, the Bronx Bombers cruised to a 4-0 shutout win in the first of a three-game series to end the 2017 regular season.
"He was as good as he could be today," Gibbons said of Tanaka.
Tanaka didn't allow a hit until there were two out in the fifth, an infield single from Ezequiel Carrera. By that point, the 28-year-old from Japan had already struck out 10 of the first 14 batters he faced, a sharp turnaround from his start in Toronto last week when he allowed eight runs in a loss.
The Yankees surely could use an in-form Tanaka heading into the post-season. Ignoring the blip at the Rogers Centre, he's now won five of his past seven starts.
The Jays couldn't get anything going against Tanaka, who allowed just three hits over his seven innings of work. The biggest victims were leadoff hitter Teoscar Hernandez, who struck out three times; Josh Donaldson, Jose Bautista and Raffy Lopez all struck out twice.
There was plenty of misery at the plate as the Jays struck out a total of 18 times, matching a club record for a nine-inning game. It was their ninth shutout loss of the season and fifth in their last 34 games.
Overall, the Yankees are rounding into form for the post-season, which will likely begin with a wild-card playoff game on Tuesday against the Minnesota Twins. New York is now 12-4 in its last 16 games and 19-8 this month.
***
For the first inning, anyway, it looked as though the Jays were getting the bad version of Joe Biagini in his final start of the season.
Just five batters in, he had allowed three singles and a walk, prompting a rare visit to the mound from Gibbons. Though he allowed two runs, Biagini settled down after the meeting, retiring the next seven batters he faced.
"I just thought he needed to pick up the pace a little bit," Gibbons said. "As a starting pitcher it's tough to get any rhythm going."
Biagini, who gave up six hits an three runs in five innings of work, now heads to the off-season with the assignment of preparing to be a full-time starter next spring.
Gibbons said management has decided to stick with that route rather than return Biagini to the bullpen. A positive from Friday's outing: it was the first time Biagini went five innings in back-to-back starts since returning to the rotation in August.
"The main component of being a good starter is consistency and that's something that I don't have as well as I would like right now," Biagini said. "I'm excited about the opportunity to start in the future … I believe there is definitely some things I've seen this year that are exciting to me."
Biagini's record as a starter dipped to 2-12 with the loss.
***
Expect plenty of this throughout the off-season and possibly beyond – as long as Josh Donaldson's future with the team is uncertain.
USA Today columnist Bob Nightengale reported on Friday that the St. Louis Cardinals, who could use some power in the middle of their order, will strongly pursue the Jays third baseman.
It that's the case, Donaldson's stellar play in August and September has certainly driven up the price.
***
There was a long pre-game session around the batting cage between injured pitcher Aaron Sanchez, Gibbons and former Blue Jays pitcher Al Leiter, who is now a Yankees broadcaster.
Leiter was plagued with blister issues throughout his career. He wanted to offer Sanchez some advice for his continued recovery. The three chatted for more than 15 minutes, with Leiter offering advice to the struggles he faced with the chronic problem.
The Jays are cautiously optimistic Sanchez's issues are behind him but won't know for certain until he can pitch through a handful of consecutive starts unscathed.
"I think they've got a better handle on how to handle the finger issue," Jays pitching coach Pete Walker said. "We need him out there.
"I'm sure there will be a little bit of anxiety until he's back out there performing, but we feel confident he'll be back in form."
***
Blue Jays centre fielder Kevin Pillar has left the team to be with his wife, who is about to give birth to the couple's first child. Hernandez drew the assignment in centre … With Smoak getting the day off, Kendrys Morales made a rare appearance at first while Bautista moved to DH and Michael Saunders out to right field … Friday's loss ended a strong run of offence for the Jays, who had scored at least six runs in four straight games, their longest such stretch this season. Furthermore, Jays batters had flexed up for five or more extra base hits in each of those four games … The Jays also had multiple homers in four of their past six road games … The Yankees have reached 90 wins for the first time since 2012.
rlongley@postmedia.com