Puerto Ricans on the mainland desperate to hear from family in communication 'black zones'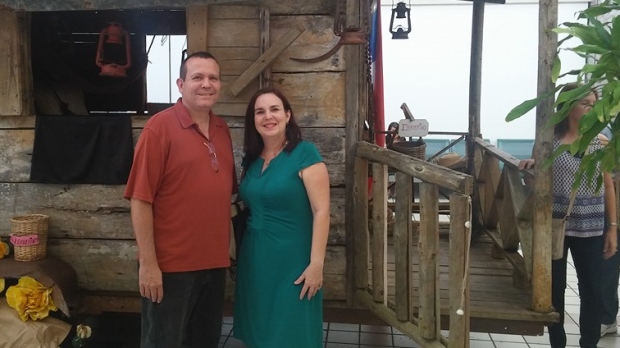 When it struck Puerto Rico last week, Hurricane Maria's violent, shrill winds screamed for hours. Now, it's the silence from the Caribbean island that most unnerves a Puerto Rican community of some five million people on the mainland.
Desperate to reach loved ones affected by a virtual communications blackout on the island, Puerto Ricans have turned to modern and antiquated wireless technologies, including smartphone apps and ham radios, for help.
I don't know how he reached me, but he reached me. I haven't talked to my brother yet because he has no connection. – Yanil Teron
Connecticut resident Yanil Teron, unable to find out anything about her brother for days, even heard from a stranger. An international caller from the Dominican Republic phoned to say her brother, Ivan, was fine after his town of San Sebastian was devastated.
"He just said, 'I'm phoning on behalf of Ivan. I have a message. He says he is fine,'" she said.
And then the mystery caller hung up. Teron believes the stranger was checking off a long list of pricey international numbers to dial with news about Puerto Ricans who had pulled through.
"I don't know how he reached me, but he reached me," Teron said. "I haven't talked to my brother yet because he has no connection."
San Sebastian, she said, is one of the communications "black zones."
While hurricanes Harvey and Irma pounded Texas and Florida's infrastructure, what's different about the monster storm that ripped straight through Puerto Rico was the extent to which it severed the island's communication with the rest of the world.
The storm knocked out the power grid. An estimated 80 per cent of cellphone towers remain down, an improvement from five days ago, when officials said 1,360 out of 1,600 cellphone towers were out, or about 85 per cent.
Teron finally heard from her sister on Wednesday, but has yet to hear from her cousins and uncles.
"But someone in Dominican Republic called to let me know my brother is OK, which is very interesting to me," she said. "Somehow, the messages are getting out."
Helpful strangers
On the app Zello, which allows people to use their smartphones as walkie-talkies to communicate with many people on private channels, voices crackled one after another on Wednesday in a mix of Spanish and heavily accented English.
A woman chirped in seeking "la informacion importante." She needed help reaching the municipality of Lajas in Puerto Rico's southern coast so she could find out whether her relatives survived the hurricane.
"I've called a couple of numbers. They just ring and disconnect. Is there another phone number?" she asked, repeating her request in Spanish.
A Florida resident appealed directly to any Puerto Rican truckers who might be listening in. If they have commercial driver's licences, she suggested, they might be able to help transport goods from the port at San Juan.
In the northern city of Guaynabo, Juan Samalot, 64, was relying on online messaging apps WhatsApp and Skype, as well as his iPhone's FaceTime Audio function for voice chats. But for some reason his internet is often spotty until past midnight.
He said it was until about five days after the hurricane that he learned the extent of the damage beyond Guaynabo and across the entire island.
"By then, I had access to local newspapers. I could see how bad things really were. And this issue about the dam breaking!" he said in a phone interview, referring to the failing Guajataca Dam that has been flagged as a major potential hazard for thousands of people in the northwest.
Facebook newswire
As internet begins to come back in dribbles, networks like Angie Flores's south Florida group Boricuas Realengos, or Far-Flung Puerto Ricans, have become invaluable sources of information for people seeking any shred of news about how their relatives are doing back home on the island.
In many cases, Flores said, those offering help to information-seekers on the Facebook group are strangers.
"For example, they're saying, 'My child is in some area that has communication," said Fores, and then someone else will ask," Can you check if my aunt, who lives in this same area, can you check how she is?' That person comes back to indicate that she's fine. They don't know each other, but we are all like brothers and sisters."
On Wednesday, she said much of the chatter on the bulletin board was about how to help a sick three-year-old boy in need of oxygen tanks to travel to a hospital in Florida.
From her home in central Florida, Iara Rodriguez had also transformed her Facebook page into a news feed, reporting from an attorney friend in San Juan about a Walgreens that had reopened, and that several bakeries were selling one pound of bread per customer in the municipality of Yauco, a roadtrip that her friend said took eight hours from San Juan.
Reached by cellphone on a boat in the San Juan marina, where she found a signal and could charge her phone using a generator, Stephanie Lebron Ricci said she used Rodriguez's Facebook feed to learn about ATMs that were working and gas stations that had reopened.
Without power in much of the city, most of the economy is running on cash. But when Rodriguez posted on her feed that her 21-year-old son was stranded in the nearby city of Guaynabo without cash, Ricci said she managed to get money to him by bribing a valet parking attendant at a hotel to help her withdraw $300 from a guests-only ATM.
"It had to be a trust thing," Ricci said, noting she had to give the valet her bank card and PIN because she was not allowed into the hotel as a non-guest.
A grateful Rodriguez called Ricci her "little hero."
"I still haven't found out how to repay her," Rodriguez wrote in a text message.
Though she has been in contact with her mother and stepfather, Rodriguez said she still hasn't managed to speak with her dad in days.
Yanil Teron, the woman who received the call about her brother from a stranger in the Dominican Republic, suspects people anxious to hear from loved ones will be less inclined to screen calls from unknown numbers.
"This is what's been happening with my family," she said. "You have to answer your phones. Because it might be someone who is sending a message to you, and you'll never know."