Infamous Banff-area grizzly killed by hunter in B.C.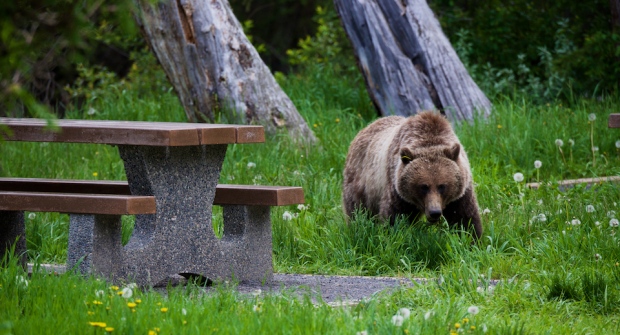 An often troublesome, collared female grizzly — famous for her run-ins with people in Alberta's Bow Valley — has been killed by a hunter in B.C. less than two months after being relocated.
Stephan Legault, with the Yellowstone to Yukon Conservation Initiative (Y2Y), says Bear 148 was shot last weekend by a hunter who was being guided on a hunt on protected lands outside of Kakwa Wildland Provincial Park.
The six-year-old bruin was relocated twice this summer after displaying aggressive behaviour near Canmore.
"Despite the best efforts of a very dedicated group of folks from Parks Canada and from Alberta Environment working with her around the clock, she just could not avoid being in contact with humans," Legault said.
In early July, Parks Canada first trapped and moved the bear to the western edge of her home range in Kootney National Park after it charged a person walking with a stroller and a dog west of Canmore.
The grizzly returned a few days later and was spotted at the Sunshine turnoff area in Banff National Park.
Later in the month, Parks Canada tranquillized the large animal and relocated her by helicopter to Kakwa park, north of Jasper.
According to Legault, the bear spent about a month in a very small area within the park, but eventually wandered into unprotected land in B.C., where it was shot.
B.C. trophy hunting ban coming soon
In August, B.C.'s NDP government put an end to the province's controversial bear trophy hunt. The ban will go into effect at the end of November.
"Had Bear 148 made it into the den this year, she would have woken up to a very different regulatory regime," Legault said.
Legault said the bear's death is an unfortunate loss for the grizzly bear population as the young female of breeding age could possibly have produced a dozen or more cubs over the course of her life.
"Moving her out of the Banff Bow Valley was bad enough," he said. 
"Now she's dead and that means all of that genetic diversity that she represents, all of the various cubs that she would have mothered are no longer part of the recovery process for grizzly bears in Alberta."
Keeping Albertans safe a 'top priority'
In a statement, Alberta Environment said keeping Albertans safe and out of harm's way is their top priority.
"Environment and Parks staff members worked hard to provide the best chance of this bear's survival given its history," the statement read, adding Bear 148 was relocated after a several near-misses with humans.
"We will continue our work to prevent such conflicts from occurring — these actions will help reduce the need for relocation of bears."