Hugh Hefner: Memories of a Legend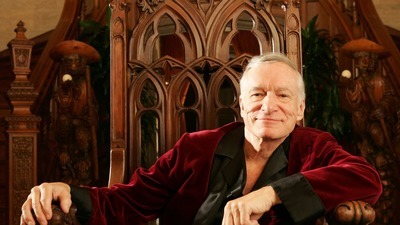 Hugh Hefner, a cultural icon and legend, ushered in the sexual revolution with the founding of his Playboy Magazine. He was born in 1926, and died at age 91 at his home in Los Angeles, California.
His Playboy philosophy of free love sometimes polarized Americans, with men thinking it was great and women, at one time, thinking it was objectifying. Later, with his daughter Christie Hefner at the helm of the Playboy empire, the mainstream American public came around to the idea that he brought the notion of consensual sex out of its puritanical closet.
The elevating concept about Hef's philosophy was that it encompassed many aspects of freedoms and liberties in our society, including the freedom to associate with people of other races, the freedom of speech and a fair application of drug laws. Dick Gregory spoke passionately about how Hef integrated the nightclub scene by hiring him and other African-American comedians and entertainers at his Playboy clubs when other nightclub owners were not doing so. And Hefner extended this to both his popular television series "Playboy After Dark," and his magazine where he featured Malcolm X, Muhammed Ali, and others thought to be too controversial at the time.
He appointed Christie Hefner to head the Playboy empire, making her one of the few women heads of a public corporation. They established the Hugh M. Hefner First Amendment Awards to celebrate people who defended First Amendment freedoms. In 2013, this award was given to Norman Lear for his unwavering defense of the values laid out in the Bill of Rights. As recently as August of this year, a Hefner First Amendment Award was given to Burt Neuborne, a civil liberties lawyer.
As a Chicagoan, we were proud that Playboy was born here and that Hef cared about the community here, often engaging in unheralded philanthropy. He was also an avid movie buff who endowed a chair for the study of cinema at the University of Southern California, and who held movie nights at the Playboy Mansion where he would show a movie and speak about it from his own notes. Roger attended some of those sessions, and said that he was always impressed with Hef's knowledge of and passion for film.
We attended events and parties at the Playboy Mansion over the years, but I was most impressed with his commitment to the University of Illinois at Urbana-Champaign, his and Roger's alma mater. He would allow the Playboy Mansion to be used for charitable fundraisers, with people eagerly wanting to get a glimpse behind the curtain, but being surprised at the peacocks and animals walking the grounds of the property.
It's remarkable that he lived until age 91, and I am expressing my deepest sympathy to his family, and my good friend Christie and his sons David, Marston and Cooper (who is now running the Playboy empire).
Here are a collection of articles Roger wrote about Hefner over the years…
1.
"Hugh Hefner Has Been Good For Us": Roger Ebert on the Legacy of a Legend.
From the moment that Hal Holmes and I slipped quietly into his basement and he showed me his father's hidden collection of Playboy magazines, the map of my emotional geography shifted toward Chicago. In that magical city lived a man named Hugh Hefner who had Playmates possessing wondrous bits and pieces I had never seen before. I wanted to be invited to his house.
I was trembling on the brim of puberty, and aroused not so much by the rather sedate color "centerfold" of an undressed woman, as by the black and white photos that accompanied them. These showed an ordinary woman (I believe it was Janet Pilgrim) entering an office building in Chicago, and being made up for her "pictorial." Made up! Two makeup artists were shown applying powders and creams to her flesh. This electrified me. It made Pilgrim a real person. In an interview she spoke of her life and ambitions.
2.
"Hugh Hefner Returns to Halls and Haunts of a Chicago Childhood": Roger Ebert interviews Hugh Hefner in 1992.
"That was my bedroom window, right up there," Hugh Hefner said. He was standing on the grass in the front yard at 1922 N. New England, with half a dozen friends and relatives who had joined him on a trip back to the old neighborhood. "The Smiths lived down there," Hefner's brother Keith said. "Yeah, and crazy old lady Johnson," Hefner said. "She later hung herself." "Let's go around in back," said Keith. The brothers walked down the sidewalk next to the neat two-story house as if they could have done it in their sleep. "They've enclosed the back porch," Hefner observed. "That's where we used to play pirates. I was the kid in the neighborhood who always created the games." "The neighborhood has really kept its quality," Keith said. "It looks good."
3.
Other Articles About Hugh Hefner:
"Hugh Hefner: Just a Typical Methodist Kid" by Roger Ebert
"Hugh Hefner: Once Upon a Time" by Roger Ebert
"Naked is Normal: Amazon's "American Playboy: The Hugh Hefner Story" by Justine Smith
"Classic Movie Night at the Playboy Mansion" by Roger Ebert
"Hef Goes West" by Roger Ebert
4.
Social Media Responds to the Passing of Hugh Hefner:
Hugh Hefner advocated for gay rights in the 1950s. Yes, the 50s (pre-Stonewall).

This headline is from The Advocate. pic.twitter.com/LwF1EvBnhv
— Raymond Braun (@raymondbraun) September 28, 2017
Hugh Hefner was an embodiment of how misogynist a white guy can be and still get celebrated as a progressive hero
— Muffin MacGuffin 🍞 (@MuffMacGuff) September 28, 2017
RIP Hugh Hefner, a figure of liberation and enslavement, patron of the arts and mainstreamer of smut. Problematic for 60+ years.
— Matt Zoller Seitz (@mattzollerseitz) September 28, 2017
Hugh Hefner gave Dick Gregory his big break, which the legendary comic emotionally thanked him for during a roast https://t.co/U4vAbCPHCd pic.twitter.com/WtjTDfznlm
— Ryan Parker (@TheRyanParker) September 28, 2017
Hugh Hefner is rightly remembered for rebelling against right wing moralism before most people, but please don't forget he treated women like garbage to do it.
— Jessica Valenti (@JessicaValenti) September 28, 2017
Hugh Hefner's Daily Illini cartoons used to be hung in the office. One of the more quixotic, beloved alums. And he partied with Siskel. RIP.
— Will Leitch (@williamfleitch) September 28, 2017
Just woke up to the news that Hugh Hefner died. I think I just assumed he would live forever. #RIPHughHefner
— Alyssa Milano (@Alyssa_Milano) September 28, 2017`