Hall of Fame coach Rick Pitino ousted by Louisville after another scandal rocks basketball program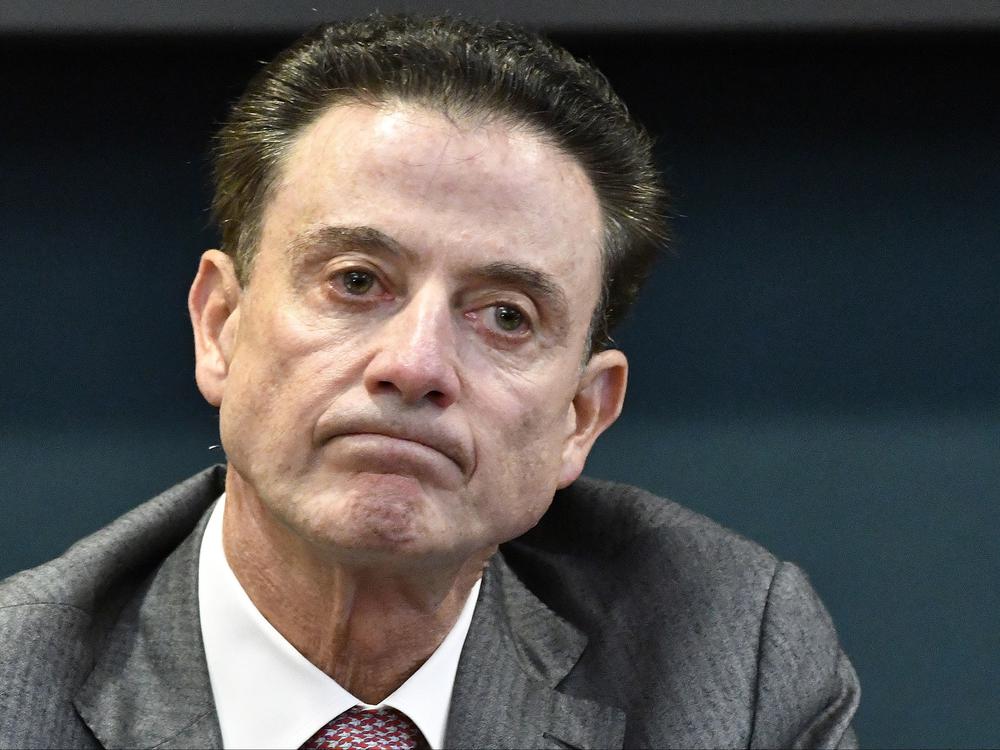 One of college basketball's most illustrious coaching careers seemed to come to an ignominious close Wednesday as Rick Pitino, 65, was ousted by the University of Louisville, according to several news reports.
The move came one day after federal prosecutors accused two unnamed Cardinals coaches of directing money provided by the university's apparel partner, Adidas, to two high school prospects, and three months after Pitino and his program were sanctioned by the NCAA for a scandal in which prostitutes were provided to players and teenage recruits.
Pitino's lawyer, Steve Pence, told the Louisville Courier-Journal that Pitino had been placed on administrative leave but that he was "effectively fired."
Louisville's athletic director, Tom Jurich, also was relieved of his responsibilities, according to multiple news reports. Jurich met with members of the university's board of trustees Wednesday morning but left after only five minutes. Pitino met with the trustees soon after Jurich. His meeting, too, was short; one reporter waiting outside noted that the driver of the vehicle that delivered Pitino did not turn off its engine while he was inside.
On Tuesday evening, Pitino denied any knowledge or responsibility for the accusations detailed in the federal charges, saying in a statement: "These allegations come as a complete shock to me. If true, I agree with the U.S. Attorney's Office that these third-party schemes, initiated by a few bad actors, operated to commit a fraud on the impacted universities and their basketball programs, including the University of Louisville."
Pitino was inducted into the basketball hall of fame in 2013, recognition for a four-decade coaching career in college basketball and the NBA. With 770 wins over parts of 32 seasons, Pitino ranks 12th on the Division I victories list — although that figure could change pending the appeal of the NCAA sanctions announced in June. He is also the only college coach to win national titles with two different colleges, Kentucky and Louisville — although that distinction, too, could change if Louisville is forced to vacate its 2013 championship.
The reason for the potential erasure of potentially dozens of his wins at Louisville, and his second NCAA championship, are allegations, some of which Louisville has accepted, that a former basketball staff member who had played under Pitino hired prostitutes to entertain recruits and players in an on-campus dormitory.
While the NCAA has vacated victories and even Final Four appearances, it has never before stripped a championship from the winner of its signature event.
While in that case the NCAA accepted Pitino's explanation that he had no knowledge of the actions of the assistant found to be responsible, it nonetheless found that he had failed in his broader obligation to monitor his staff. Pitino and Louisville have disputed that conclusion, which led to his suspension, pending appeal, for the first five games of Atlantic Coast Conference play this season.
Tuesday's federal charges, which also implicated the global marketing director for Adidas basketball, four assistant coaches at other Division I programs and several other men involved in college basketball, detailed a scheme to funnel money to two prospects in order to attend a university whose description matches Louisville, and of doing so with the knowledge of two unnamed coaches at the school. It was not clear whether the man the complaint calls Coach-2, who is characterized as having significant leverage at Adidas (which sponsors Louisville), is Pitino.
Born in New York City and raised on Long Island, Pitino never lost the thick accent he earned during a childhood in region, and first made his name with an improbable Final Four run with Providence in 1987. His career also included less-successful stints in the NBA, with the New York Knicks and the Boston Celtics.
But most notably he revived the two beloved college programs in the Bluegrass State, first leading the University of Kentucky, starting in 1989, out of heavy NCAA sanctions and to three Final Fours, including the 1996 national title, and then leading the Cardinals to three Final Fours and another national title.