Edmonton school goes into lockdown after U.S. group alerts staff to violent threats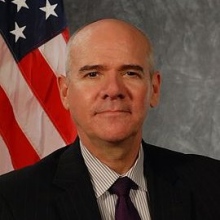 An Edmonton school was on lockdown Friday morning after getting a tip from a U.S.-based group of former special agents and military veterans who monitor online threats of violence.
Bob Dowling, the president of Tactical Institute and former senior special agent with the FBI's National Joint Terrorism Task Force, held a meeting with his team Friday morning to talk about the violent threats they were seeing online.
Some of the online posts that stood out were from an account based in Edmonton.
The student who made the posts wrote that he might bring a gun to school and shoot it up.
"[We] put essentially a threat matrix together for that student and scored him high enough to make a call based on his open-source tweet with no right to privacy," Dowling told CBC News.
"We were not just interested in the single tweet about shooting the school up, but prior to that multiple tweets about being disturbed, self-described depression, knives, a lot of gameplay involving very, very violent videos," Dowling said. 
"We're looking for weapons, we're looking for intent. And this student showed both."
No injuries 'makes our day'
The student allegedly posted a video outside of Edmonton's Balwin School, so Dowling called the school principal on Friday morning.
The K-9 school was immediately locked down after 9 a.m. for a few hours. Students quietly hid in their classrooms without any injuries, said an Edmonton Public Schools spokesperson.
A suspect was arrested by Edmonton police and the lockdown was lifted.
Dowling called the lockdown "textbook" and was happy to hear that no one was injured.
"We believe that today was just a superb example of [the Tactical Institute] working with school administration and law enforcement," he said. "The fact that there were no injuries and no shots fired really makes our day."
The company mostly makes calls to U.S. colleges, and is contracted to monitor student public accounts, said Dowling, who believes the company has prevented 18 school shootings.
Calls to Canada are rare, he said, but added that this account showed clear red flags.
"We have made calls to Canada without any preconceived bias that you guys don't have as many guns as we do here in the States. But at the same time, we were looking at a student who has very boldly claimed that he wanted to shoot the school up — people make him upset and he gives a motive."
Dowling wouldn't disclose how many people work for Tactical Institute, but he said most of the employees are former military veterans of Afghanistan and Iraq.