Edmonton downtown transportation alterations fuel municipal election debate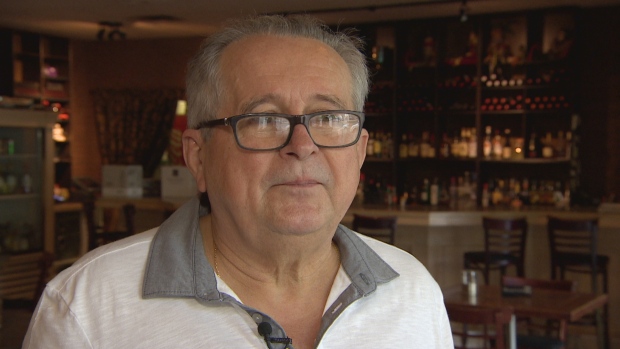 For the past decade, Jack Flisiak has been serving Italian dishes to satisfied customers at his restaurant in downtown Edmonton.
But changes to street parking rates, and fewer options because of new bike lanes, have not been good for customer satisfaction or his bottom line, he says.
"We lost a lot of customers because of the parking and traffic and with the bike lanes," said Flisiak, co-owner of Rigoletto's at 103rd Street and 100th Avenue.
"Now they don't want to come in the evening because they say there's no parking."
While many applaud the transformation of the downtown, the changes have triggered some criticism, including from those who say it will be on their mind as they cast their vote in the municipal election on Oct. 16.
In June, the city began opening its new protected bike lanes — a $7.5-million network of seven kilometres of separated lanes for cyclists, crisscrossing the city's downtown.
One lane runs north-south just east of Fliasiak's restaurant on 103rd Street, and another lane runs east-west just out front, gobbling up the street parking he relied on.
The opening of Rogers Place also ushered in new rates for parking.
The city introduced five-hour maximum paid street parking in the evenings, where motorists had once parked for free. And on event nights, certain roads such as 104th Street are shut down.
"People didn't mind paying two or three dollars," said Flisiak, whose restaurant has no designated parking. "But now if it's $18, $20 added to the price of the meal, I think it's getting ridiculous."
Anna Dechamplain, the city's director of parking services, said officials continue to work with the Downtown Business Association to address concerns.
She noted there are more than 18,000 available parking spots within a 10-minute walk of the arena.
"At the city, we believe based on our utilization numbers that we're only getting about 60 per cent on-street utilization on event nights for parking," said Dechamplain. "Our utilization numbers tell us there's still ample opportunity for immediate parking in front of businesses in the downtown core."
The city declined to say how many complaints it has received about bike lanes. But a spokesperson said the city follows up on all questions and is performing an 18-month evaluation to analyze bike-lane use.
Making adjustments
According to Ian O'Donnell with the Downtown Business Association, Edmonton is one of the last major Canadian cities to establish a bike grid.
"We're hoping that people are making adjustments to how they get around so that if you are choosing to use a bicycle, you are using the bike lanes," O'Donnell said. "And if bike lanes are impacting how you move about in a vehicle, that you can look for alternate routes that will be a little bit more convenient for you, as well."
The city's work with businesses, residents and bike-lane users to mitigate problems earned O'Donnell's praise. But he said more communication is needed around parking rates and availability so commuters can plan ahead. 
"We're often believing that we can find a parking stall out front of the business that we're going to," said O'Donnell. "You can't necessarily expect to find a stall out front. But certainly … you can find stalls within a block or two."
'Give it some time'
Anna Ho with Paths For People, a local group that advocates for improvements to conditions for biking and walking, predicts bike lanes could be a big boost for business.
She pointed to other cities further along in the process that have seen small businesses, such as delivery services, pop up.
"I know that I have personally never window-shopped from my car seat," said Ho.
She suggested it's too early to say if bike lanes have had a negative effect on business.
"I say we give it some time," she said.
Ward 6 council incumbent Scott McKeen highlighted the "tremendous leadership" from businesses such as Stantec and Oxford Properties in the development of the grid, but also acknowledged the concerns.
"It's controversial with some, I get it," said McKeen. "It's change in transportation culture in Edmonton."
He noted council voted unanimously in favour of the bike lanes, and they deserved a "good trial." He said evidence had previously revealed a troubling number of car-versus-cyclist accidents in the downtown.
"If we're going to encourage cycling and other forms of active transportation we have to make sure people are safe," said McKeen.
Campaign manager Jordan Turko, who spoke on behalf of ward candidate Bill Knight, said he's heard the complaints from frustrated business owners, as well as seniors whose bus stops have been moved further away.
If elected, Turko said Knight would also look at concerns about snow clearing "as our snow plow trucks will not likely fit down there without tearing off a few blades or damaging the curbs."   
Candidate Tish Prouse said the new bike lanes have affected businesses in other ways as well.
"The most notable are the mess-ups for delivery and service vehicles, which have been mostly cut off from their customers or clients who are in front of the grid," said Prouse.
Prouse said many cyclists still don't use the grid, riding on the sidewalks or traffic lanes instead.