City council approves 30 km/h speed limits near Edmonton playgrounds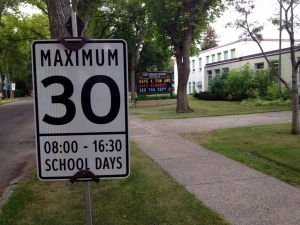 City council voted unanimously Tuesday to lower speed limits to 30 km/h on roads near playgrounds, sports fields and ball diamonds by the end of this year.
These areas will now have speed limits in line with those for elementary and junior high schools.
City officials say the latest speed-limit change will add no more than six seconds to a driver's commute. 
"This is about prevention. If one kid gets hit out there, we'll wear that," said Coun. Dave Loken.
Once implemented, drivers will have to follow the new speed limit around playgrounds between 7:30 a.m. and 9 p.m.
Edmonton has 425 playgrounds, according to the city. Signs announcing the new maximum speed change will be in place before the end of this year.   
Driver feedback signs and reflective tape will be added to the new signage to flag the speed limit change for drivers in those areas.
Coun. Bev Esslinger pushed to have lowered speed limits near junior highs. Those limits went into effect with the start of the school year.
Esslinger said she recently saw a young child running onto the street but because the driver was driving slowly, he was able to stop in time.
"I think it's really important that we can come together as a community to keep all children safe," she said.
Protecting 'the most vulnerable among us'
Edmonton will join other cities like Calgary and Medicine Hat which already have a playground speed limit in place.
City administration said Tuesday there is a need for drivers to slow down near where children play.
Numbers in a report to council show that in the last five years, half of all collisions involving pedestrians or cyclists 15 years old or younger happened in the periods from 7 a.m. until 9 a.m. and from 4 p.m. until 6 p.m.
"I think it's well worth it for the most vulnerable among us," said Loken. "No one should be killed for crossing the road."
The speed-limit change will first happen at "stand-alone" playgrounds. Signs will later be put up at playgrounds that are attached to schools.
Early next year, council will see a report on changes to the maximum speed limits in neighbourhoods. Most are currently at 50 km/h but some neighbourhoods have limited speeds to 40 km/h.