Boat carrying Rohingya refugees capsizes, dozens presumed drowned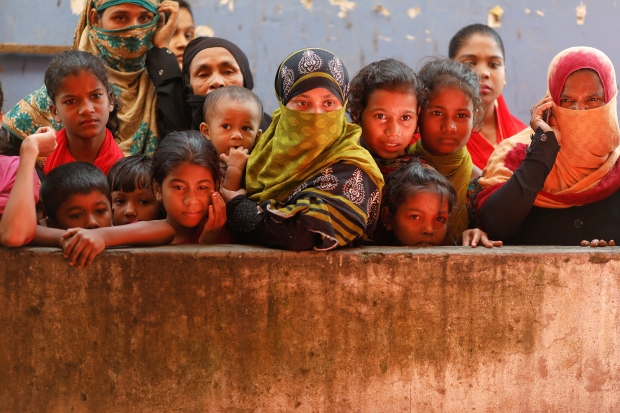 The UN migration agency said Friday that more than 60 people are either confirmed dead or missing and presumed dead following the shipwreck of a boat carrying Rohingya Muslims who were fleeing from violence in Myanmar to Bangladesh.
Spokesman Joel Millman of the International Organization for Migration told reporters in Geneva that 23 deaths have been confirmed after eight more bodies were found overnight following an initial count of 15.
Based on interviews that IOM has conducted with survivors, Millman said, "We believe 40 are missing and presumed drowned" on the vessel, which was thought to have been carrying about 80 people. He said he didn't have information immediately about whether it was the worst death toll at sea since the exodus of Rohingya began Aug. 25 amid violence targeting them in Myanmar.
More than 500,000 Rohingya have fled to Bangladesh since then.
The "very tragic" accident involved a vessel that had been at sea for two days with no food and had faced choppy seas, Millman said. The Bangladeshi captain had not initially charged the passengers any fee for the transport and had been trying to avoid sea patrols or checkpoints, he said.
"The details are absolutely astonishing and remarkable," Millman said. "At one point, [the captain] chose to anchor the vessel, but that proved to be a fatal mistake as the rough seas were much worse than he supposed. This was easily within sight of land."
"People were actually quite distraught that they had gotten so close to safety and yet drowned because the boat was destroyed by the high seas and the torrential rains and wind," he said.
The UN migration agency closely tracks death tolls worldwide of migrants at sea, and generally counts the missing as presumed dead in its tally because confirmation is all but impossible. Its figures are a highly quoted source on issues like often-fatal journeys between Libya and Italy, currently the world's most-deadly sea route for migrants.
U.S. pressure
On Thursday, U.S. Ambassador to the United Nations Nikki Haley called on countries to suspend providing weapons to Myanmar over violence against Rohingya Muslims.
It was the first time the United States had called for punishment of Myanmar's military, but she stopped short of threatening to reimpose U.S. sanctions, which were suspended under the Obama administration.
Buddhist-majority Myanmar rejects accusations of ethnic cleansing and crimes against humanity and has denounced rights abuses.
Survivor Abdul Kalam, 55, said at least 100 people had been on board. His wife, two daughters and a grandson were among the dead, he said.
Kalam said armed Buddhists had come to his village about a week ago and taken away livestock and food. He said villagers had been summoned to a military office and told there were no such people as Rohingya in Myanmar.
After that he decided to leave and headed to the coast with his family, avoiding military camps on the way.
In a sharp ramping up of the pressure on Myanmar, also known as Burma, Haley echoed UN accusations that the displacement of hundreds of thousands of people in Rakhine State was ethnic cleansing.
"We cannot be afraid to call the actions of the Burmese authorities what they appear to be — a brutal, sustained campaign to cleanse the country of an ethnic minority," Haley told the UN Security Council.