Alberta court interpreter program on rocky ground, despite few alternatives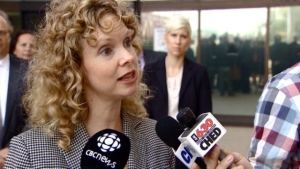 A volunteer-run system intended to ensure court translators are qualified and accessible is at a "crisis point," says an Edmonton lawyer who has played a key role in developing court training for translators.
Shannon Prithipaul was involved in a trial about six years ago and found the translation services were "horrible."
So she and an interpreter stepped in to create the Alberta Court Interpreter's Course, run entirely by volunteers to ensure interpreters are familiar with court procedures and have sufficient translation skills.
"I don't know if the public is really aware of the situation … but for quite a long time, we have not had a standardized set of criteria for who can do interpretation," she said. "We don't have a system in place to ensure interpreters who are doing interpretation before the courts are actually capable of doing that."
Prithipaul assumed the course would be a stop-gap measure while the courts adjusted to a growing need for interpretation services.
Six years later, the Alberta Court Interpreter's Course has become an important tool to get translators ready for court, alongside other non-profit organizations that have also worked in the area. But Prithipaul said the course is running low on volunteers and is at the point of folding.
It has previously graduated approximately 25 to 30 translators every year from the program.
"We have dedicated people who we should be investing in," said Prithipaul.
"If we just say, 'They're not doing a job,' but you never did anything to explain to them what that vocabulary means … in the first place, how can we expect them to succeed? We're not giving them the tools to do it."
Prithipaul said the court interpreter's course has never received any government funding. She is not looking for money to keep the program going, but rather for another organization to do so.
The Edmonton Mennonite Centre for Newcomers estimates that about 25 per cent of Edmonton's population was born outside the country. Some of the most common languages, other than English, spoken in the Edmonton courthouse are Spanish, French, Arabic, and Tagalog.
Alberta Justice has received the letter and is looking into the matter.
Broad need for services
Prithipaul noted the court system isn't the only place that requires translation services — hospitals, schools, and police all need to work with people who speak languages other than English.
She suggested a centralized "interpreter bank' could be helpful to various associations.
In Calgary, the company Mayagwe — a non-profit subsidiary of the Canadian Centre for Diversity and Inclusion — is trying to do that.
The company was founded by former Calgary police officer Bill Dodd. 
Dodd spent time with the diversity resources unit, which works with diverse communities in Calgary. Dodd said front-line personnel would often request translation services. At the other end, he'd get phone calls from interpreters, asking how they could do work on behalf of the police service.
He helped steer the development of software that can store a list of interpreters, their credentials, and their contact info, and link that information with real-time interpretation requests. Funding for the development came through various grant organizations.
"Basically, it's Uber for interpreters," Dodd said.
The interpreters are independent contractors, whose credentials are vetted. Customer requests get sent via smart phone to available interpreters.
The organization has recruited 210 interpreters so far, but won`t open for business until it has a "critical mass" of interpreters in various languages, Dodd said.
"We've had a lot of interest from across the country and from other places in Alberta," Dodd said.
The software is already being developed to accommodate requests for services outside of Calgary.
"One of the issues I found in the police service is the idea that it's too hard to find interpreters. It's time consuming, it's hard. We've made this as simple as possible."