After a red hot start to the year, Canada's economy didn't expand in July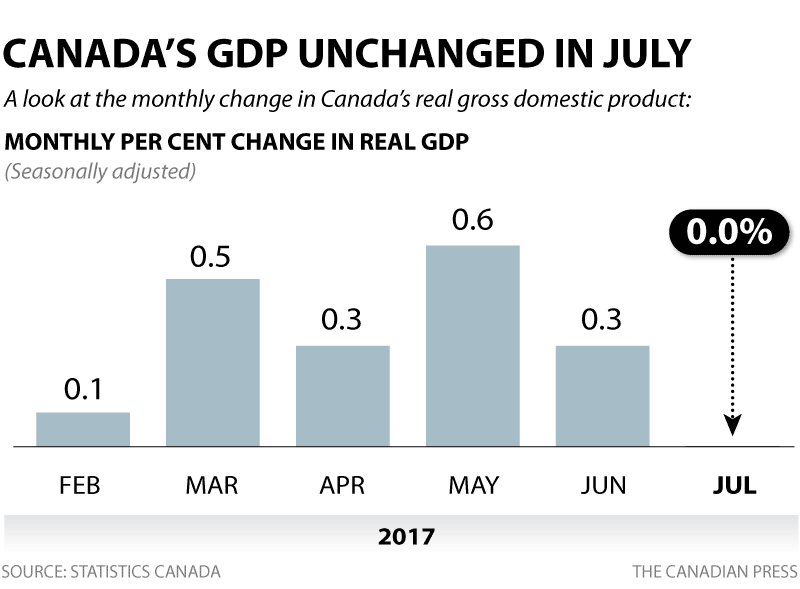 Canada's gross domestic product was essentially unchanged in July, as the oil and gas, mining and manufacturing industries all shrank.
Statistics Canada reported Friday that while the goods-producing sector shrank, services grew. Wholesale trade expanded by two per cent during the month, its best performance since September 2014.
July's flat showing overall is a slowdown from the recent trend, as the economy was growing at a 4.5 per cent annual pace at the end of June, the fastest pace in six years. Economists had expected the economy to eke out a small gain of around 0.1 per cent for the month.
While not an encouraging sign, July's pullback comes after a stretch of rapid growth. For the first six months of the year, Canada's economy has expanded by an average of 0.4 per cent per month, tacked on the back of 0.3 per cent average monthly growth in the back half of 2016, Bank of Montreal economist Doug Porter noted.
"We all knew the economy could not keep up that pace, and it was only a matter of time before it cooled," Porter said, "and July marks the start of that cooling."
"While we would never read too much into any one month, [July] could mark a return to a more sustainable and realistic growth rate for the economy, after a year of staggeringly good news."