Vacationing like a 'real' man: Photos from Putin's macho holiday seen as part of re-election bid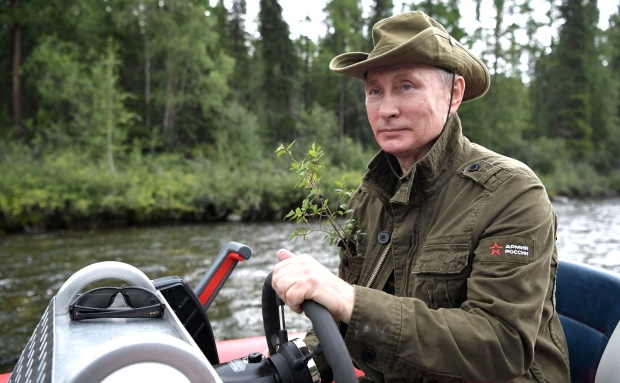 It seems there is no such thing as too much of Vladimir Putin's bare chest.
For the second time in three days, the Kremlin has released video of the Russian president's recent macho holiday adventures in Siberia — with even more hunting, boating and underwater spearfishing — and plenty of new scenes of a shirtless Putin enjoying the outdoors.
The first round of photos and videos was released Saturday morning in Moscow and played unrelentingly on Russia's main state television channels all weekend. They also featured prominently online and in the country's major newspapers.
Putin, 64, is well-known for his action-man image and photo ops. In the past, he's been featured shooting tigers, hugging polar bears and once even scoring seven goals in a hockey game on his birthday.
These latest images — including 47 minutes of new raw video released Monday morning on the Kremlin's official website — reinforce the idea of an indefatigable, physically fit leader able to tackle the hardiest challenges.
The Moscow Komsomolets, one of the capital's most widely read papers, gushed: "How could you not vote for a torso like that?"
And in fact, that appears to be the main purpose behind the timing of the Putin photo shoot.
No declaration yet
Russia's next presidential election is in March 2018 and while Putin hasn't officially declared his intention to run for a second consecutive term and fourth overall, many here see the timing as marking the unofficial launch of his campaign, a contest he's widely expected to win easily.
Putin's outdoor activies, said spokesman Dmitry Peskov, speak to "the physical fitness" of the president.
Putin's outdoor heroics have consistently resonated with Russian voters and the response this time has been overwhelmingly positive as well.
Some Russians even suggested Putin's flat stomach and lean physique may have actually improved since the first time he took his shirt off for the cameras 10 years ago.
"It seems like he's trying to conquer the heart of voters," the Komsomolets continued, suggesting the president is something of a modern day Indiana Jones adventure hero.
"Who else could pack so much adventuring into a single vacation?"
Some supporters noted the distinction between Putin's holiday and Donald Trump's vacation at his golf resort in New Jersey.
Sharp teeth
As Putin chased predatory fish with sharp teeth underwater for two hours with a spear, they noted, the U.S. president was golfing.
Putin "vacations like a 'real' man. I will personally vote for him," wrote Vladimir Sharapov, one of several million Russians who viewed the Siberia holiday footage online.
Independent news sites, known for being more critical of the Kremlin, had more nuanced views on the Putin holiday.  
One reader noted how well the event appeared to be stage-managed, with large numbers of boats, all-terrain vehicles and other expensive equipment in the remote location, suggesting it appeared to be more akin to a military exercise than a holiday.
"No one will ever know how much it all cost," the reader wrote.
Another noted the country's infrastructure is crumbling and economic sanctions have crippled sectors of Russia's economy.
"What are you going to do about that, Valdimir Putin?"
Barely a mention
The endless looping of Putin's holiday fun on Russian TV could also not have contrasted more with what has not been reported on recently.
July 30 marked the 80th anniversary of the official launch of Joseph Stalin's so-called "Great Terror" — purges and deportations that eventually led to the deaths of 700,000 people.
The date passed with barely a mention in the Kremlin-friendly media.
The apparent downplaying of Stalin's legacy — and enhancement of Putin's action hero status — is seen by many analysts as an effort to play up the need for Russia to continue to be led by a strong, authoritarian figure.
This is how Putin rests, praised one Russian commentator — and he wasn't even jet-lagged even though he was 2,300 kilometres from Moscow.