Thousands flock to 3-day Edmonton Cariwest Festival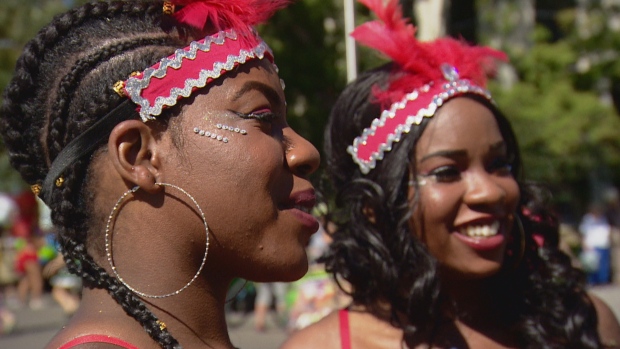 Hundreds of vibrantly costumed dancers flooded downtown Edmonton Saturday for the city's annual Cariwest parade.
"I think people should come here just to see how the Caribbean is and how we enjoy life," said Rhonda Bannis, one of the dancers. 
"Once you hear the music, you start moving."
Bannis emigrated from the Caribbean island of Dominica with her family more than a decade ago.
She was one of two dancers representing her homeland at the three-day festival, the largest celebration of Caribbean culture in western Canada.
More than 80,000 people are expected to visit Churchill Square from Aug. 11 to 13, to take in the decades-old festival. 
Music pulses from the square, where food trucks offer sizzling Caribbean cuisine to a dancing crowd. 
"Energy, happiness and freedom — that's what Cariwest is," said Kelvin Ganpatt, a festival volunteer. "We're just trying to bring the Caribbean here and share our culture with everyone."
Cariwest will be forced to relocate next summer, once LRT construction takes over Churchill Square.
Organizers are considering 118th Street, Whyte Avenue and Millwoods as possible venues, Ganpatt said.
"We haven't locked anything down but Cariwest will not stop," he said. "This year we are just going out of Churchill with a bang."