'There is no place for you here,' Virginia governor tells white nationalists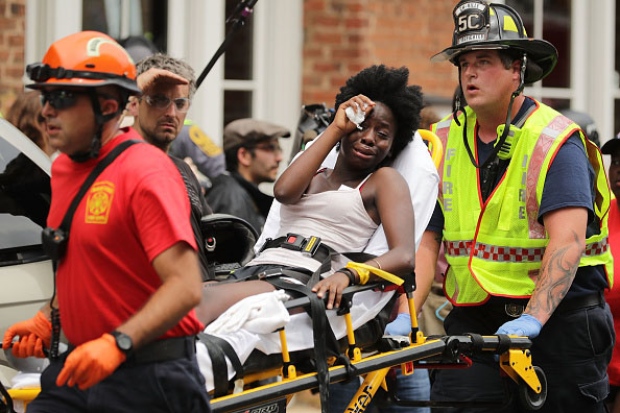 The college town of Charlottesville, Va., is quiet this morning after two days worth of rallies between pro-white demonstrators and counter-protesters turned deadly, with a motorist ramming a car into a crowd.
The US Justice Department opened a federal civil rights investigation after the vehicle struck anti-racist protesters Saturday while they rallied against white nationalists holding a "United the Right" rally.
James Alex Fields Jr., 20, of Maumee, Ohio, faces several charges, including second-degree murder, in the attack, which killed Heather Heyer, a 32-year-old paralegal from Greene County, Va. Nineteen others were injured at the scene. In all, 35 people were hurt in the rallies.
Police have not yet provided a motive for the car-ramming incident, but U.S. attorneys and the Federal Bureau of Investigation have opened a civil rights investigation, an FBI field office said.
Federal authorities were also looking into a helicopter crash on Saturday that killed two Virginia state police officers who were monitoring the clashes.
Virginia Gov. Terry McAuliffe, a Democrat, declared an emergency and halted the white nationalist rally planned for Saturday, but that did not stop the violence.
A vehicle plowed into a crowd of protesters after events around #UniteTheRight declared unlawful assembly https://t.co/ux0lgdN1gf pic.twitter.com/ZFiQGOIVN9
Rival groups fought pitched battles using fists, rocks and pepper spray. Three men were arrested in connection with the violence and face charges that include disorderly conduct, assault, and carrying a concealed handgun.
"Please go home and never come back," was McAuliffe's message for the white supremacists, delivered at a news conference.
"There is no place for you here, there is no place for you in America," he added.
McAuliffe will visit two Charlottesville churches and speak to congregants on Sunday.
U.S. President Donald Trump said "many sides" displayed bigotry in Charlottesville, remarks that drew fire from across the political spectrum for not specifically denouncing white nationalists.
"We condemn, in the strongest possible terms, this egregious display of hatred, bigotry and violence on many sides," Trump told reporters at his New Jersey golf course on Saturday.
Backlash for Trump's wording
Prominent Democrats, civil rights activists and some Republicans said it was inexcusable of the president not to denounce white supremacy.
"Mr. President — we must call evil by its name," Republican U.S. Senator Cory Gardner wrote on social network Twitter.
Very important for the nation to hear @potus describe events in #Charlottesville for what they are, a terror attack by #whitesupremacists
"These were white supremacists and this was domestic," said Gardner, chairman of the National Republican Senatorial Committee, the group charged with helping to get Republicans elected to the Senate.
Nancy Pelosi, the Democratic leader in the U.S. House of Representatives, said in a tweet directed at the president: "Repeat after me, @realDonaldTrump: white supremacy is an affront to American values."
Republican Sen. Marco Rubio from Florida tweeted that it's "very important" for the nation to hear the president describe events in Charlottesville "for what they are, a terror attack by white supremacists."
The planned rally stemmed from a long debate in the U.S. South over the Confederate battle flag and other symbols of the rebel side in the Civil War, which was fought over slavery.
The Charlottesville violence is the latest clash between far-right groups, some of whom have claimed allegiance to Trump, and the president's opponents since his January inauguration, when black-clad anti-Trump protesters in Washington smashed windows, torched cars and clashed with police, leading to more than 200 arrests.
The protests at the University of Virginia on Friday night and those the following day involved supporters of the alt-right and Ku Klux Klan, along with neo-Nazi groups.
They were objecting to Charlottesville's plans to remove a statue of the Confederate general Robert E. Lee from a downtown park. About two dozen people were arrested in Charlottesville in July when the Ku Klux Klan rallied against the plan to remove the Lee statue. Torch-wielding white nationalists also demonstrated in May against the removal.
Thousands of people turned out to rallies across the U.S. to denounce the violence in Charlottesville.
In Oakland, Calif., organizers distributed fliers with the slogan "Charlottesville, We Got Your Back."
There were rallies in several other cities, including New York, Boston, and  San Francisco.
More solidarity protests are planned for today in Washington State and Maryland.