The Movie "STEP" Fills Me With Joy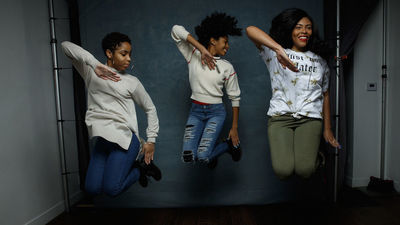 THERE'S A SAYING that never fails to make me feel joyous: "This is the day that the Lord hath made, Let us rejoice and be glad in it." Not to get biblical or religious on you, but this sentence always seems to provide a lift to my day. And these days, I've needed it more than ever.
The irresponsible and crazy shenanigans from the White House and Congress are driving me to distraction, and have left me feeling unusually discouraged, depressed and downright fearful about the future of our country. So I decided to take a page from the playbook that says: when you can't change a situation, change yourself. I chose to look for things that restored my joy and my faith in humanity. These few examples of those things stand as indefatigable proof that humanity has a capacity for good that has transcended every challenge that we've been dealt. It doesn't mean we stop resisting; we will continue to fight for what is right and just. We just don't have to live in that downtrodden place 24/7. As Roger said: "We must contribute joy to the world." Here's to Joy! —Chaz Ebert
1.

"The Alliance of Women Film Journalists named 'STEP' their Movie of the Week": This documentary by Amanda Lipitz filled me with joy.
I absolutely loved taking a trip, through this documentary, to the world of these young ladies from Baltimore. They struggled to make it from high school, to a path of higher education using the dance steps of their drill routine as an anchor. First-time director Lipitz and editor Penelope Falk document the trials and tribulations of the girls in a way that made me emotionally invested in the outcome. I confess, by the end of this film my tears were flowing. The movie leaves audiences cheering. It highlights how the love and deep caring of the students' families, their principal, their coach and guidance counselor are instrumental in their success. And it also emphasizes the saving grace of education. "STEP" opens August 4th in selected venues. Go to its official site to see the locations. But see it.
Other movies that gave me a lift are:
– GET OUT: Jordan Peele's film is my number one gem of the year. Peele showed us something on screen that we really haven't seen before. A psychological horror-thriller that glides through layers of racial nuance and strips bare the facades we wear for each other. And he did it all in an extremely entertaining fashion. You have to see it more than once to analyze how deftly he does it. Amazing.
– AN INCONVENIENT SEQUEL: TRUTH TO POWER: Bonni Cohen and Jon Shenk give us a powerfully emotional sequel to Davis Guggenheim's "Inconvenient Truth." Al Gore continues on his multi-decade quest to sound the alarm on global warming and to bring about a revolution in clean energy. Watching how hard he works to get concessions for the signing of the historic Paris Climate Agreement makes it all the more frightening when our president withdraws the support of the United States to the accord. However, there is still hope in all of the work that has begun in solar and wind technology and in other areas of green energy.
–WONDER WOMAN: Patty Jenkins is a wonder woman! Not only is she the first female director to make a major super-hero movie, but she also proves that it is not incongruous for a hero to be both strong and compassionate.
–DETROIT: Kathryn Bigelow scores again. Not many knew about what happened at the Algiers Motel in Detroit in 1967, and this film places you directly in the brutality of the moment.
-:DUNKIRK: War is hell, and Christopher Nolan's World War II tale shows it in all it's relentless horror.
– WAR FOR THE PLANET OF THE APES: Matt Reeves' third installment in the "Planet of the Apes" prequel series is a technological marvel.
–THE BIG SICK: Michael Showalter directs Kumail Nanjiani's script based on a true story about how he and his wife bonded over her illness. And a clear-eyed, more authentic tale of love and romance you are not likely to find this year. Major kudos to all the supporting actors.
– GIRLS TRIP: Malcom Lee's film proves that #BlackGirlMagicIsReal. Queen Latifah, Regina King, Jada Pinkett Smith, and Tiffany Haddish (who steals the show with her raunch), show us that girls just wanna have fun.
2.
"The Goodness Awards: This Little Light of Mine, I'm Gonna Let It Shine": These organizations are so good they make me want to follow their example.
When you are feeling down, one of the best ways to step outside of yourself is to do something good for someone else. In the article linked above, click on each organization's name and you will be directed to their official site.
3.
"Global Stem Alliance" Children of Chicago, We Care About You.
At a recent conference of the Aspen Brainlab, founder Glenda Greenwald, made an announcement about donating money to help students register for a new program in the Science, Technology, Engineering, and Mathematics areas. For as little as $250 we could help a student take advantage of this year long program to improve their STEM skills. I made a plea on behalf of the budding future scientists in the Chicago Public School system, and within a few minutes I had enough volunteers donate money to help almost 200 students! The generous donors don't even live in Chicago, but they care about the children of Chicago. This goodness, of course, brought me to tears. Now I will work with the CPS and After School Matters to sort out how to connect the students to the Aspen Brain Institute, who along with the New York Academy of Science will administer the program.
4.
"John McCain gives healthcare fight its Capitol Hill movie climax": As reported by Variety, which also compiled various reactions of gratitude.
This was originally going to be an essay devoid of politics, but how can I not acknowledge the heroism of Republican senators John McCain, Susan Collins and Lisa Murkowski in voting against the GOP's inhumane health care plan?
5.
FAMILY:
I am so fortunate to be able to retreat into the cocoon of family when I feel myself losing hope in the bigger world. At one recent family reunion, my niece LaReese's boyfriend dropped to his knee and asked for her hand in marriage. What a joyful occasion it was! I look forward to their wedding day where I have been asked to step in and assume the matriarchal duties that my late sister Martha would have carried out. By the way, LaReese is one of eleven children. Here she receives the support of all of her brothers and sisters. We are indeed family.
Below, I've posted a video collage of my own joy…
Image of the Day
This simple yet profound quote from the Dalai Lama is one worth remembering: "Be kind whenever possible, it is always possible."
Three Videos of the Day
#1
I love when people use their power and influence to spread good in the world, and that is precisely what Rod Stewart has just done. CNN has the scoop on how Stewart donated $23,000 to Trach Mommas of Louisiana, a group comprised of mothers with severely ill children.
#2
I believe strongly in the power of Forgiveness. For too many years sports fan Steve Bartman was the designated "scapegoat" for so many disgruntled Cubs fans. He has had to hide his identity and his very life for about 14 years since he caught a foul ball that reportedly cost the Cubs a championship. So I was overjoyed yesterday when WGN reported that Bartman received a 2016 Chicago Cubs World Series Championship ring. A classy move from the now-victorious team to one of its longest suffering fans. Way to go Cubs! You are the real Champs.
#3
This incredibly beautiful video of young Emma Bennett receiving an American Girl doll "who looks like her" never fails in eliciting tears of joy. The doll is a miracle courtesy of A Step Ahead Prosthetics, a prosthetics company that makes alterations to American Girl dolls.