Proposed Valley Line LRT extension to eliminate parking spots in west Edmonton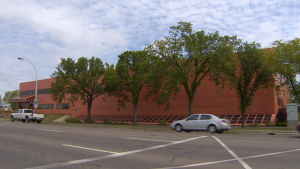 Future tenants of the old MacEwan University west campus are already raising concerns over parking at the building.
There are 180 parking stalls at the iconic orange building on 156th Street and 100th Avenue. But future Valley Line LRT expansion in the west end of the city could mean the demolition of that parking garage.
The news came at Monday's Community and Public Services meeting where city administration explained to councillors that many of the 27 potential tenants of the building are worried about a lack of parking in the area.
"Certainly parking is important. We don't want to see parking spillover into the neighbouring communities," said Coun. Andrew Knack, who represents the area.
"I think the whole plan now is to figure out if that parkade is going to stay," Knack said. "If it has to go, would it be rebuilt after the LRT is built in the same location? Or do we build it across the street at the Jasper Place terminal? But I think it's too early to say that."
The demolition of the parking lot could be a huge blow to city revenues from the building. The parking lot is expected to bring in $100,000 in revenue each year, after the city takes ownership of it at the end of September.
The city is currently in the design phase of the Valley Line LRT extension which would bring the rail line out to Lewis Farms. The current LRT design plan features a stop where the parking lot is located.
City administration told councillors Monday that it is still early in the design phase of the LRT extension and that there are still opportunities to look at other parking options.  
Early days for 'Orange Hub'
Development of the orange building is still being reviewed by city officials.
A proposed name of 'Orange Hub' has been brought forward while city administration review potential tenants for the building. Decisions are expected to be made in the next couple of weeks on an anchor tenant which will occupy a large part of the building.
Many of the tenants that have applied are non-profits in the arts, culture, health, food services and other industries.