Pilot project targets 'pent-up demand' from pedestrians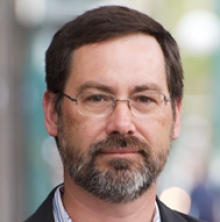 Two University of Alberta researchers are rating Edmonton's walkability.
"We'd like to know why it seems that you can walk a kilometre faster in Ottawa than in Edmonton," said Rob Shields, a sociology professor.
Shields and U of A research intern Nathalia Osorio are mapping downtown routes for a new mobile app that will help users navigate the city on foot.
They launched the project after hearing stories about people who don't leave their downtown offices during the day because it takes too long to walk to local restaurants and coffee shops.
Long traffic lights, missing sidewalks and a lack of streetlights discourage pedestrians, Shields said.
"If it's made more difficult, the whole experience of downtown is affected."
'Pent-up demand'
Edmonton is designed as a car-centric city, Shields said. Pedestrians' needs have historically been an afterthought, he added.
"You drove in to work and you did your work and then you got back in the car and went home."
But the city's attitude is shifting, Shields added.
"There is a pent-up demand," he said. "People would like to, for example, go out for lunch but if you can't do it in a lunch hour then that opportunity is lost."
Shields and Osorio hope to meet the demand with their new app.
Armed with a camera, stopwatch and notebooks, the two have been mapping downtown sidewalks, intersections and crosswalks.
They also turned to the public, crowd-sourcing much of their data through surveys. 
"What we want to have is a tool so that other researchers can understand this better and also so that people can crowd-source what might be the best routes," Shields said.
"Maybe provide some feedback to cities or contractors."
Shields and Osorio are still developing the app.
To complete the project, Shields said they need partners and are looking for colleges with tech programs, planners and cities willing to participate.