Magali Harvey rolls up 41 points for Canada in opening women's rugby World Cup victory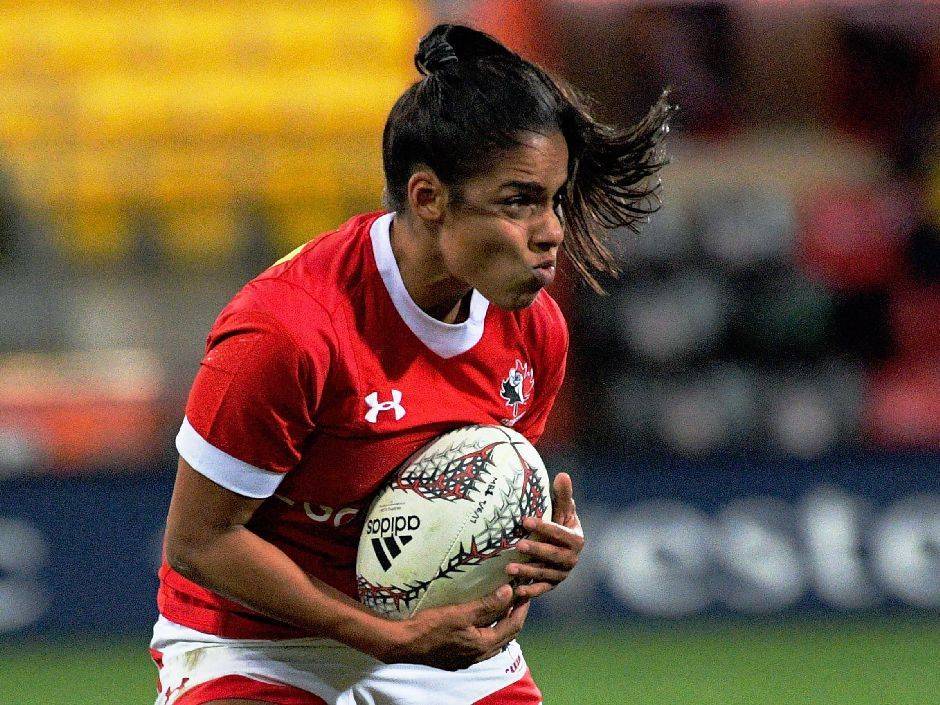 DUBLIN — Canada is off to an impressive start at the 2017 Women's Rugby World Cup after posting a 98-0 rout of Hong Kong on Wednesday behind a huge game from Magali Harvey.
Canada, ranked third in the world, scored its first try at the four-minute mark of the match and didn't let up until the final whistle.
Harvey, a star of Canada's team that made it to the final of the 2014 World Cup, led the Canadians with five tries and eight conversions and was named player of the match. The Quebec City native now has 234 points in international competition.
Captain Kelly Russell had three tries for Canada, while A.J. Burk, Elissa Alarie and substitute Amanda Thornborough each added a pair.
Brittany Waters and Alex Tessier also scored tries, while Brianna Miller added a conversion.
"I'm really proud of the team and the effort they put in," Russell said. "There are some things to fix going forward, but we'll get there."
After building a 46-point halftime lead, the Canadians rolled out the bench over the course of the second half but still put up another 52 points.
"It's important to get all of our girls out on the pitch because we want these girls to come up and bring up the pace when they step on and that's exactly what they did," Russell said. "Across the board anyone of those girls can be in that starting lineup. It's just starters and finishers."
Hong Kong, ranked 23rd in the world, is making its World Cup debut.
"Credit to Hong Kong," Russell said. "They were really good in the rucks. They gave it to us a couple times and that's something we're going to have to clean up going forward."
Canada next faces Wales on Sunday.
Elsewhere Wednesday, defending champion England downed Spain 56-5; New Zealand downed Wales 44-12; and the United States beat Italy 24-12.
Host Ireland faced Australia and France took on Japan later Wednesday.
Burk opened the scoring inside the first five minutes, capitalizing on a powerful surge up the middle of the park from Russell before eventually receiving an offload and touching down.
Alarie scored Canada's second try of the afternoon with a solo effort, slicing through the Hong Kong defence.
The early Canadian offensive surge continued when Harvey took a short pass from Karen Paquin and ran in her first of the day. Converting her own try, Harvey put Canada up 19-0 before the match was 15 minutes old.
Shortly thereafter, a strong run from Frederique Rajotte put the Canadians on the Hong Kong doorstep and Russell lunged over the line for Canada's fourth try.
Harvey scored her second try just after the 25-minute mark, stepping through the defence and touching down.
Russell scored her second six minutes later after Canada pushed a five-metre scrum across the line.
A driving run from DaLeaka Menin setup Canada's seventh try of the first half, with Burk eventually finishing a couple minutes before the break. Harvey completed the hat trick at the halftime whistle, putting Canada ahead 46-0.
Less than a minute into the second half, Alarie scored her second on a long, weaving run. Thornborough continued to pour in the tries for Canada a few minutes later, putting down her first try of the tournament. Tessier was next, intercepting a Hong Kong pass and running half the field for the try.
Two more tries from Harvey sandwiched around a Waters score put Canada had 79-0.
Hong Kong earned a few spots of possession late in the contest, once driving the ball within five metres of the Canadian line, but that was as close as they would come.
Russell completed her hat trick with a late try, before Thornborough and Harvey each crossed again to cap the scoring.