Kitten invades field, bites stadium worker before leading St. Louis Cardinals to victory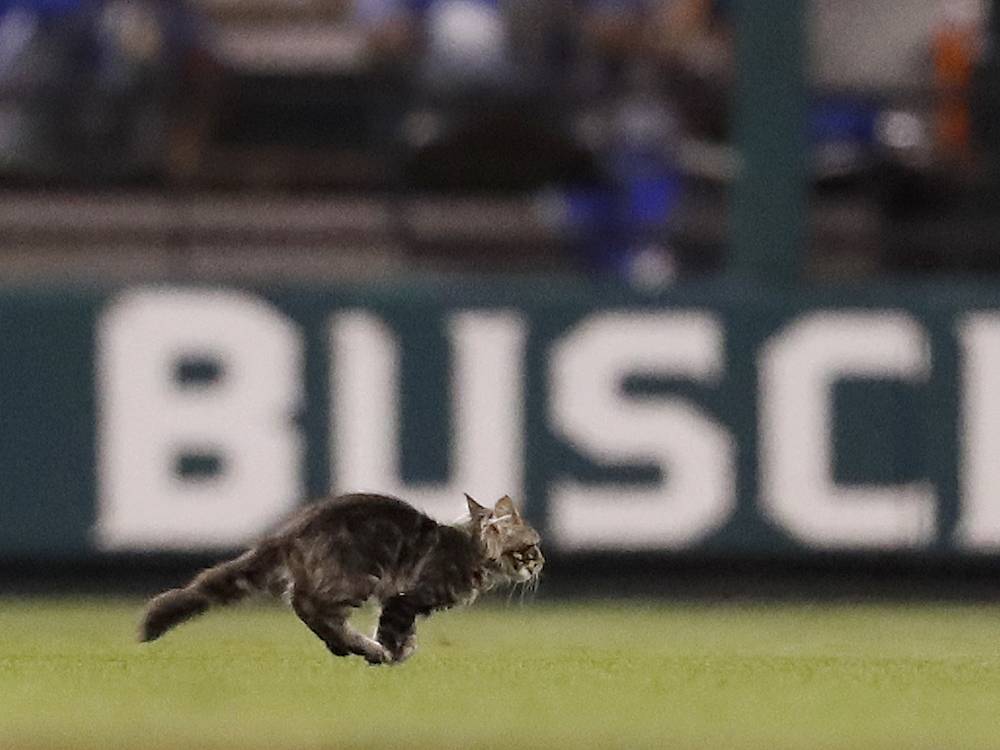 ST. LOUIS — The Rally Squirrel became the St. Louis Cardinals' unofficial mascot during their 2011 World Series championship run.
On Wednesday night, the Rally Cat was born.
Yadier Molina blasted a grand slam into the left field seats one pitch after a cat ran onto and across the field in the sixth inning, helping the Cardinals rally to beat the Kansas City Royals 8-5.
"It's amazing," Molina said. "You see some animal coming through a field. You expect people to jump on the field but you never expect an animal. It was fun."
Video shows the cat repeatedly biting the stadium employee who carried the animal off the field.
The win was the third straight for the Cardinals against the Royals and the fifth straight overall. The Royals have lost eight of their last 10 overall.
Molina's big blast — after a little help from a friendly feline — made the difference on a night the teams combined for 13 runs and 26 hits.
"I'm not a cat person but I sure liked that one," Cardinals manager Mike Matheny said.
The Cardinals loaded the bases off Royals relievers Brandon Maurer and Peter Moylan. Molina was at the plate, with two outs, when the cat came onto the field and ran toward the centre field wall.
"I heard the crowd erupt and I thought there must have been something on the scoreboard," Moylan said. "I turned around and there's a kitten running around, which is the first time that's happened to me."
On the next pitch, Molina drilled his 14th homer of the season into the left field seats for his fifth career slam.
"I left a pitch over the middle of the plate and I paid for it," Moylan said.