Katy Perry Describes What Might Have Been Her Worst Kiss Ever: ''I Felt Like There Was a Wet Fish in My Mouth''
Steven Klein for W Magazine
Katy Perry is feeling more free and open than ever.
The 32-year-old pop star covers the latest issue of W magazine in which she divulged some of the more personal aspects of her life, like kissing and telling, singing in the shower and crying to her own songs.
Katy admitted her platinum blonde pixie is just a physical sign of how liberated she feels lately, noting, "In general, I feel 360-degrees liberated—all around. Whether it's politically, mentally, spiritually, sexually. I feel liberated from all the things that don't serve me."
At 32, she said she's "surrendering and embracing my 30s. You couldn't give me anything to go back to my 20s. To get to this place, I had to do some much-needed work on my heart, soul, mind, and body. Since doing that, a lot of beautiful things started to bloom again."
Her music being one of them.
In fact, Katy's not too proud to admit she's cried to her own songs.
"My songs are so personal. Sometimes they are about people who are no longer in my life, or they're about unrequited love," she told the publication. "We all pose so much. We all display a life that isn't real. I'm guilty of that as well. But when you break it all down, it's really powerful."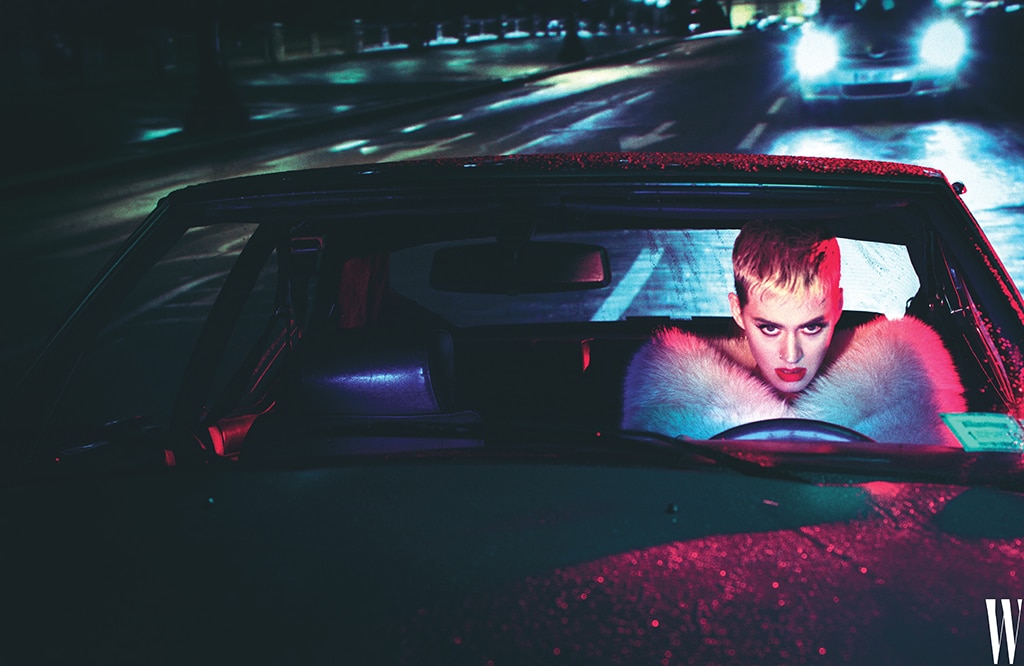 Steven Klein for W Magazine
Speaking of powerful, there's nothing like the memory of a first kiss, which Katy recalled vividly…for better or worse.
"My first French kiss was in sixth grade in Big Bear, California," she explained. "I was hanging out with this girl from church who had a bit of a reputation. She had a coed party, and I was not allowed to go to a coed party until eighth grade. But I went anyway."
She continued, "At the party, we played spin the bottle. It got to be my turn, and I spun the bottle, and, all of a sudden, I felt like there was a wet fish in my mouth. That was my first kiss. When you're in sixth grade, there's no art to French kissing. There's no cadence, no beautiful up and down, no waves. Instead, it just feels like your mouth is getting invaded by a slug."