Hurricane Harvey lashes coastal Texas with high winds, heavy rain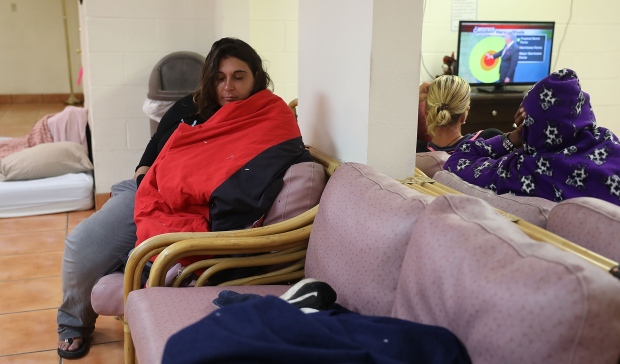 Hurricane Harvey settled over southeast Texas early Saturday, lashing the state's Gulf Coast with damaging winds and dumping torrents of rain over hundreds of kilometres of coastline that braced for what forecasters predicted would be life-threatening storm surges — basically walls of water moving inland.
The fiercest hurricane to hit the U.S. in more than a decade made landfall the previous night about 48 kilometres northeast of Corpus Christi as a Category 4 storm with 209 km/h winds. It gradually weakened over the next several hours and by 5 a.m. ET forecasters said the maximum sustained winds had slowed to around 155 km/h, with higher gusts.
Harvey's approach sent tens of thousands of residents fleeing inland, hoping to escape the wrath of a menacing storm that threatens not only the coast but a wide swath of Texas that is home to oil refineries, chemical plants and dangerously flood-prone Houston, the nation's fourth-largest city.
No deaths were immediately confirmed in the hours after Harvey's arrival, but officials noted emergency crews couldn't get out in many places due to high winds. Melissa Munguia, deputy emergency management co-ordinator in Nueces County, which includes Corpus Christi, said early Saturday that it could be hours before crews could fully assess the damage in coastal communities.
Fuelled by warm Gulf of Mexico waters, Harvey grew rapidly, accelerating from a Category 1 early Friday morning to a Category 4 by evening. Its transformation from an unnamed storm to a life-threatening behemoth took only 56 hours, an incredibly fast intensification.
Harvey came ashore as the fiercest hurricane to hit the U.S. in 13 years and the strongest to strike Texas since 1961's Hurricane Carla, the most powerful Texas hurricane on record. Based on the atmospheric pressure, Harvey ties for the 18th strongest hurricane to make landfall in the U.S. since 1851 and the ninth strongest in Texas.
Forecasters said early Saturday morning that Harvey is slowly moving inland over south Texas.
"Catastrophic flooding expected over the next few days due to heavy rainfall," the U.S. National Hurricane Center said in a statement. "
The storm is expected to weaken, forecasters said, with Harvey "likely to become a tropical storm later today."
But even if the storm weakens, serious risks remain.
Wind, rain and flooding
In Corpus Christi, the major city closest to the storm's centre, wind whipped palm trees and stinging sheets of horizontal rain slapped against hotels and office buildings along the city's seawall as the storm made landfall.
Boats bobbed violently in the marina. It was too dark to tell whether any boats had broken their moorings.
Rain and storm surge were among the biggest worries for officials, and the hurricane centre said some areas of southern Texas have already had almost 25 centimetres of rain, with more expected.
Corpus Christi officials worked through the night to deal with the storm, warning the public of the possible risks, including storm surge, high winds and flooding.
More than 211,000 consumers were without power across the Gulf Coast, the Electric Reliability Council of Texas said early Saturday morning. 
The majority of those affected are in Corpus Christi, where the storm had downed power lines.
If you venture outside, there are many active power lines down or compromised citywide. Proceed with extreme caution. #StaySafeCC
On Friday, the police chief in the coastal city said staff are ready to respond but will have a reduced presence in areas experiencing high winds, where the situation could be unsafe for officers. The fire chief said they, too, were ready, though some equipment was pre-emptively moved out of a low-lying area.
Emergency personnel in the coastal community Aransas County said Friday that they are assessing damage reports from Hurricane Harvey as they are able.
Officials in Aransas Pass say the Harbor Master Building along its coast has been destroyed. The Aransas Pass Police Department posted a video on its Facebook page of the building folding up from the high-speed winds.
Click here to see a Facebook video of wind battering the Aransas Pass harbour
Rockport Volunteer Fire Department spokeswoman Gillian Cox told the Corpus Christi Caller-Times that the roof of Rockport's high school has partially caved in. But Cox said social media posts indicating the school has "disappeared" are inaccurate.
Rockport City Manager Kevin Carruth told the newspaper that the courthouse in the city, which is about 48 kilometres northeast of Corpus Christi, also has sustained major damage. Carruth says that a cargo trailer is halfway in the building.
Before the storm arrived, home and business owners raced to nail plywood over windows and fill sandbags. Steady traffic filled the highways leaving Corpus Christi, but there were no apparent jams. In Houston, where mass evacuations can include changing major highways to a one-way vehicle flow, authorities left traffic patterns unchanged.
Just hours before the projected landfall, the governor and Houston leaders issued conflicting statements on evacuation.
After Gov. Greg Abbott urged more people to flee, Houston authorities told people to remain in their homes and recommended no widespread evacuations.
In a Friday press conference that addressed Houston officials' decision to not have a voluntary or mandatory evacuation, Houston Mayor Sylvester Turner said there might be a "greater danger" in having people who don't need to be evacuated on roads that could flood.
Harris County Judge Ed Emmett said that because the hurricane was not taking direct aim at Houston, the city's primary concern was heavy flooding.
"We are not having a hurricane," said Emmett, the top elected official for the county, which encompasses Houston. "We are having a rain event."
#GOES16 captured this geocolor imagery of #Harvey as it nears landfall on the Texas coast. Get the latest info @ https://t.co/cSGOfrM0lG pic.twitter.com/u0O9ChtJeP