How Canada became an unlikely powerhouse in women's Australian rules football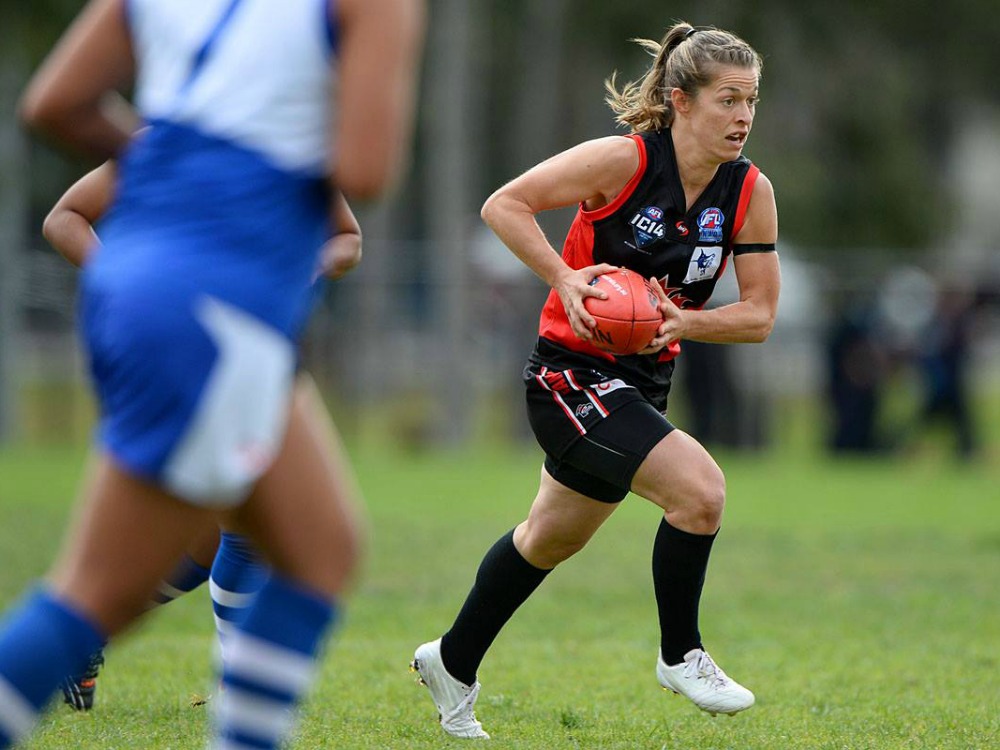 In this Aug. 20, 2014 photo, Canadian national Australian rules football player Aimee Legault carries the ball against Tonga at the International Cup.
Photograph by: Handout
Jason Arnold walked out of a meeting in Edmonton last week, got in his car and immediately went to see his chiropractor. It was the day before he caught a series of flights to his old hometown, Melbourne, and he figured there was no harm in assessing the condition of his back.
As he drove, Arnold listed the difficulties of fielding a national Australian rules football team in Canada. The weather prevents you from practising outside for half the year, he said over the phone. Because the country is so vast, the team almost never trains as one. And since the federal government doesn't fund the sport, players have to pay thousands of dollars out of pocket to travel anywhere — say, to an international tournament.
Not that any of that has thwarted the Canadian women's team, who were due to follow Arnold to Melbourne for the International Cup, Australian football's approximation of a world championship. The last time the event was held, in 2014, Canada's women won it all.
"We were really the dominant team during that tournament," said Arnold, the team's head coach. "The whole tournament was pretty special."
In the last decade, Canada has become a rather improbable powerhouse in women's Australian football, or footy. The number of women who played in sanctioned leagues across the country last year is small enough to be made precise: 212, according to AFL Canada, the game's governing body here. But the best of those players have banded together to form the No. 2 team in the world — behind, you probably could have guessed, Australia.
Australia doesn't play in the International Cup; too many of their players were weaned on the sport and might reasonably be expected to decimate all comers. Instead, Canada's stiffest competition is Ireland, the squad they lost 39-8 to in the 2011 Cup final — and beat 38-12 for the title in 2014.
[embedded content]
This year's Cup starts Sunday, though the Canadians, known internationally as the Northern Lights, made a point of leaving early for a rare concentrated spell of practice. They'll face Fiji, Pakistan and Great Britain in the preliminary round. But from the outset, their target is the Aug. 19 Grand Final, set to be played for the first time at one of Australia's grandest venues: 53,000-seat Etihad Stadium in Melbourne.
"A lot of guys and girls in Australia never get that opportunity. It's pretty special for our girls to be given that opportunity," Arnold said. "Amongst the group, I think we'd be disappointed if we didn't make the Grand Final as a starting point."
Which raises the question: How did Canada get to a stage where that is a logical expectation?
It has been a process, said AFL Canada president Lachlan Griffiths. The women's national program played its first game in 2007, around the time local teams began to form in B.C., Alberta, Ontario and Quebec. Those teams drew on athletes with grounding in other sports, from rugby to basketball to volleyball. Northern Lights captain Aimee Legault, for one, was a college and semi-professional soccer player who switched to footy in 2009.
"I think it really speaks to the leagues that are in place around the country, the maturity of those, and the talent of people that we have," Griffiths said.
In August 2011, the Northern Lights reached the final of the first women's International Cup, where Ireland, a team stocked with expats living and playing in Australia, beat them soundly. The following summer, they travelled to Dublin, Ohio, a Columbus suburb, for the 49th Parallel Cup, an annual showdown with the United States — and lost that match for the third straight time.
Arnold took over as coach later that year. Early in his tenure, he asked his players a couple of questions.
"Would their relatives or friends actually knew they trained and represented their country? Were they preparing like a national athlete?" he said. "In a lot of cases, they were honest enough to say they weren't."
Legault credits Arnold with establishing a new set of fitness standards, designed to keep players dispersed across the country in shape — and to hold them accountable. The team's training regimen now includes strength benchmarks and video analysis. Arnold used to be a scout in the top-tier Australian Football League, and to a team of relative novices, Legault said, his knowledge of the game is priceless.
"Canada has amazing athletes, and Jason has created that pathway for us," she said. "He saw something and he wanted to make it better."
Beyond the national programs — the men's team, known as the Northwind, is ranked ninth in the world and finished fifth at the last International Cup — Canada has a few enduring connections to the Australian game.
From April through September, AFL matches are shown live (read: overnight) every week on TSN. In 1987, Melbourne FC faced the Sydney Swans in exhibition play before 37,000 fans in Vancouver, still a record for a match held outside of Australia. Two Canadians took dissimilar paths to play in the AFL: Mike Pyke, a converted international rugby player from Victoria, and Mississauga, Ont.-born Andrew McGrath, who moved to Melbourne at age five and was drafted first overall last fall.
Then there's Simcoe, Ont.'s Kendra Heil, a Northern Lights veteran who transitioned out of rugby in 2012. Last fall, she signed with the Collingwood Magpies of the AFL's premier women's division. When she recovers from an ACL rupture she suffered in December, she'll become the first athlete who learned footy outside Australia to play at that level.
Heil scored two goals in the 2014 International Cup final, helping Canada pull away from Ireland in the second half. Her injury will preclude her from joining in on the title defence. Still, Arnold said Heil's body of work is indicative of the talent Canada has started to produce. He thinks several players currently on the national team could challenge for roster spots in AFL Women's.
"The gap between our best and the bottom end in the AFLW is very close," he said. "I know it's motivation for a lot of girls — that they could be really close to being able to play (in Australia). It's not a pipe dream for them."
Advancing through the group phase will be the first order of business. World Footy News, the Australian website whose unofficial rankings are considered authoritative, pegs Great Britain as the fourth-best team in the world, even though women's footy only came to Britain two years ago. Fiji is No. 6, while Pakistan, another newcomer to the Cup, is unranked.
If either contender on the far side of the bracket — the third-ranked Americans and No. 5 Ireland — is to win the title, the expectation is that they'll need to go through Canada. But making predictions in women's footy can be unwise, Arnold said, since most teams only see each other in competition every three years.
The coming tournament, he added, is "a clean slate," a chance for his players to keep the world at bay — and to remember why they embraced this far-flung sport in the first place.
"Not everyone has this opportunity to play for Canada. It's been a long road and a lot of sacrifices had to be made. You choose training over social gatherings. You choose to work your butt off instead of going out for a drink. There are so many sacrifices that are involved," Legault said.
"When it comes down to it, what do you really want to do with your athletic career? I guess I'm speaking for the group, but representing your country internationally, nothing can replace that."
• Email: nfaris@postmedia.com | Twitter: @nickmfaris
Original source article: 
How Canada became an unlikely powerhouse in women's Australian rules football