Home Entertainment Consumer Guide: August 24, 2017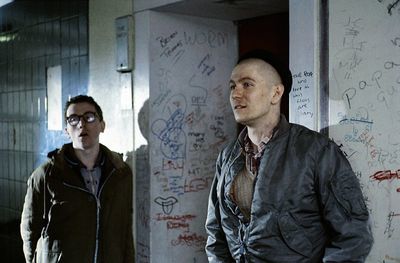 10 NEW TO NETFLIX
"21"
"All These Sleepless Nights"
"Arthur and the Invisibles"
"Beautiful Creatures"
"Desierto"
"Donald Cried"
"Gold"
"Goon"
"I Am Sam"
"Railroad Tigers"
6 NEW TO BLU-RAY
"Ash vs. Evil Dead: Season 2"
The second season of the Starz hit didn't get the same attention as the first, largely because that freshman season was such an unexpected joy. The follow-up was just as delightfully insane, arguably even more so. In fact, "Ash vs. Evil Dead" got darker and crazier, sometimes to the show's detriment, but always maintained the sense of blood-drenched glee that Sam Raimi instilled in this character and his Deadite enemies so long ago. Bruce Campbell is still an absolute delight here, finding just the right balance of ego, insecurity, and downright fearlessness, and this season he was allowed to riff off his advancing age, given a wonderful foil in Lee Majors as Ash's father. That may be the best casting of the decade.
Special Features
Season Two First Look
Inside the world of "Ash vs Evil Dead"
Up you Ash
Woman who Kick Ash
Puppets are Cute
Dawn of the Spawn
Bringing Henrietta Back
The Delta
How to Kill a Deadite
Fatality Mash-up
Audio Commentaries
"Guardians of the Galaxy, Vol. 2"
Speaking of casting, here's a summer blockbuster machine that was just wonderfully assembled. It's not just the title characters, but those supporting them that make this superhero ensemble the best in the MCU. And it's not a star vehicle for Chris Pratt by any stretch. In fact, Zoe Saldana and Dave Bautista get arguably better scenes in this follow-up to the 2014 smash hit. And then there's Kurt Russell, Karen Gillan, and, most of all, the great Michael Rooker, who's fantastic here. In the end, you don't really need me to tell you what to think of the second-highest-grossing film of 2017 (and if you do, my full review is linked here). If you liked it in theaters and are on the fence, all you need to know is that the Blu-ray transfer looks fantastic, the film replays very well (better than most MCU), and the release is loaded with special features. Just click below. You know you wanna.
Special Features
"Guardians Inferno" Music Video
Hilarious Deleted Scenes
Outrageous Gag Reel
Bonus Round: The Making of Guardians of the Galaxy Vol. 2
Audio Commentary by Director James Gunn
"Hopscotch" (Criterion)
Ronald Neame was a legendary producer with partner/director David Lean (on such films as "Brief Encounter" and "Great Expectations") before directing his own films, getting acclaim for his work on "The Prime of Miss Jean Brodie," "Scrooge," and "The Poseidon Adventure," among others. As film fans will discern from the previous sentence, Neame had a style asily adaptable to multiple styles and genres. He was a workman director, and he brought that skill to one of the later films in his career, the Walter Matthau spy comedy "Hopscotch," recently inducted into the Criterion Collection. Matthau plays a CIA gent pushed out to pasture too early, who basically threatens to get back at the suits who wronged him by releasing his memoirs. Never quite sinking into the genre of parody, "Hopscotch" plays more like dry comedy, and no one was better at dry comedy than Walter Matthau. Glenda Jackson is delightful here as well, particularly in a scene in which her character is reunited with Matthau and they playfully discuss which wine to order. Note: This release includes a great essay by one of our critics, the incredible Glenn Kenny.
Special Features
New 2K digital restoration, with uncompressed monaural soundtrack on the Blu-ray
Interviews from 2002 with director Ronald Neame and writer Brian Garfield
Walter Matthau in a 1980 appearance on The Dick Cavett Show
Trailer and teaser
Optional broadcast television audio track for family viewing
PLUS: An essay by critic Glenn Kenny
"Meantime" (Criterion)
Could Mike Leigh be our best working filmmaker? As Glenn Kenny recently said to me on Twitter, "Mike Leigh doesn't make bad movies." It's an inarguable point, and he's made several Great ones (with the capital-G.) Criterion dug into Leigh's early days and unearthed this working class gem that originally played on British television but had a brief life on VHS in the States after a couple of its stars became famous. In "Meantime," Leigh captured the lightning in a bottle that was Gary Oldman's first performance and one of Tim Roth's first at the same time. Both are phenomenal here, particularly in a great elevator scene in which you can see the performers they were about to become. Alfred Molina also co-stars in this episodic study of working class life under Thatcher. As with all Leigh, it's dialogue heavy and genuine, but also powerfully dramatic at the same time. Few directors work better with character. In fact, maybe none. This is the best Criterion release of the month.
Special Features
New, restored 2K digital transfer, supervised by director of pho­­tog­­raphy Roger Pratt and director Mike Leigh, with uncom­pressed monaural soundtrack on the Blu-ray
New conversation between Leigh and musician Jarvis Cocker
New conversation between actor Marion Bailey and critic Amy Raphael
Interview from 2007 with actor Tim Roth
PLUS: An essay by film scholar Sean O'Sullivan
"Sid & Nancy" (Criterion)
Was it mere coincidence that Gary Oldman's debut performance in "Meantime" was accompanied this week by his breakthrough revelation in Alex Cox's "Sid & Nancy"? Whatever one may say about this unique biopic journey into the hell of addiction, Oldman is riveting here. It's one of the best performances from one of our best living actors (arguably THE best who does not yet have an Oscar). And Chloe Webb matches him. I'm still not convinced this is a great movie even if it does have two great performances in it. It's so shapeless as to be frustrating, uncertain of its tone or message. Cox is clearly trying to mimic the freeform, anarchic approach to music by The Sex Pistols but what works for punk doesn't always work for film. However, if you like this movie more than I do, and most people do, it's a great addition to your Criterion shelf. Nancy Spungen losing her shit in a phone booth has never sounded better. And the Blu-ray is loaded with special features, including a ton of archival material with Sid and Nancy.
Special Features
New 4K digital restoration, with uncompressed stereo soundtrack on the Blu-ray
Alternate 5.1 surround soundtrack, presented in DTS-HD Master Audio on the Blu-ray
Two audio commentaries: one from 1994 featuring cowriter Abbe Wool, actors Gary Oldman and Chloe Webb, cultural historian Greil Marcus, filmmakers Julien Temple and Lech Kowalski, and musician Eliot Kidd; the other from 2001 featuring cowriter-director Alex Cox and actor Andrew Schofield
England's Glory, a 1987 documentary on the making of Sid & Nancy
Infamous 1976 Bill Grundy interview with the Sex Pistols on British television
Rare telephone interview from 1978 with Sid Vicious
Interviews with Vicious and Nancy Spungen from the 1980 documentary D.O.A.: A Right of Passage
Archival interviews and footage
More!
PLUS: An essay by author Jon Savage and a 1986 piece compiled by Cox about Vicious, Spungen, and the making of the film
"The Wall"
I'm a sucker for these movies. Flicks like "Mine," "Buried" and "Frozen" that trap their protagonists in one life-or-death situation. The lead this time is Aaron Taylor-Johnson, stranded in the middle of nowhere after he goes with his fellow soldier (John Cena) to investigate a sniper shooting and gets trapped by the enemy himself. Or does he? "The Wall" is both a single-setting white-knuckler and flirts with military philosophy as we learn that Taylor-Johnson's character is carrying some guilt over the loss of another soldier. He's pinned down by the sniper of trauma, if you will. The final scenes of the movie don't really work for me, but it's interesting and engaging enough before that to justify a rental.
Special Features
"Facts from the Front lines: A Visual Journey Through The Wall" Featurette
Four Behind-the-Scenes Vignettes
Audio Commentary with Director Doug Liman and Actor Aaron Taylor-Johnson