Family of girl abducted in west Edmonton badly shaken, police say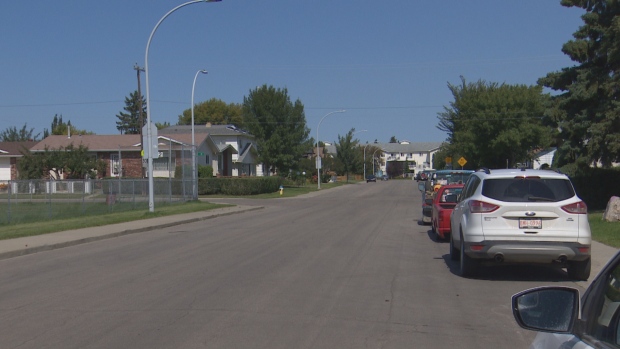 The family of a five-year-old girl who was abducted Saturday night is still badly shaken by the incident, police say.
The girl was riding her bike with her older brother just after 8 p.m. when a man grabbed her handlebars and led her away from the area.
Her older brother ran and alerted a family member, who found the girl unharmed a short while later. Police were called to the area near 157th Street and 99th Avenue and arrested a suspect minutes later.
Det. Manuel Illner with the Edmonton police Child Protection Unit called the older brother's actions "heroic," but said despite the praise the boy is still struggling to cope with the situation.
"Even though he reacted appropriately and alerted his family regarding this, he still seems to think that he did something wrong," Illner told reporters at a news conference Wednesday. "I've spoken with him as well, and tried to reassure him that what he did was heroic, in a sense."
The girl was perhaps too young to fully comprehend what happened, Illner said.
"She didn't seem to be too shaken by it, mainly because I believe she didn't quite understand what was going on," he said.
Advice for parents
Illner said the motive behind the abduction is unclear. He said the man arrested did not know the family.
Becci Watson, director of child support services for the Edmonton's Zebra Child Protection Centre, said in 90 per cent of cases the abductor knows the family 
But Sgt. Lael Sauter of the EPS Child at Risk Response Team said parents should still prepare their kids for such events.
"We try to isolate them always from danger, but we can't always prevent them from making decisions when they're not with their parents," Sauter said.
He said parents should talk about scenarios with their kids, and tell them when they get lost they should "freeze," so their parents can retrace their steps. He said children should not move, even if another adult is offering to help.
Parents and children also should establish a code word that parents can share with adults they trust.
Finally, if a person is forcefully abducting a child, Sauter said parents should teach their kids to yell "this is not my mom, this is not my dad, help." That alerts people the child is in distress and is not merely angry at their parents.
Illner said in Saturday's case the older brother had been taught how to deal with an abduction.
"The older brother was well prepared for such a situation," he said.
Dusty Greg Chalifoux, 37, has been charged with abducting a child under 14 years of age and breaching recognizance.
His next court appearance is scheduled for Friday.