Elvis Presley legacy lives on at Blue Suede Music Festival in Busby, Alta.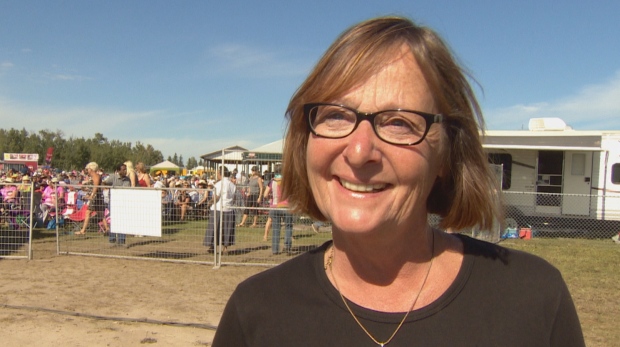 Forty years after his death, Elvis Presley's legacy endures — especially in rural Alberta.
Thousands of fans paid tribute to the King at the 9th annual Blue Suede Music Festival in Busby, Alta., 70 kilometres northwest of Edmonton on the weekend.
Trudy Taphorn started the festival when she invited about 100 family and friends to her acreage nine years ago.
This year, she estimates about 3,000 people came out to the festival held at the sports grounds in Busby. 
"There's just something about the man," Taphorn said Saturday about Presley.
"He changed the world, he changed the world of music."
Bret Wiggins, from Seattle, Wash., is one of 13 tribute artists who got the crowd all shook up.
"These are real Elvis fans out there. They love his music," Wiggins said of the crowd gathered in Busby. 
"If you can give them a flashback — just a moment — you've done your job," he explained. "That's really what we're all about, we want to give them a flashback."​
Presley fans come out to enjoy music and pay homage to the King, but it's also for a good cause, Taphorn said. 
Taphorn pays the artists' expenses to get to Busby. The impersonators perform for free at the non-profit event, with proceeds from sponsors going to local food banks. 
One Presley fan, Terry Boutin, has been going to the festival for five years. She said the tribute concert brings back memories from high school.
"His music, his gyrations … the costumes," Boutin said. "His music just lives on and on."
Taphorn said she's already planning for next year's event — the festival's 10th anniversary.