Edmonton's historic Garneau Theatre changes hands but not mission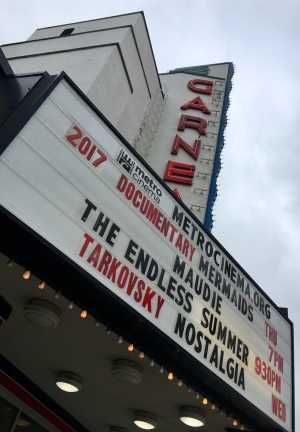 A loaf of bread cost 10 cents, a stamp three cents, and to get into the brand new Garneau Theatre on opening night would have run you a whole quarter for an adult ticket, plus two cents tax.
That premier in October of 1940 drew crowds of cinematic curious and dignitaries alike, including the lieutenant-governor of Alberta and the University of Alberta president.
Fast forward 77 years and the art deco theatre designed by Edmontonian William Blakey is still filling seats, but not just for the flickering films on the massive single screen.
"We are delighted we bring together 100,000 people a year in different, always weird combinations of people in order to use film as a kickstarter for new ideas," said David Cheoros, executive director of operator Metro Cinema, which has called the Garneau home since 2011.
In 2009 the City of Edmonton designated the theatre at 87th Avenue and 109th Street a municipal historic resource. Then in June of 2016 the Garneau's property ownership changed hands. It is now owned by a company called Quality Property Developments Inc., with a head office in Calgary. 
But Cheoros "anticipates no change" in what's presented at the Garneau.
"We offer an extraordinary range of stuff. In a single week here you might see a contemporary Japanese animated feature, a new documentary, a classic Russian film, a charity fundraiser and some cartoons, and all-you-can-eat cereal bar," said Cheoros.
Brent Felzien, Cliff Kelly and Kim Stadelmann of the Accidental Humour Co. are setting up at the theatre for their Edmonton Fringe Festival production The Spark, set to open next week.
"They're a treasure in Edmonton and everybody knows about the Garneau Theatre," said Felzien. "And we are super excited to come here and work with them again for the sixth year."
Christine Fredrick, executive director of the Dreamspeakers Film Festival, has decades of memories about the Garneau.
She remembers sinking into the plush seats to watch the 1987 Oscar-winning film The Last Emperor. These days she brings her son Sasha, 9, to catch retro offerings like the 1939 classic The Wizard of Oz on the big screen.
"I love this theatre," Fredrick admits "It's been a place I've been to since I was a little kid seeing movies with family and friends, being drawn into all of the drama and comedy and community." 
Fredrick says the Indigenous theatre event is returning to the Garneau Theatre in September.
"Every single time we're here we grow, we learn about each other and for us it's all about relationships."
You can see more from the Garneau Theatre on Our Edmonton. Saturday at 10 a.m. and Sunday and Monday at 11 a.m. on CBC TV.