Edmonton fire crews 'lucky,' spot house fire on way back from different call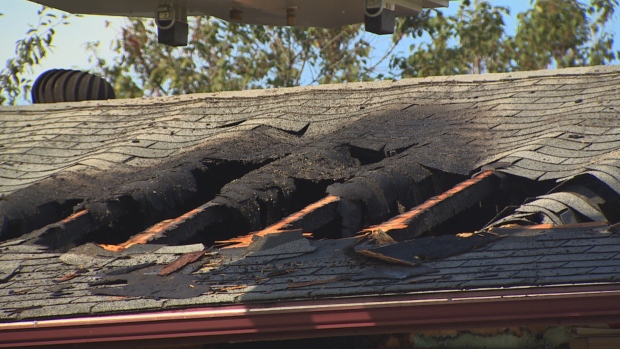 Edmonton firefighters contained a house fire in southeast Edmonton Sunday after fire crews happened to notice smoke while coming back from a previous call.
Crews were coming back from a fire in southwest Edmonton when they noticed some smoke nearby. They received the fire call about halfway to the destination.
When they arrived at 1639 42nd St. N.W., they saw the home's attic on fire, with flames coming out the roof.
Firefighters immediately began fire suppression and tried to contain the fire. A second alarm was called for extra manpower, and 18 total firefighters battled the fire.
The fire was contained within minutes and nobody was hurt. No neighbouring homes were damaged, either.
Capt. Philip Cahoon with Edmonton Fire Rescue Services said the quick response was key in containing the fire in a short amount of time.
"We're pretty lucky on this," Cahoon told reporters Sunday. "We got it snuffed out real quick because we were here so soon."
Cahoon said the temperature Sunday, which reached 29 C, made fighting the fire difficult. "This heat can really wear you out," he said, adding that was part of the reason a second alarm was called.
Cahoon couldn't say what the cause of the fire was or the amount of damage, but said he thinks the house may be salvageable.
"I'm sure we've saved a good portion of the house," he said.