Duffy — is that you? Alberta MLA carts out senator's defence to brush off criticism of sublet: Robyn Urback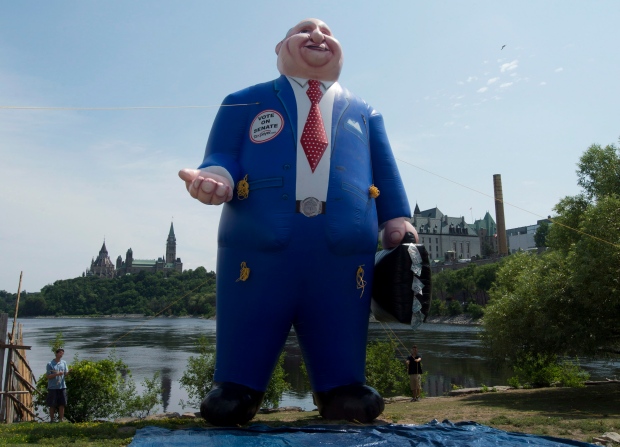 "$2,555 over 8 months letting out my Edmonton home while unused," tweeted Alberta MLA Derek Fildebrandt Thursday morning, responding to reports he has been renting out his taxpayer-subsidized Edmonton condo on Airbnb. "I won't let smear distract from real issues."
You said it, Derek! Let's get back to talking about the real issues: government waste, misuse of taxpayer dollars and gross political entitlement. Oh, wait. Um… this is awkward.
$2,555 over 8 months letting out my Edmonton home while unused. I won't let smear distract from real issues & donate to the AB debt. #ableg
Fildebrandt — the United Conservative Party MLA for Strathmore-Brooks and, ironically, the former Alberta director of the Canadian Taxpayers Federation — claimed $7,720 in housing expenses between Jan. 1 and March 31 for his downtown Edmonton condo. MLAs from outside of Edmonton are allotted $23,160 each fiscal year to cover living expenses in the Alberta capital.
This subsidy is based on the expectation that elected representatives will serve on the public's behalf in exchange for taxpayers footing the bill for their time in Edmonton. It is not based on the expectation that an MLA will personally profit by also subletting out his space for, say, $50 to $80 a night.
Fildebrandt justified his entrepreneurial gambit as simply something that millennials do, telling the Edmonton Journal: "Find someone under 35 with a downtown apartment that doesn't let their apartment if they're gone half the year."
"It would be a waste … to have an apartment that sits empty half of the year and not let it out when I'm gone out of session."
Fildebrandt is quite right; it would be a waste to leave his apartment empty half the year.
But there's a very simple solution that would see the space occupied and avoid this apparent media "smear," as Fildebrandt calls it: rent out the space, then subtract those Airbnb earnings from the housing reimbursement he collects from taxpayers.
Fildebrandt has belatedly realized he should probably do that now and has pledged to donate $2,555 to paying down Alberta's debt. Better late — after news reports and censure from fellow MLAs — than never, I suppose.
The Duffy defence
The detail that's particularly remarkable about this little episode is that Fildebrandt trotted out the Mike Duffy excuse in defending himself against accusations of double-dipping. Of all the people from whom to borrow a line.
Renting out his unit, Fildebrandt said, was "compliant with the rules."
"Everything has been open, public and transparent," he said. Duff, is that you?
Mike Duffy is, of course, the senator who listed a seemingly abandoned cottage in P.E.I. as his "primary residence" while collecting a housing allowance for living in Ottawa.
Duffy faced — and was subsequently cleared of — 31 criminal charges related to fraud, breach of trust and bribery. And throughout his criminal trial, he became a symbol of much of what the public loathes about politicians: shadiness, waste and entitlement.
In fact, Duffy became a literal symbol used by the Canadian Taxpayers Federation (uh oh, this is getting awkward again) in July 2013, when they floated a giant inflatable Duffy a stone's throw from Parliament Hill and called for a national referendum on the fate of the Senate.
The gall of Duffy during the peak of the Senate expenses scandal was his unrelenting insistence that what he did was acceptable because it was technically within the rules. Indeed, Duffy appeared deaf to the notion that one can be guilty of ethical lapses — breaking the spirit of the law, if not the letter — without actually violating a written rule.
It is deliciously ironic, then, that not only would a former director of the Canadian Taxpayers Federation find himself embroiled in a similar scandal but that he would cart out the same anemic defence to shield himself from accusations of misusing taxpayer dollars.
While it might be technically permissible for an MLA to rent out a taxpayer-subsidized unit and pocket the gains, (I'll go ahead and assume the rules will be changed in short order), it is certainly not ethically kosher.
Housing subsidies are not supposed to be money-making schemes for politicians. 
But enough distraction from the real issues. Let's get back to talking about, uh… waste, misuse of taxpayer dollars and entitlement?
---
This column is part of CBC's Opinion section. For more information about this section, please read this editor's blog and our FAQ.