Denis Shapovalov's dream ride at Rogers Cup halted with semifinal loss to Alexander Zverev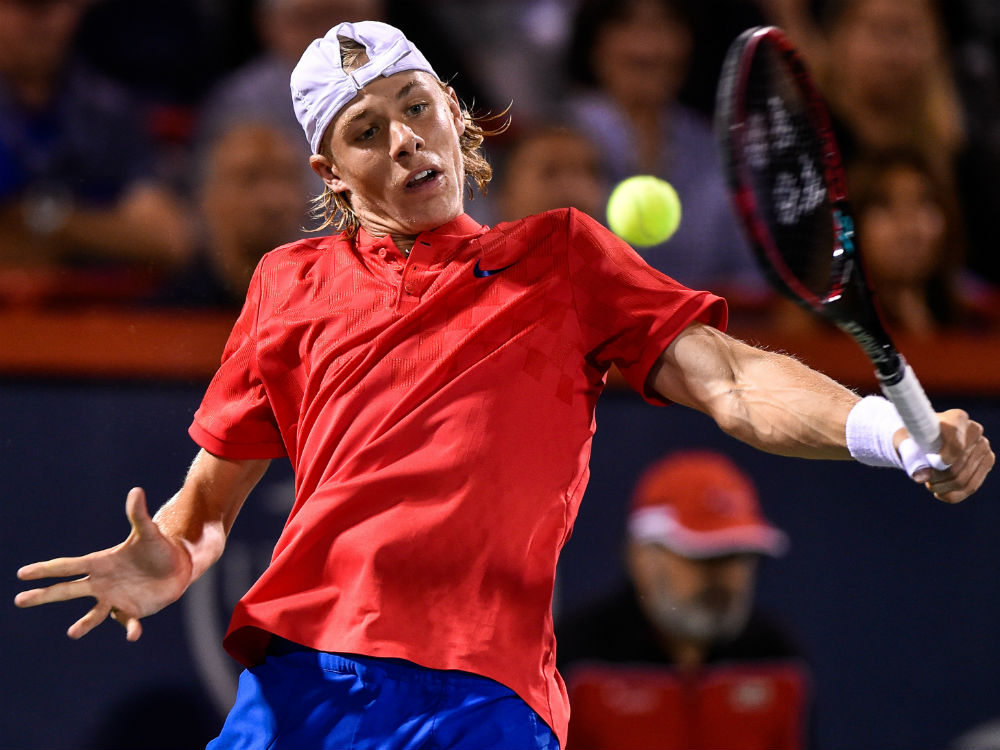 By Bill Beacon
MONTREAL — Denis Shapovalov's dream week ended, but a rivalry may have been born with rising star Alexander Zverev.
The stirring comebacks that 18-year-old Shapovalov used to become the youngest player to reach the semifinals of a Masters 1000 Series tournament died out when 20-year-old Zverev proved a little sharper and downed the Richmond Hill, Ont., lefthander 6-4, 7-5 on Saturday night.
Fourth-seeded Zverev, coming off a win last week in Washington, D.C., and seeking a fifth tournament win this year, will face Swiss legend Roger Federer in the final on Sunday. Federer dispatched unseeded Dutchman Robin Haase 6-3, 7-6 (5).
"Like the media was putting it, it was a dream week for me," said Shapovalov. "Obviously, I didn't expect it.
"I saved four match points the first round (against Rogerio Dutra Silva). I just played loose after that, just went with it. I mean, I beat one of my idols."
Indeed, Shapovalov's run included consecutive wins over 2009 U.S. Open champion Juan Martin del Potro and top-seeded Spanish star Rafael Nadal. The victories, and the shaggy-haired youngster's style and skill on the court, announced his presence not only to Canadian fans but to the tennis world.
With the win, his world ranking will rise from 143rd to about 67th. The US$220,760 he earned by reaching the semifinals more than doubled his career prize money.
"My whole life has changed in the past five days," he said. "It's crazy how it is.
"I mean, I go from being not known to being so known in the tennis world, in Canada in general. It's going to be a little bit of a change to me. I'm going to have to adapt. But that doesn't change things. I still have to work really hard every day."
When match point landed wide, Zverev told Shapovalov during handshakes at the net that the two are sure to meet again and will likely be rivals for many years. Shapovalov, the 2016 Wimbledon boys champion, hopes that is the case.
"Sascha is an unbelievable player, he's going to be a champion," said Shapovalov. "Hopefully, I can get there one day.
"Hopefully, I can get to his level. I mean, he's still better than me. But I'll keep working hard and hopefully, we could start a little bit of a rivalry."
Federer holds a 2-1 edge in career meetings with the Zverev, including a victory over the German on grass in June.
Zverev stretched his match winning run to nine.
Flag-waving fans in the packed grandstands at Uniprix Stadium were hoping for more magic, but the German was too strong, winning 81 per cent of the points off his serve compared to 64 per cent for Shapovalov.
Shapovalov held his serve through a more than 14-minute game early on, but lost it to go down 4-5 in the opening set, double faulting on break point. It was the fourth time in five matches he lost the first set, but this time there was no coming back.
He wasted two break points at 4-3 in the second, and Zverev was able to get the break for 6-5 after two Shapovalov double faults. It set up a wild final game, with Shapovalov saving two match points and Zverev erasing three break points before it ended with a misfired backhand by the Canadian.
Federer reached his sixth final of the year, and will be seeking a sixth win.
He had considering skipping the event, which would have been disastrous for the promoters with world No. 1 Andy Murray as well as Novak Djokovic and Stan Wawrinka already out with injuries. But Federer decided to play and now has a chance to add to a tally that includes Australian Open and Wimbledon titles this year.
"I'm very happy that I've made it here," he said. "It was a good decision for me.
"If I would have known I would have gone to the finals, I would have said 'yes' right away. Sometimes you've just got to wait and see how you feel. I'm most happy that I'm actually really healthy going into the finals. I haven't wasted too much energy. I've been able to keep points short. I've been really clean at net. I think my concentration and just my playing has gone up a notch. I'm just playing better."
The second-seeded Federer is seeking a third Rogers Cup title, but his first in Montreal, having won in 2004 and 2006 in Toronto. A victory would give Federer, currently ranked third in the world, one of the top two seeds at the U.S. Open that begins Aug. 28 in New York.
The 36-year-old, coming off victories in Germany and at Wimbledon, is on a 16-match winning streak, his longest since 2012.
Haase, who upset seventh-seeded Grigor Dimitrov in the third round, was in his first career semifinal of a Masters Series tournament.
"I hope it gives me a lot of confidence," Haase said of his performance for the week. "Next week (in Cincinnati), different conditions, different courts, so it's tournament by tournament. But, in general, to make an achievement like this is good because it shows you can do it."
In doubles semifinals, seventh-seeded Rohan Bopanna of India and Ivan Dodig of Croatia defeated sixth-seeded Raven Klaasen of the Netherlands and Rajeev Ram of the United States 4-6, 7-6 (8), 11-9; and fifth-seeded Pierre-Hugues Herbert and Nicolas Mahut of France downed eighth-seeded Oliver Marach of Austria and Mate Pavic of Croatia 7-5, 6-3 .