Councillors push for answers on Valley Line LRT traffic impacts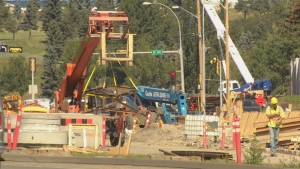 City councillors pushed for answers from staff Tuesday as they discussed a report detailing projected increases in traffic wait times to be caused by the Valley Line LRT.
The detailed report highlights current and future traffic delays in 45 key intersections along the Valley Line's southeast corridor between downtown and Mill Woods.
At intersections such as Whyte Avenue and 83rd Street, eastbound commuters turning left during the morning rush will have to wait up to seven minutes to make the move by 2044.
Councillors grilled the administration during two separate sittings about the traffic delays.
Mayor Don Iveson asked for a recess between sessions so councillors could absorb the report.
​Iveson reinforced that LRT will be the way for Edmontonians to beat gridlock around the city.
"You can make modifications and you can widen roads up to a point but you need something transformational, a strategic shift… that's why we're building the LRT," Iveson told reporters.
"We're introducing tradeoffs for sure, but it makes sure that hundreds of thousands of people … travel by train."
One LRT train can replace 600 cars on the road, the report says.
Adam Laughlin, deputy city manager of integrated infrastructure services, said the report couldn't be shared sooner because of confidentiality agreements with the project's contractors. TransEd Partners is designing and building the first stage of the Valley Line and will maintain the line for 30 years.
'All of this will have echo effects'
TransEd is required to provide council with a graded performance system ranking intersections along the Valley Line LRT corridor with a grade from A to F.
A grade of A represents a wait time of less than 10 seconds and the F grade is given to wait times exceeding 80 seconds at an intersection.
Several councillors pointed out that this system does not say whether the wait times are comparable to other city LRT systems in the country.
Ward 6 Coun. Scott McKeen asked city staff to prepare a report comparing traffic wait times in Edmonton to the LRT system in Calgary, to put the numbers into context.
Councillors on the committee agreed to receive more comparative information and should receive a report early next year.
Ward 11 Coun. Mike Nickel said the intersection performance data does not evaluate how other areas outside of main roads will be affected.
"All of this will have echo effects," Nickel said. "And that is outside of the corridor that TransEd is responsible for."
Laughlin said intersection performance does not measure individual decisions that drivers will make to avoid major traffic delays.
"There are no silver bullets to fix traffic issues in a growing city," he said in his presentation.
Some potential problem areas have been studied to see what could be done to alleviate traffic tie-ups. Iveson said the city will continue to evaluate areas like 75th Street to see if future upgrades to road infrastructure are needed to cope with increased traffic.
LRT could affect neighbourhood access
Nickel said the existing Metro Line and the Capital Line are being held to different standards than the new extensions being prepared for the city's southeast.
He named the traffic delays at Belgravia Station, on 114th Street south of University Avenue, as an example of an area council should improve.
Ward 8 Coun. Ben Henderson said the delays at Belgravia Station have affected the way residents enter and exit the neighbourhood.
He doesn't want to see that happen in his ward for residents who live north of 95th Avenue in the Strathearn neighbourhood.
"I think some of the numbers we've looked at raise those concerns for me," Henderson said. "We just need to make sure that we have other ways for people to get in and out of their neighbourhoods."
City officials said it's too late to re-evaluate where the Valley Line is running, but council will likely debate future LRT lines and possible road widening projects in the city's next budget.
Iveson said intersections on the west end of the Valley Line LRT line are still being evaluated, including passing the LRT line over 149th Street and 178th Street. The west leg of the Valley Line will be built as the project's second stage.