Canadian, American opposition advisers being deported from Kenya ahead of presidential vote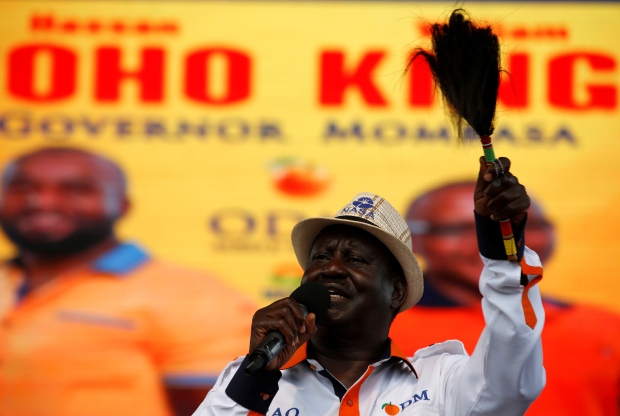 Kenya's presidential candidates dove into a final day of campaigning Saturday before Tuesday's narrowly contested election as many worried that the vote could turn violent. The main opposition coalition said an American and a Canadian who were assisting with its campaign were ordered deported.
On Saturday, the National Super Alliance said the two foreigners were to be deported after being taken from their homes on Friday. It was not immediately clear why they had been detained.
The American is John Aristotle Phillips, CEO of Washington D.C.-based campaign data firm Aristotle Inc., and the Canadian is fellow executive Andreas Katsouris, said Brandi Travis, a spokesperson at the company. 
Travis says the two men were assisting opposition candidate Raila Odinga with issues including strategy and data analysis and had chosen to get involved in the Kenyan election because they thought it had the potential for irregularities.
"We pick our international campaigns very carefully," Travis says. "Odinga was a candidate they really believed in."
The U.S. Embassy in Kenya said on Twitter that they were "safe and departing" the country. The embassy said U.S. and Canadian officials have been in touch with their detained citizens as well as the Kenyan government.
@USEmbassyKenya, @CanHCKenya in touch w/ Kenyan Government & w/ 1 American & 1 Canadian detained Aug 4. They're safe & departing Kenya.
The High Commission of Canada in Nairobi says it's providing consular assistance to the Canadian and that consular officials in Nairobi are in contact with local authorities as well as U.S. officials to gather additional information.
A police official earlier said immigration officials were holding the two foreigners at Jomo Kenyatta International Airport in Nairobi. The official spoke to The Associated Press on condition of anonymity because he is not authorized to speak with the media.
The detentions occurred at around the same time that armed and masked police raided an opposition vote counting centre, intimidating workers and seizing equipment, said James Orengo, a senior member of the opposition National Super Alliance.
Kenyan police on Saturday denied allegations that officers broke into political party offices on Friday, saying no report of a burglary has been made to any police station.
President Uhuru Kenyatta, who planned to campaign Saturday in his stronghold of Nakuru city, again faces longtime opposition leader Raila Odinga, whose supporters gathered for a final rally in Nairobi, the capital. Kenyatta is the son of Kenya's first president; Odinga is the son of the country's first vice-president and has run in vain for the top post in three previous contests.
Recent elections in the East African high-tech and commercial hub have been hotly contested, and more than 1,000 people were killed in post-election violence a decade ago. Kenyatta prevailed over Odinga in a 2013 vote that was mostly peaceful but tainted by opposition allegations of vote-rigging. Former U.S. Secretary of State John Kerry is among the thousands of expected election observers this time around.
Some in the nation of 44 million people have been leaving the capital because of the threat of chaos, while many are simply going home to vote.
The torture and killing in recent days of a key election official in charge of the electronic voting system has some concerned about the possibility of vote tampering.