Brooke Henderson sizzles with 63 early to put herself back into contention at Canadian Open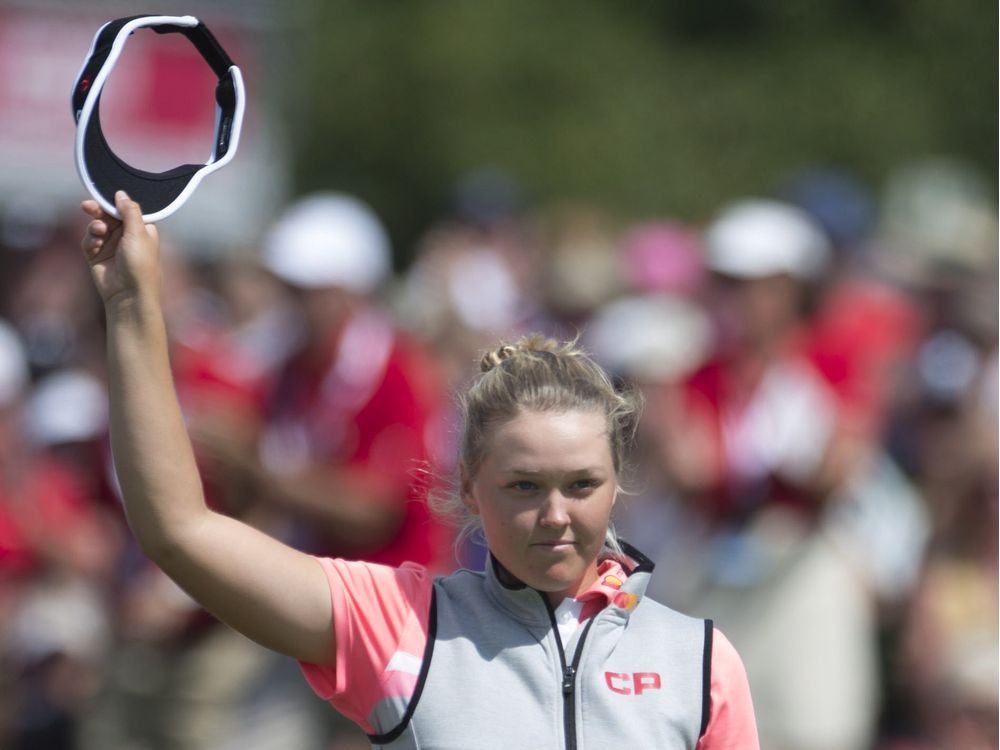 By Ken Warren
OTTAWA — Maybe, just maybe, Brooke Henderson can pull off that miracle comeback after all.
After thrilling thousands upon thousands of sun-drenched fans with a brilliant birdie fest en route to a course record eight-under par 63 at the Ottawa Hunt and Golf Club on Saturday, she has set up a dream scenario for organizers of the Canadian Pacific Women's Open.
She is 7-under for the tournament. When she finished her round, she was tied for second. By the time the leaders finished, she was still in a tie for sixth place, three shots off the pace set by Nicole Broch Larsen and Mo Martin.
Second-round leader In Gee Chun bounced back from a double bogey on the 16th hole to birdie the final two holes and reclaim third place.
Henderson, who needed a birdie on her final hole Friday just to make the cut, now has a shot at becoming the first Canadian to win the women's national open since 1973.
"I felt pretty good right from the start," Henderson said. "I felt like I could make something happen and I made putts that I didn't even know I could make and I made shots that were just great."
Winning the tournament remains a longshot, but don't dare tell that to the overflowing galleries of Henderson faithful.
As Henderson proved with her impeccable play Saturday, she can hit spectacular long shots. Her drive on the seventh hole, incidentally, measured 297 yards.
And she can hit short shots, too. She closed out Saturday's round with a clutch, par saving 20-foot putt on 16, followed by birdies coming home on 17 and 18 that resulted in a ripple of noise that echoed around the course.
Sunday's crowd figures to be something else altogether.
"Crazy, crazy," she said, when asked about her expectations for the final round. "But I'm super excited about it. Hopefully, it does live up to the expectation and hopefully, I can play well enough to keep their interest and see what happens."
Saturday offered a different kind of pressure performance for the 19-year-old from Smiths Falls, Ont.
On Friday, it was all about getting through the nerves of just making the cut, which she accomplished by a whisker. When asked then about contending for the title, she suggested that "miracles do happen."
Free of that stress Saturday, Henderson took ownership of the course early.
She birdied the second, third, sixth and eight holes. She kept the momentum going with a tense par save on nine, making the turn at four under.
With the crowd steadily growing as late morning turned into the afternoon, she finished her round with birdies on 12, 14, 17 and 18, but the best putt of all was the 20-footer to save par on 16.
"Having the cut out of the way, (that) kind of gave me a little bit of a scare (Friday), being so close and almost not playing on the weekend," she said. "So I knew I had to get going. (Saturday) is moving day, so it was very … I moved, that's for sure."
Henderson began the weekend in a deadlock for the 59th spot. Now, she's tied sixth.
Brittany Henderson, Brooke's older sister and caddy, says the mood was different from the start.
"We were just more relaxed going out there," she said. "We were just able to enjoy it more and ride the momentum more. She had put so much pressure on herself, but after she made the cut, she just thought, 'let's just go'. And she did."
The Hendersons were smiling throughout the round.
"It was like the perfect day," Brooke Henderson said. "I hit the ball extremely well. Mentally, I was right on. I felt in the zone – as a lot of athletes call it. I felt like I was in the best place of mind for me to play my best.
"That's always a great feeling. I was hitting (shots) close and making putts and making a lot of birdies. I guess, eight birdies today. On 18 holes of golf, that's pretty good."
Yeah, not bad.
Henderson acknowledged that the weight of the crowd got to her during her opening round Thursday.
"I kind of let them get in my way a little bit," she said.
Now, though, her message is all about the more, the merrier. A big crowd can unnerve an opponent and inspire the hometown hope.
"I love big crowds," she said. "I love when I'm playing well and I can kind of ride with them and have their support with me. So, going into (Sunday), I'm going to do everything I (normally) do, just like every other week on the LPGA Tour and just hopefully things go my way."
Henderson might be preparing like it's any other Sunday on the golf course, but her fans will surely beg to disagree.
kwarren@postmedia.com