Boston Red Sox extend dominance over Toronto Blue Jays by rolling to 7-1 victory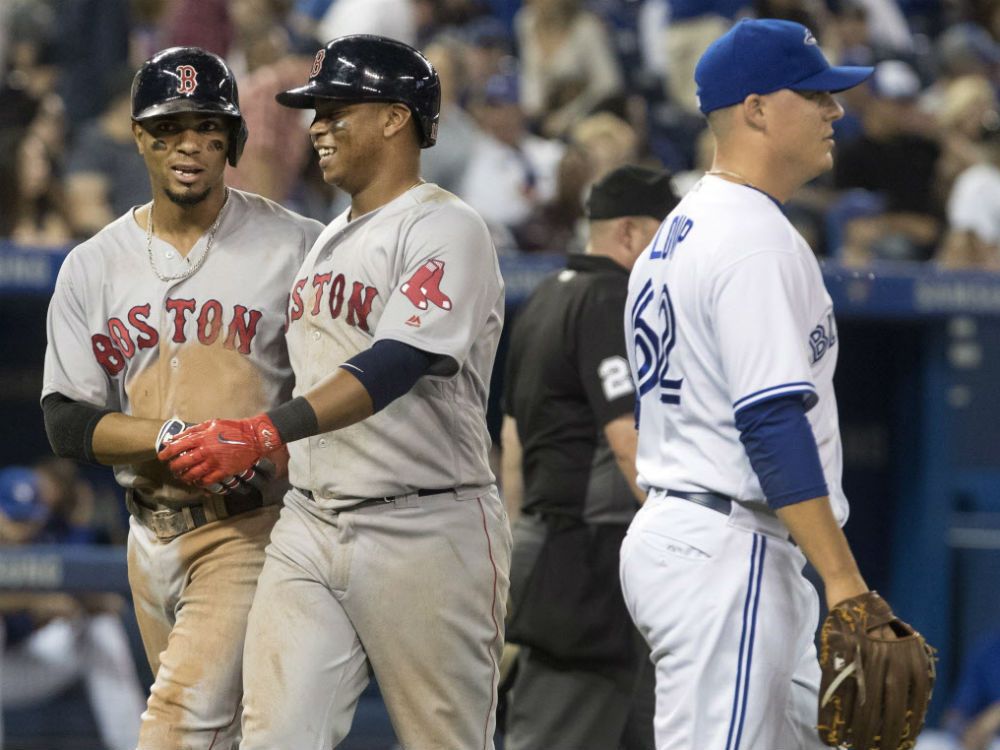 By Steve Buffery
TORONTO — Forget about Rogers. The Boston Red Sox own the Toronto Blue Jays.
The Red Sox beat the Jays 7-1 on Wednesday night at Rogers Centre to earn the three-game series sweep. The win improved Boston's record over the Jays this season to 10-3 and they have now won eight of nine meetings in Toronto's home park. The Jays have been outscored 57-23 and out-hit 105-58 by Boston this season. They have won two out of their last 12 and have lost four straight.
"Obviously, it's been real tough," said manager John Gibbons. "But deal with it. What else you going to do, right?"
The news was bad on all fronts. Toronto allowed 11 stolen bases in the three-game series without catching one, their most stolen bases allowed in a three-game series without a caught-stealing in club history.
Wednesday's game featured three home runs, two by the Red Sox (Hanley Ramirez and Mitch Moreland) and one by Toronto (Raffy Lopez). The decisive blow for the Red Sox came in the seventh, with the score tied 1-1 and Toronto reliever Tom Koehler replacing starter J.A. Happ. Boston manager John Farrell pinch hit Moreland for Chris Young and Moreland smacked a homer into the second deck in right field with Ramirez at second, putting Boston ahead 3-1. Moreland picked up two hits and four RBI in two at-bats.
Jose Bautista struck out three times for the second game in a row against Boston.
Lopez hit his second home run of the season in the third inning, smashing a 1-2 offering from Boston starter Rick Porcello just over the wall in right field to give the Jays a 1-0 lead. The Ramirez homer in the fifth snapped a streak of 39 2/3 innings off Happ not allowing a homer. Happ pitched six complete, giving up one run on four hits, walked four and struck out two.
"They keep at you for sure," said Happ of the Red Sox. "It's tough one through nine. They're in first place for a reason right now. They were tough this series for sure. We're going to go into Baltimore and face a team that's hot right now as well so hopefully, we bounce back."
The Jays blew a golden chance to add more runs in the fourth when they left the bases loaded after three straight singles and one out. Darwin Barney hit a sharp come-backer that Porcello snared and then Lopez struck out to end the inning. If the Barney shot gets past Porcello, the Jays are in the driver's seat. But it wasn't to be and that was probably the game's turning point.
The boo birds emerged in the eighth when the Red Sox pulled off a double steal. The Jays had Xander Bogaerts dead to rights at third, but Toronto second baseman Rob Refsnyder threw the ball wide to Barney at third.
Boston added four more runs in the eighth, all charged to lefty reliever Tim Mayza, who failed to get an out after facing four batters.
Losing this week's series means the Jays have now lost four straight series for the first time since opening the season with five consecutive series losses.
SBuffery@postmedia.com