As Floyd Mayweather segues back into retirement, Conor McGregor weighs his fighting options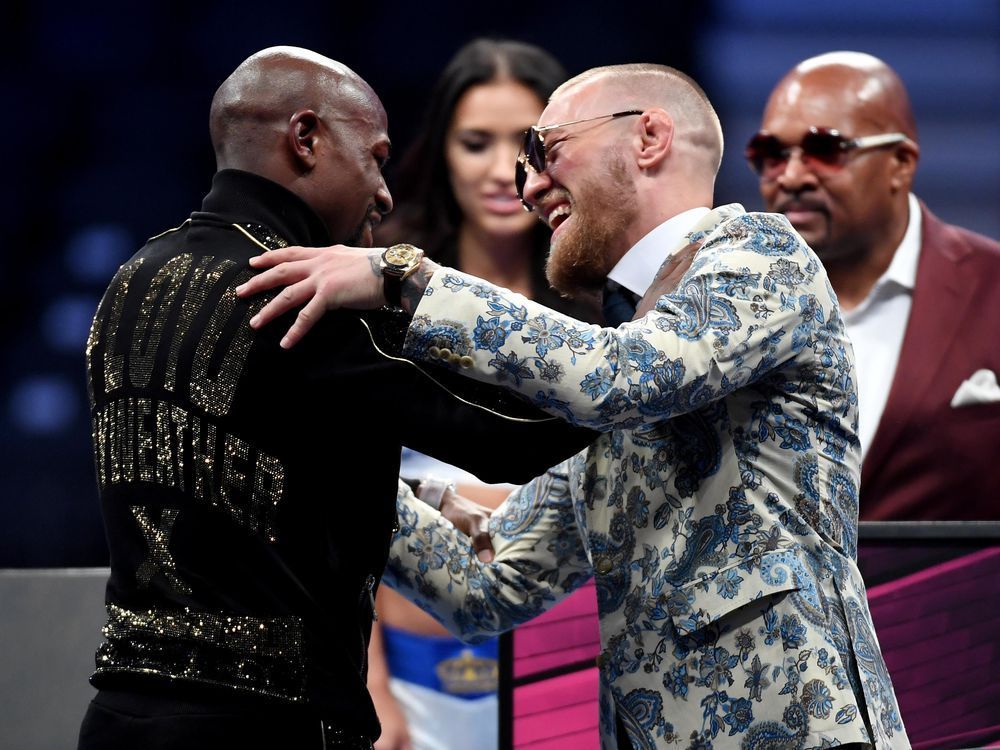 Floyd Mayweather (left) and Conor McGregor shake hands after their boxing match in Las Vegas on Aug. 26.
Photograph by: Ethan Miller
By Rick Maese
LAS VEGAS — It was nearing midnight when Conor McGregor emerged from his locker room, carrying a bottle of whiskey and looking nothing like a beaten man. He was introduced at a press conference by the man who'd just bested him in a highly-anticipated, ridiculously lucrative megafight.
"Ladies and gentlemen," said Floyd Mayweather, Jr., "to the podium, I'd like to call up the 'Notorious' Conor McGregor."
The questions started coming and someone asked McGregor about the differences between boxing and mixed martial arts. Seated a couple of feet away, Mayweather, suddenly chummy after weeks of schoolyard name-calling, softly told him: the money.
"The check is alright," McGregor chuckled. "The check is not bad."
There was never a doubt about just what was the driving force for Saturday's showdown and the motivating factor that lured a UFC champion to step into a boxing ring against one of the best boxers of all time. With the fight over, a 10th-round technical knockout for Mayweather, the fighters and their respective sports immediately started processing the actual ramifications of the bout.
Mayweather and McGregor are still beyond rich. Boxing enjoyed a good night and has other big dates on the 2017 calendar. And UFC officials are eager to get back in the mixed martial arts business full-time. For now, the unique pairing of McGregor and Mayweather appears to be a one-off event. There will be no rematch and the two sports will likely go back to tending their own fan bases and own interests.
"It takes two very special people in the right place at the right time to do the freakish kind of numbers and the water-cooler talk and all the things that this fight had," said UFC President Dana White. "You got to have the right people in the right place at the right time. This (stuff) doesn't happen all the time."
In a sense, while fans of both sports appeared to appreciate the 10 rounds of action, the principals in the two sports seemed eager to move past Saturday's big show. Boxing purists are eagerly looking forward to Gennady Golovkin's bout against Canelo Alvarez on Sept. 16, and the UFC is eager for fight fans to talk about MMA.
Mayweather reiterated his intentions to never fight again, so most of the post-fight curiosity surrounded McGregor's future. With last week's failed drug test for light-heavyweight champion Jon Jones last week and the UFC's top draw, McGregor, focused on boxing all summer, White is suddenly in desperate need of stars. He made clear that he thinks McGregor's focus should return to its roots.
"I would rather he did not (box again)," White said. "This isn't what he does. He's a mixed-martial artist where he goes in and he fights and he uses all of his weapons … I think he did great tonight. I don't think there's anything left for him to prove."
McGregor would make no guarantees about his future, but he said repeatedly that he's not taking anything off the table.
"I have options," he said. "I'll see what's what."
While MMA is clearly his strong suit, McGregor did show that he can be formidable in a boxing ring, capable of landing punches against one of the best defensive fighters ever. He absorbed big shots and put up a respectful fight until his stamina waned and Mayweather pounced in the later rounds. He might not have won the fight, but McGregor earned the respect of some skeptics from the boxing world — and certainly performed enough well to elicit more boxing suitors.
"I have many options in mixed martial arts. I'm sure there are options that will present themselves in the boxing game," McGregor said. "Right now, I'm a free agent … We'll see what's next, but I'm open."
While McGregor surely understands his odds will always be better in the octagon, he also knows his UFC paydays could have a ceiling. He likely earned as much as $100 million for 10 rounds of boxing Saturday, dwarfing anything the UFC could pay him for a single fight.
McGregor has previously told White that he'd like to fight again this year and he made passing reference Saturday night to a possible third battle against Nate Diaz. But with the loss to Mayweather fresh and the whiskey bottle nearby, it was no time for guarantees.
"People ask me what's next. I'm not quite sure what's next," he said.
Said White: "You know how he is, man. When he's ready, he'll let me know."
McGregor didn't seem to think that money would prevent him from a return to the UFC's octagon. He's already pushed the financial envelope there, quickly becoming an eight-figure fighter and the UFC's top earner.
"I've already been raising the MMA checks, so don't get it twisted," McGregor said. "I'm still gonna raise the MMA checks when I go back there."
He said he's eager to return to a more familiar training schedule with jiu-jitsu, kicking and freestyle wrestling. He did not rule out a return to the boxing ring in the near future, but it clearly won't be against Mayweather, even if fans enjoyed what they saw and would be willing to pay for a rematch.
McGregor was formidable early in the bout, as Mayweather remained patient and conserved his energy. As he does so well, Mayweather simply laid the bait. But this time, unlike some previous wins — notably his 2015 bout against Manny Pacquiao, a fight widely panned as lacklustre — Mayweather was intent on generating more action against the MMA star.
"I could've easily outboxed Conor McGregor, counterpunched him all night," he said. "That's not what I wanted to do. I wanted to go out with a bang. I told you guys I would come straight ahead. I feel like I owed that to the fans for the Pacquiao fight."
While McGregor kept firing, landing more punches than fight analysts could have predicted — 111 in less than 10 rounds of action, an impressive clip for even a seasoned boxer against Mayweather — he also wasted a lot of energy.
By the middle rounds, he was losing his legs and was visibly tired. In reaching the end of the ninth round, McGregor had fought 27 minutes — longer than he ever had in MMA, where championship fights last no more than 25 minutes.
Mayweather, of course, noticed McGregor's fatigue, and increased his own offensive output, eventually putting the UFC star away by landing 20 of 26 power punches before referee Robert Byrd waved his arms barely one minute into the 10th round.
While McGregor said he could've continued — he said he wasn't hurt — the MMA star also walked away impressed with Mayweather, who switched approaches, maintained his composure and, as always, dictated the bout on his own terms.
"He's a smooth operator in there," McGregor said. "He's not 50-0 for no reason."
The win means that Mayweather bested Rocky Marciano's 49-0 career record and added to a resume that had already established him as one of the all-time greats. Though he's come out of retirement twice already, he insists he's finally done.
"Any guy that's calling me out, forget it. I'm OK," said the 40-year old fighter. "I had a great career."
The sport of boxing, meanwhile, has good fighters and good fights lined up, but no one brings the same star power as Mayweather. He'd been retired for nearly two years before Saturday's bout and was still by far the sport's biggest name.
Boxing will move forward, trying to show fans that the sport is strong on its own and doesn't necessarily need interlopers from other disciplines to help stage compelling fights.
"Everything takes time, but eventually, we'll find the next superstar," Mayweather said.
Original source article: 
As Floyd Mayweather segues back into retirement, Conor McGregor weighs his fighting options