A Box of Chocolates: Preview of the 2017 Telluride Film Festival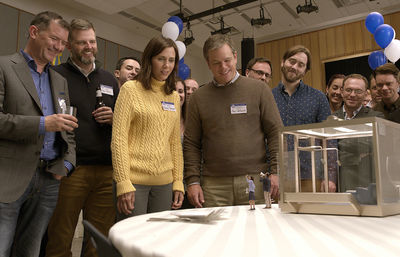 The Telluride Film Festival is like an especially delicious box of chocolates. You never know what you're going to get —passes sell out year after year, many months before the program is announced, or even put together by the Telluride team—but when that box is opened up, on the Thursday before Labor Day, everything looks tempting and exciting. One wants to gobble it all up.
There's a cottage industry that's sprung up in prognosticating what you might see. Telluride watchers who hoped to see the new film "Downsizing," starring Matt Damon and Kristen Wiig, from festival favorite Alexander Payne, will not be disappointed. Payne, who showed "The Descendants" in Telluride in 2011, was also an especially adept Guest Director in 2009, re-introducing "Make Way for Tomorrow" to happy throngs, which eventually made its way onto the Criterion list. Payne and the print will arrive flushed with success from opening the Venice Film Festival and receiving excellent reviews.
Paul Schrader introduced "Affliction" in Telluride in 1997, and "Auto Focus" in 2002, when he also received Telluride's highest tribute, the Silver Medallion. He returns with the premiere of "First Reformed," starring Ethan Hawke and Amanda Seyfried, a spiritual story that sounds like it could be influenced by the directors of his book Transcendental Style in Film: Ozu, Bresson, Dreyer.
Errol Morris, whose "Tabloid" showed in 2010, and "The B-Side" only last year, returns with "Wormwood," a mysterious six-part Netflix series about a true crime, part documentary, part drama, starring Bob Balaban and Christian Camargo.
Todd Haynes, another Festival returnee, last screened "Carol" there in 2015, and returns with "Wonderstruck," starring Julianne Moore in their fourth collaboration, shown at Cannes in May. "Wonderstruck'"s gifted cinematographer Ed Lachman will receive a Silver Medallion.
Agnes Varda, director of "Visages Villages (Faces Places)," which many considered the best film at this year's Cannes festival, where it played out of competition, received the Silver medallion from Telluride in 1977 (the fourth year of the Festival). She will alas not be in attendance this year, but her co-director, the artist JR, will accompany the film.
Other films from Cannes making their US debut at Telluride include the Russian "Loveless," directed by Andrey Zvyagintsev, about an unhappy couple searching for their son, and winner of Cannes' Jury Prize; "A Man of Integrity," by Mohammad Rasoulof, set in corrupt Iranian society, which won the Grand Prize of the Un Certain Regard section; "The Rider," by Chloe Zhao, about a badly injured young South Dakotan rodeo rider, which won the top prize, the Art Cinema Award, of the Director's Fortnight; "Tesnota (Closeness)," about a Jewish family forced to try to ransom their son and his new bride, also in Un Certain Regard, by Kantemir Balagov; and Barbet Schroeder's documentary about a Buddhist monk, "Le venerable W."
The prolific Ken Burns, a Telluride resident, returns with episodes from his and Lynn Novick's ten-part, 18-hour new documentary "The Vietnam War."
Several films directed by actresses will debut at TFF: Angelina Jolie's Cambodian epic "First They Killed My Father"; "Lady Bird," written and directed by Greta Gerwig and starring Saoirse Ronan; and a documentary by Rebecca Miller about her famed playwright father entitled "Arthur Miller: Writer."
Christian Bale will receive a Silver Medallion and screen "Hostiles," a western set in 1892, directed by Scott Cooper (whose "Crazy Heart" played Telluride in 2009). The shape-shifting Bale plays an Army captain escorting a Cheyenne chief through dangerous territory, co-starring Rosamund Pike and Ben Foster.
Another period piece is Joe Wright's "Darkest Hour," with Gary Oldman as Winston Churchill at the beginning of his time as Prime Minister—interesting to see right now in light of John Lithgow's recent Golden-Globe-nominated and Emmy-winning star turn as a much older (and taller!) Churchill in The Crown. Oldman is also being talked about as an awards contender (if you like Oscar talk, that is.)
As is Annette Bening, currently serving as the jury president in Venice. She will arrive in Telluride with her incarnation as aging movie star Gloria Grahame and her young English lover (played by Jamie Bell), in "Film Stars Don't Die in Liverpool," directed by Paul McGuigan, and co-starring some of the cream of English actresses, including Vanessa Redgrave, Julie Walters, and Frances Barber.
One of the glories of Telluride has always been its all-embracing inclusion of cinema's past as well as its present and future. Guest director Joshua Oppenheimer, whose wrenching "The Act of Killing" debuted at TFF in 2012, has put together an eclectic program that includes Werner Herzog's 1970 "Even Dwarfs Started Small" (with Herzog in attendance), Jon Bang Carlsen's intriguing and obscure "Hotel of the Stars" (1981), an hour-long Danish documentary about extras who live in a shabby apartment hotel in Hollywood; the only movie directed by Charles Laughton, 1955's exquisitely-shot "The Night of the Hunter," starring a brilliant, terrifying Robert Mitchum, and fortuitously playing in his centenary year; "Salam Cinema," Mohsen Makmalbaf's 1995 record of auditions by aspiring actors; a new print of Frederick Wiseman's long-banned, corrosive "Titicut Follies" (1967), filmed in a notorious Massachusetts hospital for the criminally insane; and Jacques Demy's glorious, gorgeous musical, "The Umbrellas of Cherbourg" (1967), starring the glorious, gorgeous Catherine Deneuve.
Other revivals, all newly restored, include Marcel Pagnol's "The Baker's Wife" (1938), starring the protean French actor Raimu, introduced by Pagnol's grandson Nicolas Pagnol and Chez Panisse's Alice Waters; the 1924 French silent "Kean, or Disorder and Genius," starring Ivan Mosjoukine and accompanied by Colorado's own Mont Alto Motion Picture Orchestra; and "Such is Life," a Czech silent film from 1929. Hotly anticipated is "The Cotton Club: Encore," which Francis Ford Coppola has reworked and re-edited from his 1984 release, adding twenty minutes of, as they say, "never-before-seen!" footage.
Every box of chocolates has a few surprises, and we didn't see "Battle of the Sexes" coming: it's about the goofy, over-the-top 1973 tennis game between Bobby Riggs (Steve Carell) and Billie Jean King (Emma Stone). But what do we know? After all, directors Jonathan Dayton and Valerie Faris charmed us with Little Miss Sunshine. And are things any better today, when John McEnroe feels the need to announce that Venus Williams would be "like 700 in the world" if she played on the men's tour?
Another surprise: the animated "Loving Vincent," about Vincent Van Gogh, advertised as "the first fully painted feature film," and when I think, hmmm, Walt Disney might take exception to that, I see "first OIL painted film." It looks rather dazzling, and unlike anything we've seen before.
It begins to feel like Old Home Week in Telluride: when I look up Andrew Haigh's "Lean on Pete," I remember that its star, Travis Fimmel, appeared in "Maggie's Plan," directed by Rebecca Miller (here with "Arthur Miller: Writer"), which co-starred Ethan Hawke (who's in "First Reformed") and Greta Gerwig, who directs, in "Lady Bird," Saiorse Ronan, who is one of the voice actors in Loving Vincent. I have to stop; this way lies madness.
But wait, there's more! At least a dozen more features. And seven or eight documentaries that play in the Backlot, TFF's smallest venue, devoted to movies about movies and biographies of artists, including one I feel somewhat responsible for, Volker Schlondorff's 1977 "Portrait of Valeska Gert," the Weimar era dancer and cabaret star, which I saw in Bologna at Il Cinema Ritrovato in 2016 and raved about. Volker was TFF's Guest Director later that year, but a new print wasn't ready until this year. AND there are three shorts programs, where the gifted filmmakers of tomorrow might be discovered. AND there are panels, and book signings and poster signings. AND every year there are one or two unannounced delights, in addition to the program. An announced delight is a special outdoor screening of "An Inconvenient Sequel."
And a final surprise: Guillermo del Toro's mad Cold War fairy tale "The Shape of Water," (starring Sally Hawkins and a lovely blue creature), whose rather dazzling trailer I saw night before last, and I wish I hadn't. I'd like to come to it, as many who make the pilgrimage to Telluride do, in an untouched and virginal state. We enter the churches of cinema, the Palm, the Galaxy, the Herzog, the Chuck Jones, and we say "Astonish me!" Not every film we see there will, but the cumulative effect is miraculous indeed.