How rare is Steve Pearce's feat? Putting Toronto Blue Jay's week of two walkoff grand slams in context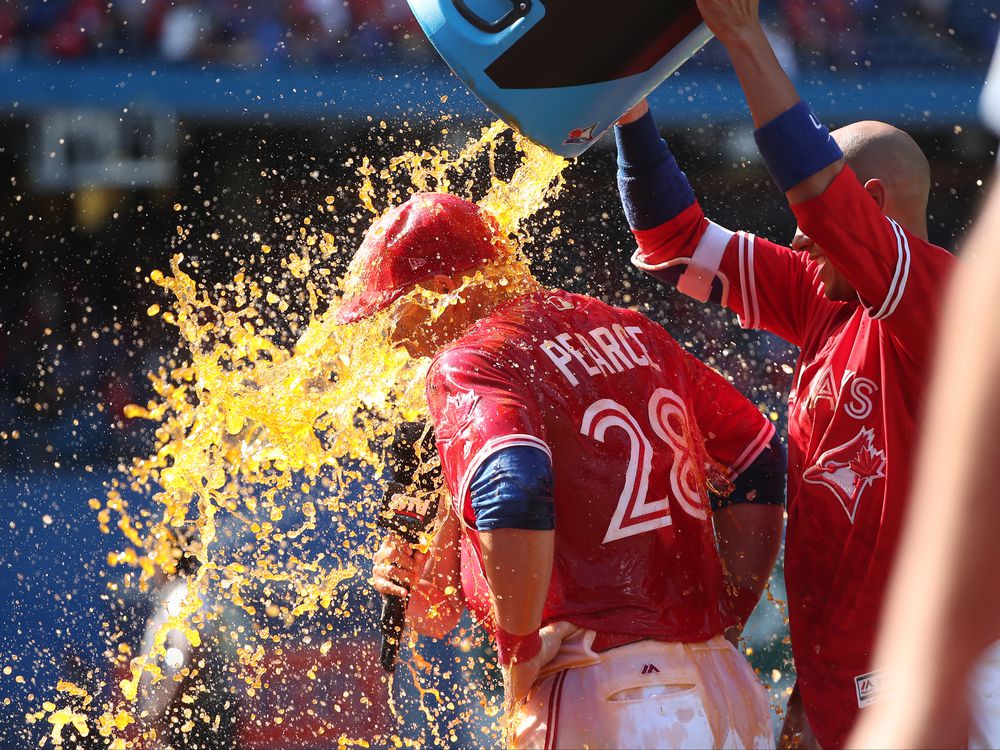 Steve Pearce's walkoff heroics over the past few days are about as rare a collection of feats as baseball has ever seen.
His game-ending grand slam on Sunday, in the Toronto Blue Jays' 11-10 victory over the Los Angeles Angels, was just the 25th time since 1930 that a single hit had turned a three-run deficit into a walkoff victory. See the full list of all 25 here.
On Thursday afternoon, Pearce also hit a game-ending grand slam in the 10th inning against the Oakland A's.
Baseball loves to render its lists of rare achievements into grand historical lists. MLB.com has a set of pages devoted to them. We scoured those pages to put Pearce's achievement of hitting two walkoff grand slams in the span of four days into some context:
1 — Hitters with two game-ending grand slam home runs in one week (Steve Pearce, Blue Jays, July 27-30, 2017)
1 — Pitchers who threw no-hitters in consecutive starts (Johnny Vander Meer, Reds, June 11-15, 1938) List
1 — Hitters with seven hits in one game (Rennie Stennett, Pirates, Sept. 16, 1975) List
1 — Hitters with two grand slams in the same inning (Fernando Tatis, Cardinals, April 23, 1999) List
2 — Hitters with 12 RBIs in one game (Jim Bottomley, Cardinals, Sept. 16, 1924; Mark Whiten, Cardinals, Sept. 7, 1993) List
4 — 40 home runs and 40 stolen bases in the same season (Jose Canseco, Barry Bonds, Alex Rodriguez, Alfonso Soriano) List
6 — Pitchers who have thrown two no-hitters in the same season (Most recent: Max Scherzer, Nationals, 2015) List
7 — Teams hitting four consecutive home runs in the same game (Most recent: Diamondbacks, Aug. 11, 2010) List
12 — Batters with 10 or more RBIs in one game (Most recent: Garrett Anderson, Angels, Aug. 21, 2007) List
13 — Players who have hit two grand slams in the same game (Most recent: Josh Willingham, Nationals, July 27, 2009) List
15 — Players who recorded an unassisted triple play (Most recent: Eric Bruntlett, Phillies, Aug. 23, 2009) List
16 — Seasons in which a player won the batting Triple Crown (led league in batting average, home runs and RBIs) (Most recent: Miguel Cabrera, Tigers, 2012) List
17 — Hitters with four home runs in one game (Most recent: Scooter Gennett, Reds, June 6, 2017) List
20 — Players who have hit a home run in at least six consecutive games (Most recent: Daniel Murphy, Mets, Oct. 13-21, 2015) List
23 — Perfect games pitched (Most recent: Felix Hernandez, Mariners, Aug. 15, 2012) List
34 — Pitchers who have thrown two or more no-hitters in a career List
35 — Seasons in which a player won the pitching Triple Crown (led league in wins, ERA and strikeouts) (Most recent: Justin Verlander, Tigers; Clayton Kershaw, Dodgers, 2011) List
60 — Seasons in which a player had 30 home runs and 30 stolen bases (Most recent: Mike Trout, Angels; Ryan Braun, Brewers, 2012) List
72 — Six or more hits by a batter in the same game (Most recent: Wilmer Flores, Mets, July 3, 2016) List
85 — Four strikeouts by a pitcher in the same inning (Most recent: Mike Bolsinger, Blue Jays, July 18, 2017) List
86 — Immaculate inning (strike out the side on nine pitches) (Most recent: Carlos Carrasco, Cleveland, July 7, 2017) List
121 — Hit home run in first career at-bat (Most recent: Paul DeJong, Cardinals, May 28, 2017) List
292 — Hitting for the cycle in one game (Most recent: Cody Bellinger, Dodgers, July 15, 2017) List