Emma Stone Admits Her Male Co-Stars Have Taken Pay Cuts to Secure Equal Pay: "We Are All the Same"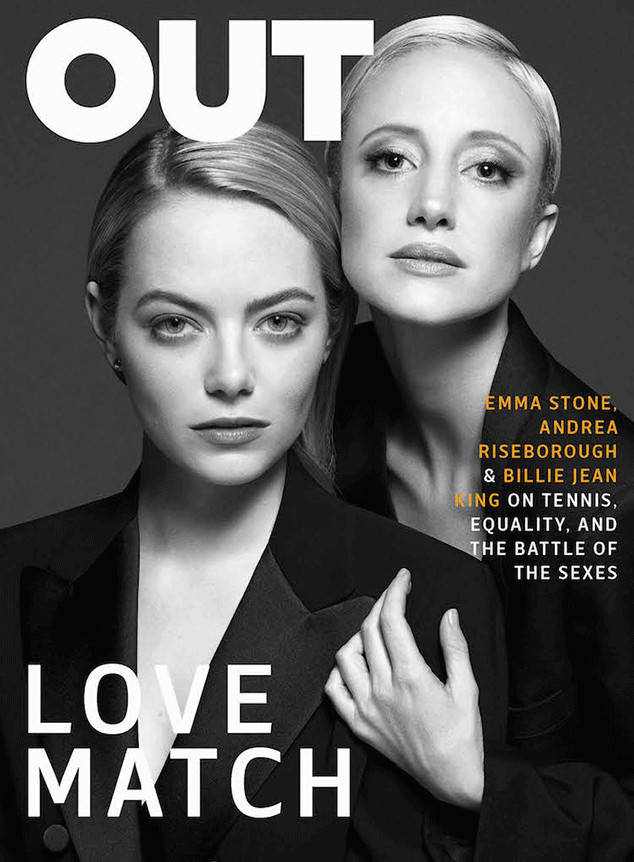 In the famous town of Hollywood, equal pay between men and women doesn't necessarily come along in every project.
One actress who has experienced the trend first hand is Emma Stone.
While covering the newest issue of Out magazine with Andrea Riseborough, the Oscar winner revealed that some of her male co-stars have stepped up to ensure equality is present on set.
"In my career so far, I've needed my male co-stars to take a pay cut so that I may have parity with them. And that's something they do for me because they feel it's what's right and fair," Emma explained to the publication. "That's something that's also not discussed, necessarily—that our getting equal pay is going to require people to selflessly say, 'That's what's fair.'"
She added, "If my male co-star, who has a higher quote than me but believes we are equal, takes a pay cut so that I can match him, that changes my quote in the future and changes my life. And this is Billie Jean's feminism, and I love it—she is equality, man: equality, equality, equality."
While Emma doesn't name any specific movies or actors in the piece, fans remember some of her most recent projects include La La Land, Aloha and Irrational Man.
"It's not about, 'Women are this and men are that.' It is, 'We are all the same, we are all equal, we all deserve the
 same respect and the same rights.' And that's really what I've been so grateful for with male co-stars—when I've been in a similar-size role in films, and it's been multiple people who have been really incredible and said, 'That's what I want to do. That's what's fair and what's right.'" Emma continued.
Ultimately, Andrea hasn't been as fortunate to work with numerous male co-stars who will step up and address differences in wages.
"Being fairly compensated financially for something that you work hard at is absolutely acceptable. I don't know how many films I've been in—20, 25 films, something like that. And I've never had the experience of a guy taking any sort of pay cut," she confessed. "In fact, I've been number one in films before and been paid a lot less."
Financial differences aside, Emma and Andrea are more than excited to star in their next project titled Battle of the Sexes. The film tells the true story of the 1973 tennis match between No. 1 Billie Jean King and ex-champ and serial hustler Bobby Riggs.
"It's just a real gift to be a part of it, and I'm so grateful to put a story like that out into the world," Emma shared.
Battle of the Sexes hits theaters on September 22. And read Emma's full interview in Out magazine online now.