Blue Ivy Carter Freestyles on Jay-Z's 4:44 Bonus Track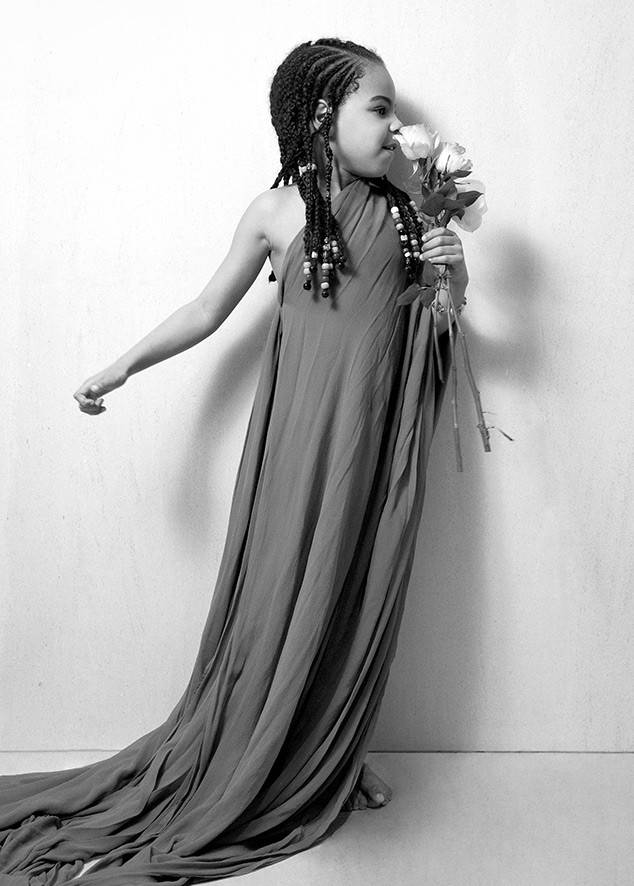 Blue Ivy Carter is her father's daughter.
A week ago, Jay-Z released his highly anticipated 13th studio album, 4:44, on TIDAL. A physical edition of the album, out July 7, includes three bonus songs: "Adnis," "Blue's Freestyle/We Family" and "MaNyfaCedGod," all of which were first heard in the visual teasers for the album. But the internet is buzzing over "Blue's Freestyle/We Family," which lets Jay-Z's daughter shine.
Blue raps for 45 seconds, saying, "Everything, everything is my only single thing / Everything I hear is my answer…I never hear that / I be in the posse / Never seen a ceiling in my whole life."
Some lyrics are hard to decipher—she's only 5 years old, after all—but she's clear in the freestyle refrain: "Boom shakalaka / Boom shakalaka / Everything in shaka / Everything in faka."
Meanwhile, in the four verses for "Blue's Freestyle/We Family," Jay-Z raps, "I got bloodlines in Benin, that explains the voodoo / Got poison in my pen, thank god for Lulu / And thank the heavens for BB, her Creole roots run deeply / I'm crazy, you ever leave me I might have to put an egregious / Spell for us to stay together / Facelessness / Maison Margiela embracing / 'Cause more than ever we gon' have to stick together, feel me? / More than ever my n—as gon' have to stick together, feel me? / Already ahead of your end, in the foreign bumping Fela, feel me? / Was out in Havana when that had that banned forever, feel me? / F–k embargoes, I'm a narco / Colombian ties, shout out to Dapo / OG Juan also / Feel me? / All the fellas from the favelas round me, feel me? / Lagos, all the bodies around me, feel me? / Bismillah, all the gods around me / Mexicanos ain't building f–king walls around me / I feel like Ali / Viet Cong never done s–t to me, feel me? / More worried about Trump than anyone overseas, feel me? / I'm out in the art clubs in London sipping tea, feel me? / I'm out in Michelangelos in FTs."
"Blue's Freestyle/We Family" isn't the first time a Jay-Z song has featured his daughter; the scion made her musical debut in his 2012 "Glory," and she was in Beyoncé's 2014 song "Blue."
The TIDAL edition of 4:44 features 10 original songs. Since its release, the album has been certified platinum. "Props to Jay! He's done it again!" RIAA Chairman and CEO Cary Sherman said in a statement Wednesday. "Another platinum album adds to an already iconic career."