A patio for your cat? Edmonton couple brings 'catios' to capital region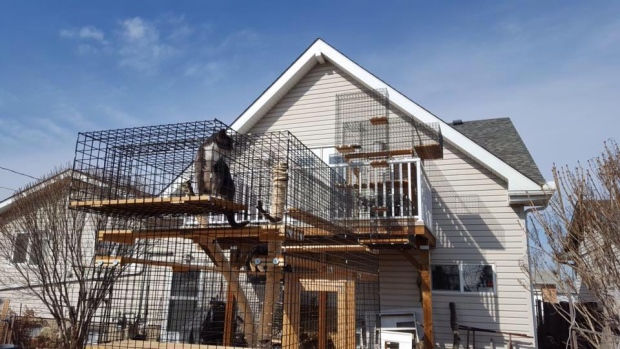 A new company wants to make sure Edmonton's feline residents get in on the fleeting days of patio season.
Don and Yvette Bacha are the founders of Hellas Cat Enclosures, a company that builds custom patios for cats.
Also known as catios, the enclosures have been growing in popularity across the globe.
The Edmonton couple started the company after realizing their two strictly indoor felines, Zeus and Spartacus, wanted some outdoor R&R.
After some digging on the internet, they discovered the catio craze, and were inspired to use their construction chops to create the purrfect place for their pets.
"We knew there must be a better way, so we did some research and in Britain and Australia,"  Don Bacha said in an interview with CBC Edmonton's Radio Active.
"And that's where we got our ideas. And we thought, 'Hey, we can do this for ourselves and there are a lot of other people looking for this. Let's do this for a business.' "
Catios come in a variety of shapes and sizes but most are basically small screened-in porches. Cats can come and go as they please through an open window or door flap.
A little sunbathing and fresh air has made their previously cooped-up cats much less cranky.
'Great way for them to get outside'
"They can come outside safely and enjoy the outdoors," Don Bacha said. "As we know, kitties don't love to be on a harness and leash, and in sticking with our bylaws to keep your kitties on your property, this is a great way for them to get outside."
The husband and wife team launched the business last year.
Using finely sanded cedar and reinforced wire, they've built about a dozen enclosures so far. Their designs range in price from $800 to about $5,000. They say few customers have balked at the prices. 
While most are modest designs for condos and apartments, some cat lovers have commissioned towering two-storey patio palaces, with tunnels, tubes and shaded perches.
"We've done a double-wall catio on the outside of someone's house, with tunnels connecting to a catio that goes onto their lawn," said Yvette Bacha. "We've even done a treehouse.
"We're trying to make them fun so the cats aren't just sitting on a cage on the patio but they're actually having some exercise, jumping around shelves, and running through tunnels."