Two final road tests loom for Toronto Maple Leafs, but they are in fan-friendly destinations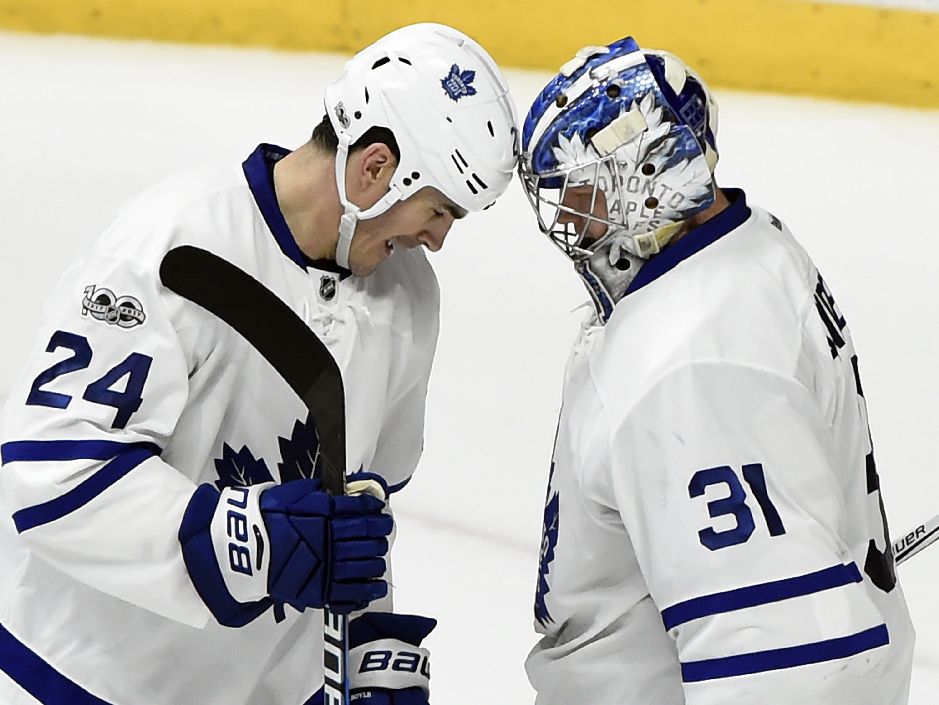 DETROIT — By definition, the Toronto Maple Leafs should not be getting a road per diem these days.
When they look around Joe Louis Arena and First Niagara Center for their final two 'away' games of 2016-17, the players will think they're at the Air Canada Centre. More and more of their supporters seem to be coming out as this playoff push gathers steam.
The last few games have seen the highest concentration of Toronto sweaters in years. Yes, spring break always brings the snowbirds and students to Carolina, Tampa Bay and south Florida, but in Nashville on Thursday, every honky tonk on Broadway seemed to have someone with an Auston Matthews jersey and a cowboy hat.
Naturally, a strong contingent made themselves heard at that game when Toronto led most of the way and then clinched a 3-1 win. When a loud racket rolled down the halls of Bridgestone Arena afterwards, curious Nashville reporters went to investigate and discovered Leafs fans at the bus bay, chanting the name of goalie Frederik Andersen and — when they got a quick glimpse of him — publicity-shy general manager Lou Lamoriello.
Every wins is crucial as the Leafs fight with Ottawa and Boston for second and third in the Atlantic Divison, not to mention the crowd nipping behind in the race for the second wild card. The Leafs' road schedule ends with games in two traditionally fan-friendly destinations: Detroit on Saturday and Buffalo on Monday.
"Leaf fans travel everywhere and every game feels like most of the crowd is Leaf fans," winger Mitch Marner said. "It's definitely a nice feeling having them behind you."
Friday was a day to rest for coach Mike Babcock's team, which has now moved within two points of the Senators for second place in the Atlantic. Finishing second would mean home-ice advantage in the first round but regardless a new Battle of Ontario playoff series against Ottawa is coming into view.
"We look after our part and everything else will look after itself," Babcock said. "The league is tight, very tight, and it looks like everyone (near you) wins every night. You just have to do your own thing and you give yourself a chance."
The Leafs say they aren't looking for the out-of-town scoreboard these days.
"You get caught thinking about (making playoffs) maybe once or twice, but there is still a lot of hockey left," Marner added. "We have to make sure we're ready, especially with the schedule we have. Among the last four games at home are three 100-point Metropolitan clubs: Washington, Columbus and Pittsburgh.
lhornby@postmedia.com