Toronto Argonauts sign head coach-GM package deal from Montreal Alouettes' most recent title run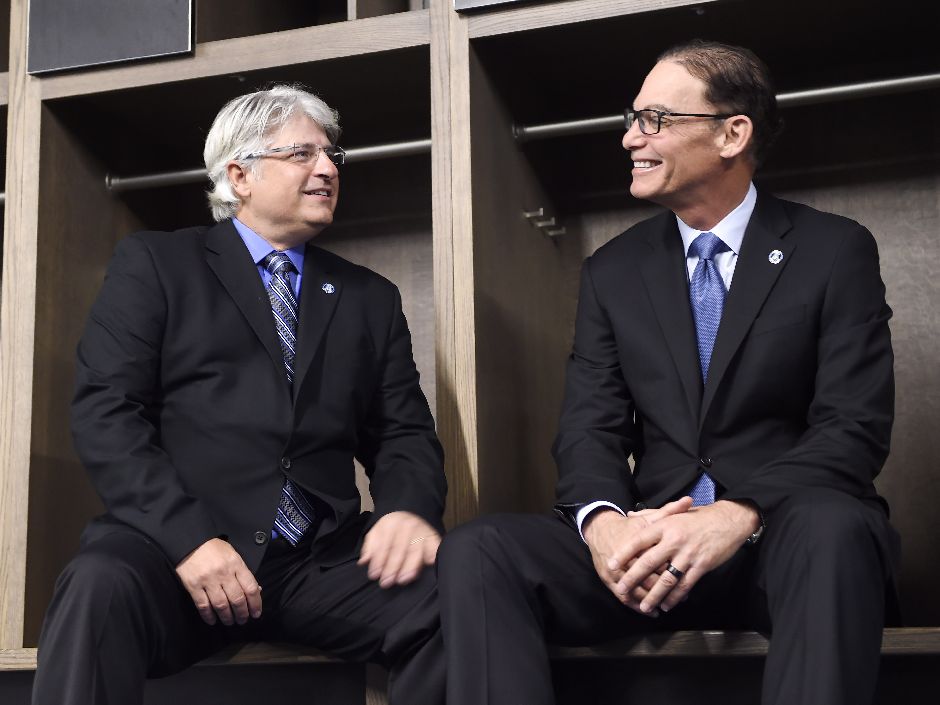 TORONTO — The Toronto Argonauts eventually got the men they wanted to run the show, and they will live with the cost.
That was the message from team president and CEO Michael Copeland, who has been methodical in the process to reshape the team after a 5-13 season, which included seven straight losses to end the season.
Copeland took his time after the season ended in November. General manager Jim Barker was let go on Jan. 23. Four days later, he accepted the resignation of head coach Scott Milanovich, who accepted an NFL job.
Another month later, Copeland announced three-year deals Tuesday for new general manager Jim Popp and head coach Marc Trestman. Popp and Trestman were together with the Montreal Alouettes from 2008-12 and won the Grey Cup in 2009 and 2010.
Few will argue the eventual outcome of Copeland's search – both Trestman and Popp come with winning CFL resumes – but there is the cost his deliberate process. It has put the organization at a competitive disadvantage in the short term.
Copeland acknowledged it was not ideal to go through the recent free agent period without a GM or head coach, but it's a cost he is willing to live with.
"Our responsibility and priority here was to build a championship organization that is going to last," Copeland said. "We felt we wanted to take the time to step back and make sure that our initial assumptions were validated, which turned out to be the case here. We wanted to make the right decision. We wanted to get this right. That was our priority.
"We understood it was unorthodox, in terms of timing, but we were prepared to accept that in order to get this right, and we got this right," Copeland said.
Popp has the third highest winning percentage for general managers in league history (254-159-1, .614), trailing only Calgary's John Hufnagel (117-43-2, .728) and B.C.'s Wally Buono (284-164-2, .634).
Trestman has the fourth highest winning percentage (.656) by head coaches with 70 or more games of experience. He trails only Hughie Campell (Edmonton, .755), Hufnagel (Calgary, .712) and Ralph Sazio (Hamilton, .707).
Trestman returns to the CFL after leaving Montreal to be the head coach of the Chicago Bears. He was fired there after two seasons in which the Bears were 13-19. He spent the last two seasons as the offensive coordinator under John Harbaugh in Baltimore. He was fired by the Ravens in October after a 3-2 start.
Trestman didn't say much about his plans for this team, but he did head off any potential quarterback controversy regarding Ricky Ray.
"He wants to come here in the best physical condition of his entire career," Trestman said of Ray. "He is excited to play and he will come in here as the starting quarterback. There will be no competition. He and I will decide whether he is capable of doing that as we move along. Drew Willy understands that.
"There is no competition starting out. Ricky Ray is going to be our starting quarterback until he shows us he can't be."
Popp knows exactly what is in store for him with the late start, but confidently predicted he and Trestman can make up the deficit.
"I will be the first to tell you I don't believe in building a team through free agency. I believe in building from within," Popp said. "Find your people, develop them, keep your guys, that is the goal. Obviously there have been some guys that have departed here that they would have liked to have kept. (The Argos) have been able to go out and fill some holes in some areas with some exceptional players, but we are going to take what we have. We are going to get the best out of these guys.
"We are going to have to hit the ground running. We have to get a coaching staff together extremely quick … we'll find people along the way if we need to plug holes, but I like the basis of where we are."
With the football operations issues now settled, Copeland said he will turn his attention to selling the product itself, which has become a tough sell in a crowded marketplace.
Copeland said about 3,500 season tickets have been sold, just under half what the team had a year ago. He expects these high-profile management signings will bolster sales somewhat.
The Argos are expected to benefit from a schedule that will provide some game-day consistency.
"You can see real emphasis on weekend games, Saturdays, and late afternoon which is going to allow tailgating," Copeland said. "The schedule is also great for traffic flows so everything was scripted around making that experience great. Making that as accessible for as many people as we can. After Week 8 every one of our games including our away games are on Saturday other than Labour Day. It's creates some consistency and appointment viewing for our fans."
Copeland said his hope is to get to crowds in the 16,000 range for the second season outdoors at BMO Field and build from there. "If we can get to that 16,000 range, you start to really get that feeling that you are at an event," he said.
mganter@postmedia.com