Justin Trudeau accused of 'bulldozing Aboriginal rights' with Site C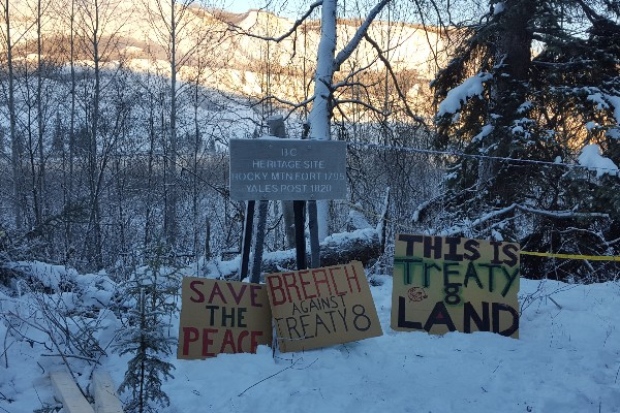 The federal NDP is questioning Justin Trudeau's commitment to having a 'nation-to-nation' relationship with Indigenous people, claiming the Liberal party continues to dodge questions about the construction of the Site C dam near Fort St John.
The controversial hydroelectric project came up in Question Period numerous times this week, including an exchange between NDP leader Thomas Mulcair and the prime minister. 
"Mr. Speaker, Indigenous people in B.C. say that they are heartbroken by the Site C betrayal, and it is not difficult to understand why," Mulcair said on September 22. 
"Will the prime minister assume the responsibility to consult, instead of bulldozing Aboriginal rights?"
In his reply, Trudeau stuck to talking points similar to those he used during last year's election.
"Mr. Speaker, we continue to respect the concerns Indigenous peoples have on a wide range of issues, because we continue to listen, consult and work in partnership with them," he said. 
"Canadians expect that. Indigenous Canadians expect that. We will continue to work with the kind of respect we have always shown towards Indigenous Canadians."
B.C. First Nations fighting Site C in federal court
Two B.C. First Nations, Prophet River and West Moberly, are trying to stop construction of Site C in the Federal Court of Appeal. It's the latest in a series of lawsuit from Indigenous groups and landowners against the $8.8 billion dam project.
"The Peace River is the main thoroughfare through our territory," explained West Moberly chief Roland Wilson in an interview with CBC's Radio West on September 13. "It's kind of the main artery for all the wildlife, all the stuff that goes on in northeast B.C."
Construction of Site C has been underway for almost a year. BC Hydro and the B.C. Liberal government say the dam will be needed to provide a source of sustainable, clean energy for the province.
Scheduled to be completed in 2024, it would flood 83 kilometres or 5,550 hectares of land in the Peace River valley, land currently occupied by a number of ranchers and farmers, along with traditional First Nations grounds and heritage sites. 
If the relationship with Indigenous people is so important… why isn't anyone listening to us?" – West Moberly Chief Roland Wilson
Wilson said the flooding will render the valley "useless" to local First Nations.
"If the relationship with Indigenous people is so important … why isn't anyone listening to us?" he asked.
Justice minister once opposed Site C
Wilson and the NDP have been particularly critical of federal Justice Minister Jody Wilson-Raybould. As the then-B.C. chief for the Assembly of First Nations, Wilson-Raybould attended an anti-Site C protest in 2012.
[embedded content]
"The country's reputation is at stake with approval of these projects like Site C," she said at the time while wearing a pin with the words "Site C Dam" crossed out. "Running roughshod over Aboriginal rights, including treaty rights, is not the way to improve that reputation."
This week, Wilson-Raybould remained largely silent on the issue, letting other members of the Liberal Party field questions directed to her by the NDP during Question Period.
When asked about the project by the Aboriginal Peoples Television Network on September 24, Wilson-Raybould shifted focus to the previous Conservative government. 
"We acknowledge that this is a contentious issue," she told the network. "To be clear this was a decision by a previous government, and we have been handed a number of decisions where we would have done things differently."
That stance was quickly questioned by Twitter users.
"Sorry gov comms, you're not spinning this news cycle," wrote Brock Roe, a lawyer raised in Fort St. John and a member of the Bigstone Cree Nation. "Liberals are in power *and* they signed #SiteC permits." 
Green Party Leader Elizabeth May also chimed in, writing, "That just won't wash. New permits were just issued violating promise of evidence-based decisions, respects 4 FNs'." 
That just won't wash. New permits were just issued violating promise of evidence-based decisions, respect 4 FNs' #SiteC @APTNNews @Puglaas
Sorry gov comms, you're not spinnin this news cycle. Liberals are in power *and* they signed #SiteC permits #cdnpoli https://t.co/Inj1iMpHm9

— @bafroe
Trudeau government has granted 2 permits allowing Site C construction
Roe and May were referring to news that in August the federal government granted two permits allowing construction of the Site C dam to continue.
Grand Chief Stewart Phillip of the Union of B.C. Indian Chiefs called the issuing of the permits "an absolute betrayal."
"Rather than respecting the treaty rights of Prophet River and West Moberly and the legal process by pausing or even slowing down site preparation and construction, the Trudeau government, like cowardly, thuggish thieves in the dark, quietly issued federal permits before a long weekend to allow for the acceleration of construction," he said in a news release.
The UBCIC is not the only major Indigenous group to be critical of Trudeau on Site C. This month, Assembly of First Nations National Chief Perry Bellegarde offered his support to the Treaty 8 First Nations fighting the project, saying the dam "is a violation of First Nations' inherent and treaty rights." 
Trudeau has also been urged to stop or slow the project by members of his own party. 
Liberal MP Robert-Falcon Oullette said not adequately consulting with local First Nations on the project would be a violation of the United Nations Declaration on the Rights of Indigenous Peoples, a document Trudeau has promised to uphold.  
"I think we should be really careful, because we are starting and trying to build a new relationship with Indigenous people," he told CBC's As It Happens.
Former Liberal leader Bob Rae has also urged Trudeau to move cautiously on the project.
"Why the hurry to flood this territory when there could indeed be, not just consultation but real discussion?" he said in a segment on CBC's The Current about Site C.
"And by the way, you can hardly argue that it's too late, that the die has been cast. The die hasn't been cast, because this is a project that is not needed tomorrow."
With files from Betsy Trumpener and Justin McElroy.