Boats and jet-skis in the streets: Heavy downpour causing flooding in Fort McMurray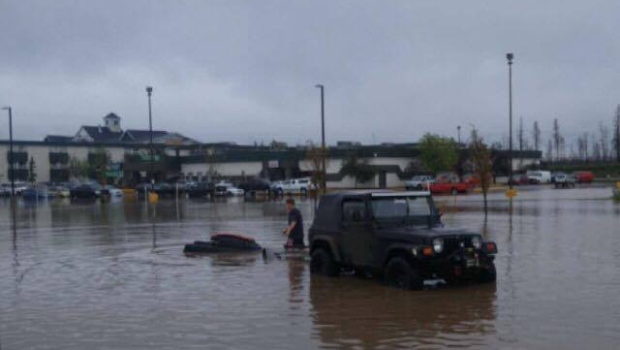 In order to deliver the keys to the other side of the street, they had to use a boat. 
A heavy downpour caused localized flooding all over Fort McMurray on Sunday. In front of  Brenda Toutant's home on Grey Crescent it got so high she thought it would swamp her friend's car parked in the driveway.
"The two boys that live two doors down from me, they went over in a boat and grabbed the key from my neighbour across the street, because he couldn't get across, and I moved the car," said Toutant.
Elsewhere on her street, several lonely garbage cans slowly floated towards downtown. 
"The neighbour kids walked down the street and it was up to their groin area and it's coming up over the tires of 1500 and 2500 trucks going by," said Toutant.
"It's deep, in front of my house it's only up to my knees but down in the lower part of the street it's really deep."
Jet-ski's on Gregoire drive
Meanwhile, at least one person has taken this as an opportunity to Jet-ski in downtown Fort McMurray. 
​Tyrone Kendall, 18, said that he was dared by his friends to do it and so, well, he did. He took his Jeep and trailer with his Jet-ski on it and unloaded the vehicle into the flooded street in front of a McDonalds in Gregoire. 
'Not too many people can say they rode their Jet-ski's on Gregoire drive.' – Tyrone Kendall
"It was a different feeling," said Kendall. "The rain was still pouring down, the water was pretty cold."
"I wasn't too worried about wiping out, it was probably about four and half feet of water. I only rode it for four or five laps, five minutes tops, I got out of their quickly the as vac trucks were coming in. I didn't want to interfere."
"It's just… not too many people can say they rode their Jet-ski's on Gregoire drive."
Regional Emergency Operations Centre
The flooding forced the Regional Municipality of Wood Buffalo to activated the Regional Emergency Operations Centre for the city. This is the first time the REOC has been activated since the wildfire in May.
Environment Canada anticipates the rainfall to continue for most of the day.
The municipality is advising people to restrict travel in the town. The flooding has knocked out traffic lights in the area and all over the city municipal crews are working in drainage trucks to suck up the water. 
Major roads such as Gregoire Drive and Mackenzie Boulevard have been closed due to flooding. 
"Residents whose properties have been susceptible to basement flooding in the past should ensure any valuables are stored in a safe place," the municipality wrote on Twitter.
"Barricades have been placed on the roads for your protection. If you encounter a barricade, we encourage residents to go another way."
From fires to floods
The rain began last night, said Toutant, and has continued ever since, but it wasn't until she woke up that she saw the extent.
"It's crazy, there's a car down the road that keeps floating. The front two tires are on the ground I think but the back is moving as trucks go by," she said. 
'It's crazy, there's a car down the road that keeps floating.' – Brenda Toutant
The only time that Toutant, a 40-year resident of Fort McMurray, remembers it being this bad was 20 years ago. 
This comes just months after the entire city of 90,000 people was forced to evacuate as a massive wildfire bared down. Toutant said 2016 has been a tough year for her community, it's just one extreme to the other — from fires to floods.
"I really wish Mother Nature would have sent the rain before the fires, but, you know, it is what it is."