Walt Disney World could be liable for death of boy snatched by alligator: Lawyers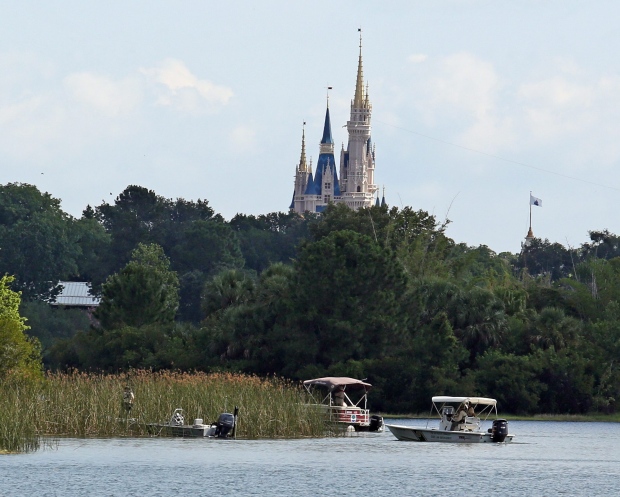 Walt Disney World could be found liable and face a multimillion-dollar payout if the parents of a two-year-old Nebraska boy who was snatched and killed by an alligator at one of the amusement park's hotels decide to launch legal action, experts say.
"I believe the parents could potentially have a wrongful death action they could bring against Walt Disney World for the tragic loss of their son," said Orlando lawyer Matt Morgan, who has handled cases of negligence involving Florida theme parks.
"Disney has an obligation to warn their hotel guests of any and all dangerous conditions which they either know about or should know about it."
The boy, Lane Graves, was snatched by an alligator Tuesday evening as he waded in shallow water of a lake at a Disney hotel. Divers recovered his body 16 hours later and authorities believe the alligator drowned him.
The beach, located at Disney's Grand Floridian Resort and Spa across a lake from the Magic Kingdom, had "no swimming" signs but no warning about alligators.
'Could not have appreciated the risk'
"This family is from Nebraska and could not have appreciated the risk of alligators in a close proximity to the sandy beaches which were open to hotel guests," Morgan said.
According to Florida law, a property owner is not responsible for the acts of an animal on its property if those acts are consistent with the nature of the animal, said Lyrissa Lydsky, a University of Florida law professor whose specialties include tort law.
"However, the real question is not whether the alligator was doing what alligators do in Florida," she said. "The real question is, was the family given sufficient warning so they would know to not let their child near the edge of the water."
Under common law, there can also be liability for injuries caused by wild animals in your possession, Jonathan Turley, a George Washington University law professor, wrote in his blog.
But Turley said that would raise the question of whether alligators are in the legal possession or control of Disney if they occupy the lake. He noted that in a 1997 case where a rabid mongoose attacked a guest at a Hyatt in Puerto Rico, the hotel was not found to be strictly liable.
However, with respect to Disney, there would still "remain a powerful case of negligence," he said.
There have been reports of frequent alligator sightings at Walt Disney World. Mike Hamilton, a Floridian custodian, told the Orlando Sentinel that he was concerned about alligators occasionally swimming up close to the shore of Seven Seas Lagoon and that he had warned managers they should fence off the area.
One South Carolina man told the Sentinel he alerted a Grand Floridian employee after seeing an alligator in the lagoon less than an hour before the boy was attacked.
'Foreseeable to warn guests'
"If there was any kind of notice that the pond had alligators, then it was clearly foreseeable to warn guests of the dangers," Lydsky said.
"And even if not, in Florida, it is foreseeable an alligator could be in any standing body of water. It is a very common event to have any kind of alligator."
The company said it will add alligator warnings and temporary barriers at its beaches while it works on "permanent, long-term solutions." 
"We continue to evaluate processes and procedures for our entire property, and, as part of this, we are reinforcing training with our cast for reporting sightings and interactions with wildlife and are expanding our communication to guests on this topic," Jacquee Wahler, vice-president of Walt Disney World Resort, said in a statement.
Shawn Bayern, a law professor at Florida State University College of Laws, said some states take violations of warning signs quite seriously, even if the warnings don't convey the relative danger.
"So there are some courts that adopt a formalistic view that violating a warning almost means you're fair game for injury," he said, but those courts are in the minority and aren't found in Florida.
If a case against Disney did make it to trial, a jury could award the family damages in the eight-figure range, Morgan said. He said he doesn't believe Disney would offer a large enough settlement, increasing the likelihood the case could go to trial.
But both Bayern and Lydsky disagreed, saying Disney has an incentive to keep this tragedy out of the courts.
"Liable is almost academic because I am positive that Disney is going to want settle with this family if they choose to pursue anything … because of the public relations aspects of the case," said Lydsky.
"Disney is known to be a family friendly place and they are never ever going to want to go to court with a case like this. Regardless what the law is."